Pakamac
Fashion & Clothing - Mens & Ladies

Year: 1953 Item #: 1089 Views: 254,933 Comments: 1,486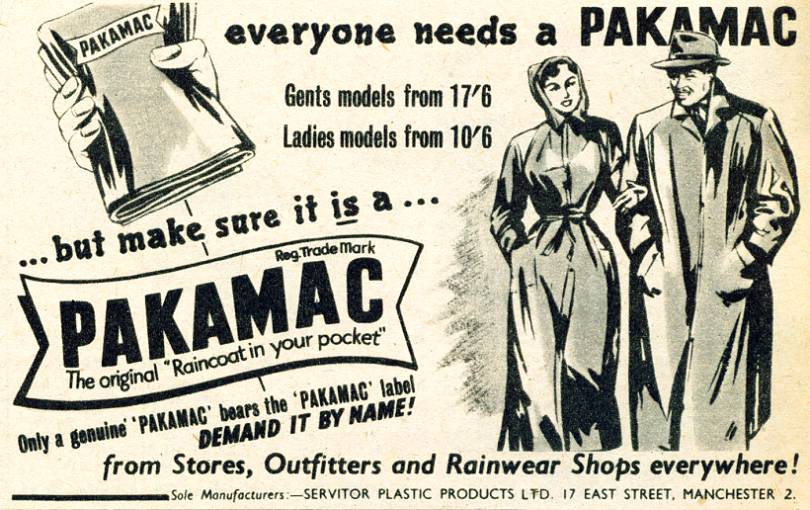 Image scaled down from 810px to 740px wide. Click the image to view the original.
everyone needs a Pakamac. Gents models from 17/6 - Ladies models from 10/6 ...but make sure it is a Pakamac. The original "Raincoat in your pocket"...
1486 user comment(s) below:-
Comments by Rob on 19th July 2017
Hi G we just found it by luck it was quite small so I don't think it would have a website or anything like that. Perhaps you can buy these macs from another online shop? Thank you for your nice comment and it is kind of you to say this but reading some of the other comments I think this site is perhaps really for pakamacs and we don't have any experiences like this. If you would like to hear about us in the rain perhaps there is a another site for this? Rob
Comments by G on 18th July 2017
Hi Rob yes fantastic comments has the shop a web site not many shops sell plastic Mac's love to visit the shop did you find it by luck or do you know about it give my regards to Beth.
Comments by
Stephen
on 18th July 2017

Hello Alan, I fully agree, and understand, everything you have said, for I too was in eactly the same situation, so wanting one of those soft smooth filmy grey Pakamacs, and like yourself, there were many around at that time. But more luckily, I actually persuaded my parents to get me one, and I just loved wearing it, thinking nothing of the jeers I sometimes got from other boys, calling me Pakamac. I still have some, and will never part with them, So please don't think you are alone in this, thare are others about who would truly like to see this site return to what it was initially entended to be. Thank you for reminding us all of that, Stephen.
Comments by Alan on 16th July 2017
Just been reading some of the old comments left here on this Pakamac site. l along with several others are there making our comments when the site first became available in 2007 where have those ten years gone. The site was here for comments on the Original Pakamacs which were as most of you know Plastic. l was around 11 years old when l first got the chance to try one on. l was drawn to them and not really sure why, l was at school this particular wet day and Pakamacs were very very popular and the cloakroom was filled with them. L ask to leave the lesson for toilet.

making straight for the cloakroom l made sure no one was about and l slipped a pakamac of the hook and put it on me and fastened it up. The effect was unbelievable and at that age found it difficult to understand the feeling l got.

coming from a poor family l dare not ask for one so l waited and waited and noticed that someone had left a pakamac in the cloakroom and it had stayed there for weeks and weeks. l eventually decided that no one wanted or needed it so l took it home that afternoon.

l walked the back way home through the fields and by the allotments it was very secluded so out came this mac and l slipped lt on again and the effect was the same again.

The reason l write this is because 1200 or so comments no one has actually said what the real effect of wearing plastic pakamacs is, has you all guessed from my story my first sexual experience was induced by wearing a plastic pakamac.

l would love to hear others experiences in plastic pakamacs, after all that is what this site was all about.
Alan,
Comments by Rob on 16th July 2017
Hello G thank you you always make nice comments here. If you are sure then yes I will write as much as I can but I think it is not always very interesting to hear about other peoples holidays! We got the macs from a shop that sold lots of different things that were mostly low cost it was near Ayr. We have not really needed them since we got back from Scotland because it has been mostly sunny but that is only two weeks ago. Yes they are completely transparent and similar to the ones Beth has already. They are made by RAIN. On the packet it says ladies vinyl raincoat and says heavy waterproof vinyl and full size and folds compactly so I think this is exactly what you were saying a lot of ladies used to have. We are really pleased with them I hope this is OK I will write a bit more about the holiday and especially the wet days when we had to wear them if this is OK for you? Rob
Comments by G on 15th July 2017
Hello Rob yes I would love to hear more about it have you had a opportunity to wear your Mac's since Scotland love to know were the shop is are your Mac's transparent great stuff Rob keep it coming please G
Comments by Rob on 14th July 2017
Hi G, yes definitely. Because there are quite a few houses and gardens in this part of Scotland we had to visit some even when it was raining. And we were also quite lucky this time because we found a shop that sells plastic macs and we have been trying to buy new ones for a long time. We found this was before we went to Culean castle so that was really good because we had them when we went there. I don't know if this is the sort of thing you would like to hear about but please let me know if you would like me to write anymore. Rob
Comments by G on 13th July 2017
Hello Rob I not familiar with the places you mentioned did you both wear your plastic Mac's on the wet days?not many people do these days unfortunately
Comments by Rob on 12th July 2017
I think it probably depends where you are G. I think I read somewhere that it has been quite wet in some places. We have just come back from Scotland and one day it was lovely and the next day it was raining. The day we went to culean castle it absolutely bucketed down and it rained when we went to logan garden last week.
Comments by G on 9th July 2017
Where has everyone gone? I know that the weather has been dry sure somebody has some Mac tales to tell you gone quite Rob have you got any plastic Mac experiences to tell us
Comments by G on 19th May 2017
Hi Susan sadly I have to agree with you the times have really changed why I really don't know I still think. if someone young in the headlines where to be seen wearing a plastic Mac it would start a trend well I live in hope
Comments by
Susan
on 16th May 2017

Is it possible that the demise of the nylon pakamac is related to the gradual passing of a generation rather than a changing of tastes in fashion? There simply weren't enough of us left to keep it viable. This forum is our last refuge, along with our dwindling collections.

I only say this having been party to many a conversation with older ladies in the past, over a shop rail of nylon macs. As I am in my 60s now, many of these ladies I guess, will have passed on.
Comments by G on 15th May 2017
Hi Rob maybe you are right but I.think.there has been a large change with. people women used to carry a mac over there arm if it wasn't raining how often do you see that now sadly I. don't think we will ever see again
Comments by Rob on 12th May 2017
Not really G but we have had quite a lot of practice trying to put on plastic macs and not get wet getting out of the car in the rain. I can think of lots of times we have had to do that and I think we are quite good at it now! It is not very easy to stay dry so perhaps this is why some people just run for it.
Comments by G on 10th May 2017
Hi Rob do you or Beth wear a mac when driving in a downpour I see ladies jump. out of cars into the supermarket in just t-shirts just wondering what your observations are
Comments by G on 8th May 2017
Hi Susan just been looking at your web site what a wonderful collection of macs you have the transparent mac and the original plastic Mac are wonderful they look so clean and new well done thank. you for sharing them
Comments by
Susan
on 5th May 2017

Just in the north east of Scotland G, but that was around 9 years ago, in shops that have now sadly closed. I preferred to look in places that would cater for passing visitors rather than locals. People passing through who might just need the protection of a 'cheaper' mac when the weather caught them out.
Comments by G on 4th May 2017
Hi Susan yes I wear a mac myself when driving just wondering if you have come across a stock of pac a macs when driving about?
Comments by
Susan
on 3rd May 2017

Well I personally wear a mac while I'm driving, whether it's a plastic mac or a nylon mac. It's always a trat to be driving somewhere new in the vain hope that I'll find some undiscovered backwater that still has a stock of Pakamacs!
Comments by G on 2nd May 2017
Hi Susan good to hear from you I do remember macs on the parcel shelf of cars I asked one lady in a downpour didn't she have a mac she said I got the car can't drive wearing a mac what ever the reason its a shame
Comments by
Susan
on 1st May 2017

I'm not so sure what part cars have played in the demise of the Pakamac. At one time, when I was younger, the sight of a plastic mac or nylon mac rolled up on the parcel shelf, was
a common one.
Comments by Rob on 25th April 2017
yes I'm sure that's right and many shops are also covered now so perhaps there is not quite the same demand for them. A lot of people have asked us where we got ours so I still think it is partly because you can't buy them in the shops. That's the thing I don't really understand. My wife says if you fold them carefully you can get them smaller to take on days out.
Comments by G on 25th April 2017
Hi I sometimes think cars have played a part why don't seem to wear macs now they just dash out of cars into the shop most women seemed to have a mac once and if not raining they would carry it over the arm can't remember the last time I saw that
Comments by G on 24th April 2017
Hi Rob I remember buying a nylon mac from Army and Navy stores the young lady assistant folded it up so expertly I could never fold them like that I think some ladies use to roll plastic macs up. sadly there is nothing like that these days.
Comments by Rob on 23rd April 2017
Sorry I meant I can't really understand why they stopped making them. We've had lots of people ask us where we bought ours.
Comments by Rob on 23rd April 2017
Yes I know what you mean. I think there is a special way because my wife can fold them up really small. Because they fold up easily is why I think people really like them. You can take them anywhere and put them on when it rains. Which is usually does! As I said I can really understand why they stopped making them.
Comments by G on 23rd April 2017
Hi Rob you said you fold your macs up I remembered how ladies use to fold so tidy their plastic macs up then when it started to rain they would unfold them and put them on happy days never see that now most a pity
Comments by Rob on 22nd April 2017
I agree G they might not be fashionable but they are really practical and its nice not to have to worry that it might rain if you are out for the day which is what usually happens to us!
Comments by G on 22nd April 2017
Hi Rob I am no follower of fashion but a lot of women are and whatever is new in the shops usually sells I am getting on myself but still love pac a macs
Comments by Rob on 20th April 2017
I'm not sure about other countries G. The furthest east we've been is Norfolk and the weather was really nice there! I haven't really thought about plastic macs being in fashion. I don't think ours are! But then you don't worry so much when its pouring down and you just want to stay dry but maybe thats just us and our age!
Comments by G on 20th April 2017
Hi Rob good to hear your comments again plastic macs seem to be more popular in Asian countries and some South America countries sadly here everything has to be the latest fashion think you would need a celebrity to start wearing one welcome back Rob
Comments by Rob on 19th April 2017
I don't know if it helps but I think ladies wear macs just to stay dry and plastic macs because they fold up easily and you can take them with you when the weather is changeable, at least that's my wife anyway! I think the reason you don't see people wearing them so much now is because it's really hard to find them in the shops and not because people don't want to buy them. I'm really surprised no-one has started making packamacs again because I'm sure they would still be popular.
Comments by Frank Barnard on 15th April 2017
Hi Jean thank you for your honest comments it's refreshing to hear honest answers I searched for a lady who really likes plastic macs but in vain don't really THINK one exits sadly but you right life is to short
Comments by Frank Barnard on 15th April 2017
Hi Jean thank you for your honest comments it's refreshing to hear honest answers I searched for a lady who really likes plastic macs but in vain don't really THINK one exits sadly but you right life is to short
Comments by Jean on 15th April 2017
Frank, I am male and wear plastic macs and nylon macs for myself. I don't hide my interest in the hope that I please a woman, nor do I search in vain for a woman who shares my interest. Logic dictates that some women must share our interest in wearing plastic macs or even nylon macs but life is too short for fruitless searches and should be enjoyed if possible.

I am easily recognisable where I live through my 'trademark' navy blue nylon mac, which I wear most days, rain or shine. I am proud to wear these foldaway raincoats. My plastic macs come out on occasion but tend to be kept for the more inclemment weather, to limit perspiration.
Comments by Frank Barnard on 5th April 2017
Hello Jean I read your interesting comments with great interest but am confused to knowing if you are male or female?
Comments by Jean on 28th March 2017
Why care what women think about your wearing a nylon Rainmac John? Be proud of what you like to wear. I wear nylon Rainmacs, nylon Rainstar macs and plastic macs when I'm out and I don't care what women think. I'm 62 so there's still life left in me but I love my mac wearing far more than any need to please a woman. If only I could buy a plastic Pakamac to complete my collection.
Comments by Frank Barnard on 27th March 2017
Hi John I would also like to know if women find men wearing nylon mac over a suit attractive sadly there are no women reading this to tell us
Comments by Stephen on 14th March 2017
Hello Christopher,
Thanks for at least trying to get in touch, I checked the mail.com address and it is working from other identities, all seems well. Perhaps you could look at your returned mail to see if there is nay help there. Failing that I could send you a message if you have an e-mail address that you don't mind others seeing.
As you can see, there's already someone using the mail address I posted,even though the message was not meant for them, oh the joys of the internet.
Look forwards to hearing from you.
Stephen.
Comments by
Beverley mr
on 14th March 2017

had e mail today title pacamas from name christopher tried to reply but would not go. I am still wearing my mackintoshes regularly and always on look out for ladies in mackintoshes sadly rarely seen . Beverley
Comments by Christopher on 14th March 2017
Hello Stephen your email doesn't seem valid tried a few times to email you about macs but it failed to deliver Christopher
Comments by John on 12th March 2017
I'm age 55 and have for as long as i can remember always had a nylon mac. At school in the 70s nylon macs had become more commonplace than the early pvc. My mothers thoughts was that Pakamac brand was a good make so that was it my destiny was set. I now wear nylon mac made by rainmac and I would ask of any female readers of a similar age.....would you look twice at a man of my age wearing a nylon mac over a suit ?
Comments by Stephen on 10th March 2017
Hello Christopher. nice to hear from someone who actually likes so very proper plastic Pakamacs, instead of rainbonnets and things, such a breath of fresh air.
My own interst is for most types of plastic rainwear, but particullarly translucent ones, as long as they're untectured.

I've had that interest ever since my schooldays when proper genuine Pakamacs were often offered by school outfitter with a suitibly sized Pakamac in the blazer pocket, what days?

Oh, I have a temporarry email bucket at... pakamac@mail.com
Where I would be very happy to share such memories with you.
All the very best, Stephen.
Comments by Christopher on 9th March 2017
Hello Stephen I am only interested in plastic macs rain bonnet s do nothing for me whatsoever I have quite a few macs love them look forward to your comments
Comments by Pacamac on 6th March 2017
Hi everyone.
Comments by Stephen on 6th March 2017
Hello Christopher, the site has been morribund for some time now, generaly because so many off topic discussions,rainhats and things, but I too would like to discuss actual Pakamac Plastic Rainwear, so if you would like to reply I would be very happy to hear from you.
Stephen.
Comments by Christopher on 27th February 2017
Hello just wondering if this site is on Facebook or any pac a mac fans thank you Christopher
Comments by
Beverley mr
on 11th February 2017

Hello all i am still around and enjoying my mackintoshes. e mail address on the page do not open for me including my own ?
Comments by G on 10th February 2017
Hi Rob it's been some time since I have heard from you hope that you are well and still enjoying macs love to talk to you got different email now hope I hear from you G