Toys
Ads 1 - 12 of 12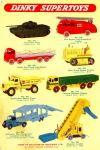 Dinky Toys
Toys - Boys
Dinky Supertoys, made in England by Meccano Ltd.
Views: 13,053 Year: 1958
---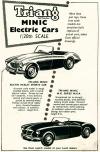 Tri-ang
Toys - Boys
Tri-ang Minic Electric Cars 1/20th Scale. More than just toys, these true scale models are precision built replicas of actual cars, taken from official drawings...
Views: 5,918 Year: 1958
---

Mamod
Toys - Boys
Model steam engines and working models. The perfect miniature power plant to drive your Meccano models.
Views: 6,041 Year: 1958 Comments: 1
---

Mobo
Toys - Boys
Sturdy boys want sturdy toys! ...toys that will stand up to boisterous handling and come through smiling. Mobo toys do just that: they're made from steel and strong as a lorry...
Views: 6,949 Year: 1957 Comments: 1
---

Hornby Dublo
Toys - Boys
Realistic... reliable... The fine model of a B.R. Standard 2-6-4 Tank Locomotive is the latest Hornby-Dublo introduction. It reproduces all the essential details of the prototype, down to the Walschaerts valve gear...
Views: 5,940 Year: 1954
---

Tri-ang
Toys - Boys
Aye, Aye, Cap'n! They're fast - They're Tri-ang. Every old or young salt worthy of being sprayed by the ocean brine has one desire - to be captain of a fast sailing craft. That's just what Tri-ang yachts are - Fast...
Views: 4,791 Year: 1954
---

Hornby Trains
Toys - Boys
Develop Your Hornby Railway. How east it is to convert a Hornby Clockwork Train Set into a fascinating railway by the addition, from time to time, of items from the wide range of Hornby track, rolling stock, and accessories...
Views: 5,470 Year: 1954
---

Dinky Toys
Toys - Boys
Look! a racer - What a fine little model it is - a perfect miniature of the Cooper-Bristol racing car. There are many others as realistic and fascinating in the wide range of Dinky toys...
Views: 4,981 Year: 1953
---

Hornby Dublo
Toys - Boys
Table-top scale with wonderful detail - Hornby Dublo offers unrivalled value in scale-model railways. The engineering precision and solid metal which go into every part ensure long life and accurate operation...
Views: 5,027 Year: 1953
---

Mettoy Playthings Racing Car
Toys - Boys
Here's a Fine Racing Car with sparking engine. A push - and it races away with sparks flying from the engine...
Views: 5,151 Year: 1953
---

Subbuteo
Toys - Boys
Subbuteo Table Soccer - The replica of Association Football. Here is a football game where victory or defeat depends upon the skill of the player instead of by the shake of a dice or by the turn of a card...
Views: 5,238 Year: 1952
---

Die Casting Machine Tools Ltd.
Toys - Boys
Guns of the Stars - For a Happy Xmas and an Adventurous New Year - Here are the guns used by Steve Larrabee, The Lone Star Rider and Ace Hart, Space Squadron Commander in "The Lone...
Views: 5,901 Year: 1952 Comments: 3
---
Ads 1 - 12 of 12