Weber Footwear

Year: 1956 Item #: 1724 Views: 5,311 Comments: 10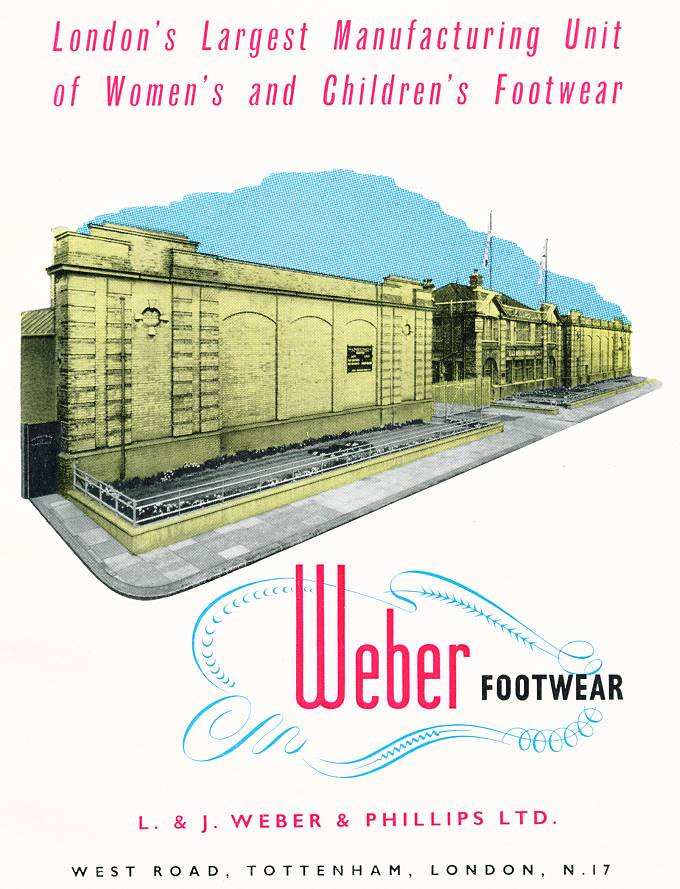 London's largest manufacturing unit of women's and children's footwear. L. & J. Weber & Phillips Ltd. West Road, Tottenham, London, N.17.
10 user comment(s) below:-
Comments by
Hazel
on 10th July 2018

I have an old photograph of about 100 people (including my mum and dad) assembled outside the Weber and Phillips premises. Photo was sent to dad in Wellingborough for 3/6!
Dad (Ken) worked as a clicker, it must have been before I was born as the company closed in 1962.
Comments by Joan hart on 17th November 2017
I work at Webber when I was 15 it was the best job ever I use play darts on a Friday night in the canteen I used to be a machine's my two sister and my dad also a uncle and a cousin all of the machines used to go though the clicking department to go to the toilet and also that is where I met my husband terry hart it was lovely and pleasant people to work with used to goe on beanos and I also went to collage once a week my husband got made redundant he lived in Tottenham and I lived walthamstow it was a joy to work there
Comments by phillip hoy on 20th April 2017
my Nans name was MRS ELSIE IDA HOLMES
Comments by Phillip Hoy on 20th April 2017
My Dear Nan Worked At Weber Shoes in The 1950s/60s I Must Of Been About Six Or Seven then, she was the best nan in the world . my mum had four young boys and my father left home the night i was born for unknown reasons to me , But my dear nan came to live with us and i remember my nan spending all her wages on my mum me and my three brothers and had known her to have to walk to work and back to Enfield Highway on many occasions, i can remember going to the the bus stop at the Red lion every night to meet her , and when we got home i used to help her with her work book it had little tickets in it, remember going to the Christmas party when i was a little boy and sometimes i met her at the woks gatehouse money was short in them days , but they were happy days, dont know what we would have done without my dear old nan and webers.
Comments by
Iris Hall
on 26th February 2017

I joined the office staff in August 1960, my first job as an office junior after leaving school. The office manager was John Gulvin. I worked in the machine room where the ladies printed out instructions for orders to be sent through to the factory. In the machine room I worked with three other ladies, one was named Vivian Varley, she later married Michael Pope who also worked in the office. In other areas I recall Valerie Fillary and her sister Pamela. A Miss King was the wages clerk, sometimes I assisted her by checking the correct amount before it put in the envelopes. There were two secretaries or 'stenographers' as the notice read on their office door. One was named Sylvia Criddle whose brother in law was Tom Criddle the actor. The switchboard was operated by Brenda Slade, a slim dark haired beauty who one year became Walthamstow Carnival Princess.
My boss in the machine room was a Mr Hale but later he left and a Tony Slater was brought up from the factory floor to take his place, Tony was a great guy, happy and down to earth and at Christmas bought us four ladies a powder compact each. Also there was Cherry Coyle who dealt with exports. There was a Mr Chudy who also worked in the office, a Mr Grosssmith was the factory manager. Others whose faces I recall but have long forgotten their names. I was eventually made redundant when the business closed down in 1962
Comments by
George Hadley
on 5th June 2015

I worked at Webers from the age of 15 in 1952 until just before they closed down (less my army service). It was a fantastic place to work and I had many friends there. The had a great social club I met my first wife at work, she was a machinist. The young men attended cordwainers tech periodically to learn skills of the trade. I also played in the company football team. It was a great time in my life that I will never forget
Comments by
Julia McDowell
on 3rd February 2015

I have a writing bureau with a brass plaque inside which reads "Presented to Mr Ben Weber and Miss Stephany on the occasion of their marriage 15 October 1940. With all best wishes from the employees of L & J Weber & Phillips Ltd."

I wondered if these people were still alive. I bought the desk at auction about 25 years ago.
Comments by Iris on 9th March 2013
I was a junior in the office from 1960 to 1962 when the company closed.
Comments by
Dorion (Angel) Liebgott
on 11th January 2012

My grandfather was Joseph Weber of Weber Footwear. I used to go down to London with my parents from Coventry where we lived and grandpa would fit me a new pair of shoes every year. Would love to hear from anyone who has recollections of working in the factory or knows any stories of interest.

One of his daughters, Patricia (Weber) Angel lives here in Toronto, Canada. She is at 92 the last surviving child of Joseph and Annie Weber.
Comments by
Peter Johnson
on 22nd April 2010

I worked there as a clicker until it closed down, we thought it was a job for life, a fantastic company,Mr Jack and Mr Ben, those were the days.