Unknown Photos
16th June 2011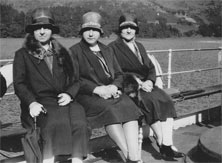 I found an old photo album a few years ago which contained quite a few family photos.

It would be great if I could return it to a family member. If by chance you recognise anyone please get in touch.

Notes in the album include "Willie, Nellie and Me", "Fountain in Williamson Park, Lancaster" and "Arthur".

View the Unknown family photos.
Posted by Brian at 22:32