Burnley Grammar School

Year: 1959 Item #: 1607 Views: 674,885 Comments: 2,436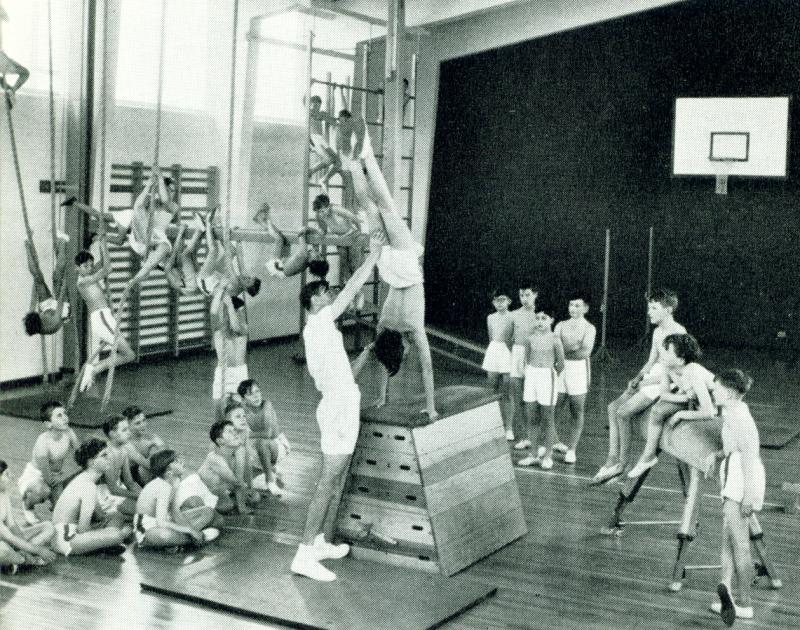 Image scaled down from 800px to 740px wide. Click the image to view the original.
There's pleny of room in the modern-styled gymnasium for muscle developing, where the boys are supervised by Mr. R. Parry, the physical education instruction.
Source: Lancashire Life Magazine, December 1959
2436 user comment(s) below:-
Comments by Monty on 5th July 2014
An interesting and nostalgic photograph. At my school in the 70's we would have looked exactly like this in PE.

We often played "shirts v skins" tag games. One boy took off his vest and chased the others - when he "tagged" someone, the tagged boy had to take off his vest and join his team. As the numbers of skins increased it became harder and harder to avoid them until the last boy with a vest was caught. At that point, he became the "tagger" and the game began in reverse - but this time everyone he caught put his vest back on until everyone was fully clothed again.

I remember it being quite fun and energetic and I don't recall anyone thinking it odd or uncomfortable that we ran around shirtless.

We didn't shower after PE because there was always pressure to get to the next lesson. One day our regular PE master was replaced by a very sporty South African rugby coach who really put us through our paces. We were all dripping with sweat - much more so than was usually the case. At the end he said "right you'd better get a shower" - but we pointed out we wouldn't have time. (There were showers in the gym but they were rarely used). "Oh - well I'm afraid you'll have to smell for the rest of the day then." And we did - I remember wishing we did have time for a shower - we must have been about 15 then.

This was at an independent school in the English midlands. There were in fact 3 sub-schools on site - Prep, Lower and Upper. I joined the Lower in 1974 and left the Upper in 1981. On my first PE lesson I was getting changed into the (rather small) split-side nylon white shorts when another boy said "you can't wear underpants under your shorts." I was a bit surprised but did what I was told. Funnily enough the no-underpants rule was never enforced by the PE master and I suspect it was a rule in the Prep school. (Most boys, unlike me, had started in the Prep School).

I do remember one boy climbing the rope and all of us standing below watching him - he was quite some way up - and his equipment was clearly visible hanging out of his shorts. I remember feeling rather embarrassed on his behalf but if he or anyone else noticed anything they didn't say. We would have all been about 12 and he hadn't started puberty.

When I went into the Upper School I kept my underpants on beneath my shorts but some of the others I think continued to go commando right up to the end of compulsory PE at 16, though there was I'm sure no rule either way.

It was different for rugby where jock straps were compulsory. We had a rather unpleasant Lower School master who used to check we were wearing jock straps by going along a line of boys and pulling our shorts out from the back to look down them. I told my mother this and she just said "well you'd better make sure you always wear your jock strap!"

Later in the Upper school some boys took to wearing swimming trunks for rugy instead of jock straps but this was technically against school rules and I always wore a jock. I remember a classmate being tackled so severely when we were about 17 that his shorts were ripped to his knees and he was left lying bare-arsed on the grass (like me he was one who never wore trunks only a jock). No-one passed any remarks on this.

Swimming was done in an open air pool adjacent to the gym and we wore trunks, but interestingly this had not always been the case. I remember leafing through the huge bundle of school rules and found one which said "Sixth formers may wear swimming costumes". So clearly at some point trunks had been a sixth form privilege and junior boys swam naked. This was confirmed to me later by a (very old) boy. I don't know when this practice stopped; probably as early as the 1940's. (There were lots of bizarre rules which still persisted - e.g. I remember carrying an umbrella was a sixth form privilege - so it was the first thing I did when I became eligible).

I recently met an elderly couple on holiday who remarked that their three sons had been at Berkhamstead school in the 70's - the last one left in the early 80's - and the wife told me all her sons swam naked in school but the practice was ended before the last one left. Her husband said "I knew they swam naked but I never knew it had stopped before the youngest left." She said "I didn't tell you because it wasn't important."

I asked her what she thought about the practice and she said "I think it was very practical - they didn't have to worry about leaving mouldy kit around". She said neither she nor her boys thought there was anything odd about this. She did add that for swimming galas when spectators were present they did wear trunks.

Apart from Berkhamstead I think compulsory nude swimming for boys also persisted at Newcastle Royal Grammar and Manchester Grammar into the early 1980's. These must have been the last schools in the country to abandon the practice.

Much of the reason was probably conservatism. Our school uniform was originally tweed but when Queen Victoria died it was changed to mourning black. We were still wearing that when I was there! Although I gather this has now changed. I calculate that we were therefore mourning Queen Victoria for nearly 100 years!
Comments by Dave on 5th July 2014
Hi David Mayne?

Were you allowed to wear shirts for inside and outside PE?
Comments by Ben on 4th July 2014
Matthew,
When you say that the "swimming was always done naked" was this only for swimming lessons or also when there were swimming competitions or galas in front of mixed spectators?

Was it a boys only school or mixed?
Comments by david mayne on 2nd July 2014
I visited a normal secondary school in the mid 80's.Upon our first p e lesson we were told that our bodies would develop and that we would have to shower.it was common for the teacher to be in the changing room making sure you all showered and not just run through.We also had to wear white shorts inside and outside.We were told to wear a swim costume or no pants which was awkward when it was a wet rugby lesson.One day the teacher told us we were not allowed to play football as the pitch was frozen and said we were to go swimming instead.those that chose to not bring swim trunks to wear were told to just wear their shorts.The horror on their faces I can remember now.The teacher said yes they were see through but we were all the same and hget on with it.
Comments by Matthew on 30th June 2014
Familiar with many of the memories. I boarded when i was 11 - 13 but lived near the school. In the summer holidays i was given extra swimming lessons by the schools sports teacher at the school as my mother worked in the office. I went there a few times a week. I always got changed in the cubicles but swimming was always done naked and that was the routine for my lessons. Had to work on strokes outside of pool normally for about ten minutes and then did swimming. He was very good as he would teach actually in the pool, in trunks. He would support you on tumble turns turns. Never thought it was odd and i certainly improved.
Comments by NickK on 14th June 2014
John Lavendar - thanks, I have sent you an email.
Comments by Mike on 12th June 2014
Jeff
It was a prep school in the 70, and up to the age of 13. She supervised us in the showers in the boarding houses also as she was a house mistress there. The housemaster used the cane and she used a slipper. She said she just wanted to leave a mark on the backside to remind other boys to behave. Always on a bare backside
Comments by
John Lavender
on 12th June 2014

To NickK

my email is

finswimmerjohn52@gmail.com

if you want to correspond.

Just highlight the address, copy and paste into the 'to'

box on your blank email form and that should do the trick; look forward to corresponding.
John
Comments by Archie on 12th June 2014
Jim Scotsguy

What was the most trivial thing you were belted for? I was strapped on several occasions for wearing white sports socks with my uniform instead of normal black socks, which was very much the fashion in the 80s. Many of us got our hands and on occasion backsides warmed for doing this.
Comments by NickK on 11th June 2014
John Lavendar - Many thanks for your reply. All very interesting. I have Yahoo mail and so cannot open your email address but would like to chat if there is some way round this.

JC - interesting about the boxing - we too were made to fight hard and swift retribution followed from the PE master if you didn't give it your all.
Comments by Jeff on 10th June 2014
Mike,
Up to what age where the boys supervised by the female teacher in the showers?
And what did she spank them with when they misbehaved?
Comments by JC on 9th June 2014
NickK,

Yep we had boxing too from 11 to 18. All boys were stripped to shorts without exception and made to really go for your opponents. We were kept fighting in the ring until the teacher reckoned we were sweating enough.
Comments by Mike P on 9th June 2014
At my prep school, our pe/swimming teacher was female and was always present when we showered after pe. We were all boarders and it was fine and was often more preferable than male teachers being present. She was strict but let us have warmish water whereas the male teachers generally forced us to have cold showers. After a while everyone becomes oblivious to it and was just normal. She could however dish out punishments to boys who messed around, generally on a bare backside.
Comments by James on 9th June 2014
Jeff

When we participated in all boys team events such as cross country running,there were not enough changing areas.Some of us had to use the girls'changing rooms and these were always supervised by female teachers.
Comments by Andy on 9th June 2014
It was the cane when I was at school across the backside normal.I managed to avoid it but should of had it at least twice!Had detention a few times including P.E. One lad in my classes got the cane for wearing pilmsolls for indoor P.E were not allowed anything on your feet had to be in barefeet.
Comments by Archie on 8th June 2014
Sam

Yes, we were tawsed on our hands and our bare backsides. Also slippered on the backside.
Comments by Jeff on 8th June 2014
Anyone had female teachers supervising boys showers after PE?
Comments by NickK on 8th June 2014
Michael, we had something similar at my all boys grammar school. In the first two years there would be boxing on the occasional lunchtime. Anyone who wanted to box (and I remember a couple of occasions when, similar to your school, boys who had been fighting or had a grudge would be sent into the ring) could do so - stripped to shorts, big heavy gloves, just on gym mats with no ropes! Like you, it was basically a slugging match with no real skills, until one boy was exhausted and conceded defeat.

The thing I most remember were the crowds of boys who crammed into the gym to watch the spectacle and the noise levels which were terrifying! Lord of the Flies stuff! Great days.
Comments by
John Lavender
on 8th June 2014

To NickK

Re: wrestling

Hello nick, thank you for your query.

The Bouts were uncoached; we just were paired-up with a Random Opponent , one bout at a Time, usually towards the end of the Lesson , and usually if we did not have A Killerball game in that Lesson.

We were just told to grapple -the Bouts lasted around 5 minutes if one of us did not Submit. No Wrestling Holds were taught and it was pretty much unregulated.We ended up with some pretty sore places on our Bodies!

We did not get to choose our opponent but to be fair we were usually matched against someone of similar Build/Height so it was not usually a Mis-match.

Perhaps email me direct if you fancy corresponding further - your Call. My email is shown above this post on the logo.
Comments by Michael on 8th June 2014
Boxing was not part of the curriculum at my old grammar school, but from time to time I did notice there were pairs of boxing gloves hung up in the PE equipment store.

One day they were used by two boys who had been found quarrelling, and who, after being separated, were invited to sort out their differences under proper supervision in the gym, by means of a boxing match.

Neither boy had previously been given any formal instruction in the sport of boxing, so it was basically a slogging match. It lasted only until one boy got too tired to continue, and admitted defeat.

At that point the PE teacher, who had been refereeing the match and ensuring fair play, ruled that his opponent was the winner.

I think that 'elf & safety' regulations would rule out such a means of settling disputes today.
Comments by Sam on 7th June 2014
In our school pumishment was usally the cane across the hand(not the one you wrote with so you were not stopped from working). This could be very painful but no tears.

The slipper might be administered in PE. Across a tight backside so that the teacker could see that no pants were being worn. Did any schools use the belt,cane or slipper across a bare backside?

When you think about it we suffered the punsihment and dare not tell our parents because we would get another clout from them for getting into trouble in the first place.
Comments by NickK on 7th June 2014
John Lavendar - interesting post about the PE activities you had. Some of them sound familiar. Was the wrestling something that was properly coached and the moves and holds taught, or was it just get in there and wrestle an opponent? Did you get paired off to do it or was there one match and others watched? And did you ever get to choose your opponent?
Comments by James on 6th June 2014
Archie


Yes,I was slippered a couple of times in front of girls which was more embarrassing but one of the punishments I frequently received was to be made to spread my legs wide so the strap could access my inner thighs.Brief school uniform shorts and games shorts helped to facilitate this kind of punishment and was the most painful.
Comments by Jim Scotsguy on 5th June 2014
Archie,

I was a good pupil but even then I had to take the long walk to the front of the class on a few occasions. I did my best to avoid the belt but in those days it was used regularly- some teachers used it in most lessons. I think very few boys would have gone through school without receiving a belting.
Comments by Archie on 5th June 2014
James

Did you get slippered in front of girls? How were you dressed during the slippering?
Comments by James on 5th June 2014
Sam

They were white and they were gym shorts but also we wore nylon shorts in our house colours,mine were yellow.
Comments by James on 5th June 2014
Archie

I was slippered for forgetting my kit,it was done in public and was very embarrassing.
Comments by Sam on 5th June 2014
James
You mention of nylon shorts.were these white? iI remember a lad in our class wore white nylon shorts for football one day in the rain. They became very see through. He never wore them again.

Why on earth were shorts made in white nylon and why did people buy them because even in the dry pants which were always briefs in the mid sixties could be seen through them
Comments by
John Lavender
on 5th June 2014

At our Grammar-School in the 1960s we had no shirts v. skins unless we were playing Team-games or unless you were one of last 2 Lads to get changed for PE ,in which case you had to remove Tee-shirts and Run-the-Gauntlet as Punishment (some of us were deliberately slow so we could do this and then do PE Shirtless).
If we did Wrestling we were told beforehand to wear Swimming trunks under our Gym-shorts so we knew when we were going to do it, and could just strip-off the Shorts and Shirts when we were starting the Wrestling. We didn't do Wrestling all that often but we looked forward to it as Proper Wrestling was on the TV , usually on Saturday Afternoons.
We didn't do Weight-training but did a lot of stuff with A Medicine-ball, a proper heavy one, probably about 10kg or whatever that was in old money.
We played Killerball , Skins v. Vests , virtually every PE Lesson ,mostly with an ordinary [Leather] Football or Rugby Ball (the game was very like Rugby , only Indoors) but occasionally we were "treated" to playing the Match with the Medicine-ball. Which did wonders for your Upper-body Strength..
Comments by Charlie on 5th June 2014
Our swimming teacher always found it amusing when we came back after the summer holidays and we all had white marks where our trunks had been. It looked like we were wearing trunks. A few boys including myself one summer managed to get an all over tan when on holiday so the teacher got a bit of a surprise when he saw us withput the normal white marks.
Comments by Jamie on 5th June 2014
We did wrestling after school once a week. It was optional but i really enjoyed it.I was pretty skinny at about age 12 or 13 and it was really good exercise but hard work. We just wore our white cotton shorts for it, no top or shoes. If it was hot, we would do it outside.
Comments by Archie on 5th June 2014
James

How were you slippered? Was it done in private or in front of the class?
Comments by Archie on 4th June 2014
Jim Scotsguy yes I did but I was early to mid 80s. Did you get belted much?
Comments by
Jim Scotsguy
on 4th June 2014

Archie,
Did you attend a school in Scotland? Your experiences very much mirror mine from the late 60's.
Comments by George on 4th June 2014
We occasionaly did some wrestling in pe and we had to wear swimming trunks for that instead of shorts. Don't know why but that was the rule. The strange thing was that you were allowed to wear swimming trunks to wrestle in, but not for swimming. That was the 70's for you. After a lessons wrestling, every boy had marks all over their tops where they had been grappled.
Comments by James on 4th June 2014
Archie

I rarely forgot my kit but it was punishable by the use of the slipper.A supply of shorts was kept in case of this eventuality and these were polyester,nylon satin shorts.
Comments by Archie on 3rd June 2014
James

What happened to lads who forgot their kit for a mixed gym lesson?
Comments by Archie on 3rd June 2014
Our gym shorts were black, so it was quite easy for masters to see the waistband of any white briefs sticking out the back which wasn't too unusual an occurrence especially during heavy sessions of circuit training and the like.

They would also occasionally go along a line of boys to pull back their shorts to do a "pants check" if they were being particularly mean!
Comments by Sam on 3rd June 2014
Archie, I see your question to another writer. My experience was that we only wore white shorts, no pants from age 11 to leaving school at 16. I think white because any underpants which were always briefs would be seen. We were not told about any type of support and so did not know about it or wear jockstraps, relying on tight shorts for any support which sometimes left nothing to the imagination. However, as far as I remember no one thought anything about. It was an all boys school and there was no embarrasment and and then we stripped off and had communal showers at the end of the lesson with no inhibitions.

What were othe peoples experiences?
Comments by James on 3rd June 2014
Archie

We were not allowed to wear anything under our shorts for mixed gym lessons or any other sporting activities.I simply wore shorts until I left school.
Comments by Archie on 2nd June 2014
James

When you were in mixed gym class were you allowed to wear anything under your shorts? We weren't allowed to wear anything under ours until we were older when we could wear a jock or speedos under, though many of us wore briefs - we got belted if we got caught! I do remember that some lads didn't wear anything underneath even when they were a bit older notwithstanding they were a bit too big for their gym shorts....
Comments by Lorry on 30th May 2014
Yes, meant wearing trunks was not on the Agenda. This was the practice at my school and many others. I did not wear trunks from early prep school from age 8 to about 15.
My sisters teased me a bit as they thought it was amusing that they were allowed to wear costumes and we wern't. I got my own back when we all forgot our swimming kit but i could still do my swimming lesson
Comments by mark on 30th May 2014
Simon, I remember getting teased for having to wear shorts
Comments by Sam on 29th May 2014
Matthew your comments about whther the Teachers should have also been naked are interesting. Possibly logical but I should think unlikely.
Comments by Simon on 29th May 2014
Lorry,did you mean "wearing trunks was not on the agenda"?
Why were you teased by your sisters,I was teased by sisters for wearing short trousers?
Comments by James on 28th May 2014
An awful as I think the treatment of boys in games and swimming in school was up to the 1980s,it may still surprise you to hear that I actually have no problem with naked swimming in principal but it has to be a free choice of any boy to do so.What right does anybody have to force nudity on teenage boys at any level?That goes for showers too.The reasons for naked swimming at my school were that you couldn't wimp out with the excuse that you had forgotten your kit.Having said that many lads still didn't bring a towel and ended up borrowing from a friend or getting dressed damp.Our classes used to involve about 36 boys at times and I would readily admit that maybe 10 of them loved it but they were the minority.I rememeber at the end of one lesson coming out of the pool and getting a loud bawling at for some minor reason by my games teacher.I just cannot begin to explain how utterly small and pathetic it made me feel to be shouted at while naked in front of my fully clothed adult teacher,as a boy of 14,while he was looking me up and down.During a lesson of about 70 minutes the boys would not be in the pool for the whole time and for periods would be required to stand at the edge in line watching in the pool doing various swim tasks.I always remember wandering where to put my hands.To cover or not.When we lined up at the start of the swimming periods at the side of the pool,as our names were ticked off the register,I was struck by how many of my classmates would put their arms behind their backs,maybe somewhat defiantly.We had a female school matron who had seemingly unrestricted access to the pool where boys or girls were swimming.She appeared on numerous occasions and I clearly recall us saying to us boys one day that there wasn't a lad in the 12 years she had worked there who she hadn't seen in his entirety.We all new what that meant.About 3 times a year wee would have the matron check the soles of our bare feet prior to our lesson,when we kneel in a line along a bench.Not one of us liked it.Oh!and guess what,we were ready to swim at the time,so naked.Now why did we have to be naked to have our feet looked at?On numerous occasions rumours circulated that we would be getting our penises checked out by her too.It stayed a rumour,thankfully.The simple fact is that there were a lot of boys who never got used to this behaviour by our school teachers and staff.Boys could be stripped,poked about,looked at etc.as if we had no care about it.But girls,well it was a world of difference.No naked swimming,nice swimwear of their choice,voluntary showering and nice gym kits too.They could wear their trainers in the gym,boys were bare feet and bare chested.Many were mixed so it mattered.The boys were to be "meat" to be checked over.Lots of boys didn't like taking their shirts off and going bare chested but were given no choice.
Comments by Matthew on 28th May 2014
Sam, in an all-male context, trunks would probably have been considered unnecessary. By the same token, though, the teacher should not have needed them either.
Comments by Lorry on 28th May 2014
Sam, you have to remember, this was a totally different era. The cane was used daily and i was not aware of parents complaining about this. Mine certainly didn't and in fact if i got the cane at school, i got further beatings at home. Not wearing trunks for swimming was just not even on the agenda. It didn't register as anything unusual as this is what we did. Always got a bit teased by my sisters but this was the norm. I did go to a private school and in the 70's, this was the way it was. Nowdays, i appreciate, we are a million miles away from where we were
Comments by George on 28th May 2014
Jeff
We did sometimes have females come in to the swimming area. It really depended who they were. If it was one of the sports teachers or medical staff, never a problem. We were oblivious to them. The rule was that no trunks until year 3, ie about 15. Not compulsary and quite a few, especially the boarders stayed nude.
We did have house galas and these were all done nude if you were year 1 or 2. Only school staff watched. Not sure about galas outside school but i assume that trunks were worn
Comments by Sam on 27th May 2014
I have read so many of the comments about nude swimming. This was something I did not experience. Does anyone have any definitive reason why nude swimming for boys was insisted upon in it seems many schools. Were there any parents that objected?

Could you imagine it happening nowadays assuming swimming lessons are single sex.