Clitheroe Royal Grammar School

Year: 1959 Item #: 1602 Views: 153,733 Comments: 724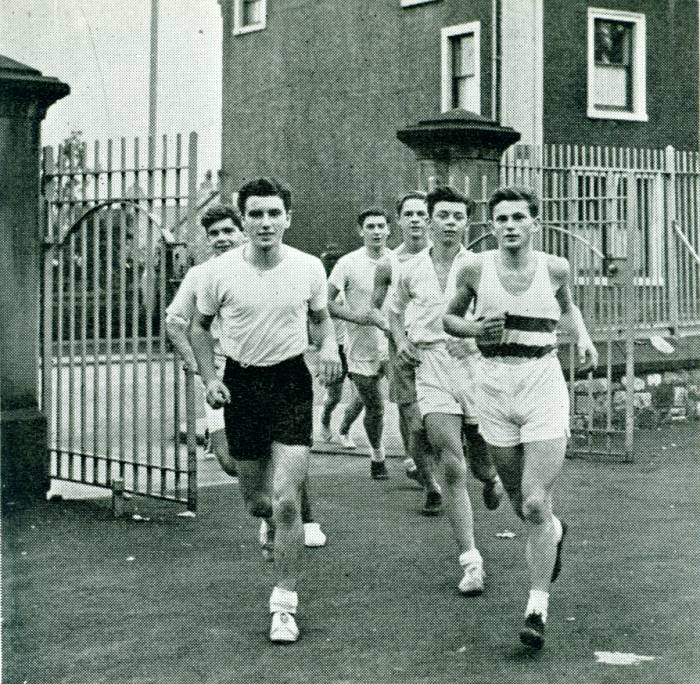 Led by Stuart Bennett (Captain), right, the cross-country team returns from a practice run around the nearby country-side.
Source: Lancashire Life Magazine, November 1959
724 user comment(s) below:-
Comments by peter melvyn on 16th June 2018
It seems that there are different types of shorts according to the sport, where basketball players wear long baggy shorts and rugby players brief tighter shorts. Many suppliers of uniform state "Bermuda" style school shorts which reach down to the knee or below. There are also Cargo shorts that have external patch type pockets. Looking at photos of me at 11 years old many years ago my grey shorts were very brief with much of my thigh showing. There are still prep schools that require short trousers to 13 years. I doubt if many boys at secondary schools now would take kindly to compulsory grey shorts with long socks. But fashions do change and short trousers may make a come back.
Comments by Tony Bennett on 16th June 2018
I agree with Arby and Sam. Most 6th formers were wearing a jockstrap (athletic support) for sport when I was at school. I read somewhere that these compression shorts are more restrictive, somewhat weightier, and not as good at dispelling heat. What a shame youngsters can't see beyond 'fashion'!
Comments by Arby on 15th June 2018
I agree with Sam Martin that the Litesome jockstrap was not hideous. It was very comfortable and sensible. I wore one through the 6th form and beyond. Cannot understand why they died out. Hopefully the jockstrap may come back before long.I agree that compression shorts are not as good.
Comments by Tony H on 15th June 2018
So those are the shorts I see hanging down under football shorts. I though that they were some form of thermal underwear badly designed. I did not realise that they were to
give support.

How times and fashions change. I suppose it is because youngsters these days do not like to wear under or support that is designed like briefs or slips.
Comments by Harry Saig on 15th June 2018
Pleased to hear that the litesome Jock strap has made a comeback.From a biological view it makes sense to wear such a support especially in adolescents.
Comments by TimH on 15th June 2018
Andrea - There's a report this year of another school which introduced 'gender neutral' dress regs - long trouysers or skirts - shorts are banned.

https://www.independent.co.uk/news/education/education-news/chiltern-edge-school-uniform-policy-trousers-skirts-shorts-ban-a8382336.html

In an age where shorts are becoming more 'standard' wear for men (at least in summer) it seems that some people are still set in their ways: I only wish I could get away with them on the few few summer days I have to wear them!
Comments by Sam Martin on 14th June 2018
Frank S

The Litesome jock wasn't hideous if you wore the right size. Nothing beats a jockstrap for comfort in sport, in my opinion. Lads today look rather absurd with their compression shorts hanging down from under their shorts!!
Comments by
Andrea
on 8th June 2018

At least one school decided to introduce shorts as optional summer uniform:

https://www.telegraph.co.uk/news/2017/06/23/school-boys-wore-skirts-protest-introduce-shorts-summer-uniform/
Comments by Frank S on 6th June 2018
Sam Martin, you are right about the jockstrap returning. My son wears them for sport mainly because his mates do at school. In my day it had disappeared. Just remmber my dad wearing a Litesome .. hideous looking thing ! Fashion rules the day hey!
Comments by Sam Martin on 6th June 2018
Andrea

I remember reading that too, not sure of the outcome. You?
Comments by Sam Martin on 6th June 2018
Andrea

I remember reading that too, not sure of the outcome. You?
Comments by James on 6th June 2018
I don't recall the wearing of short trousers being popular with my contemporaries at school.For the few who wore shorts were cast aside and were ridiculed.
I would have preferred to wear the longer style of shorts,but my parents had a preference for the short shorts which I didn't like wearing because they were chilly in cold weather and I was subjected to more teasing.
Comments by
Andrea
on 5th June 2018

Following on from Peter's comments, I recall reading about a couple of schools where some of the boys had threatened to turn up at school wearing skirts as a protest about the girls having an option other than long trousers in hot weather!
Comments by Tony H on 5th June 2018
I have seen the articles in the papers that older boys in in years years 8 onwards want to wear shorts in the summer, and my son is one of them. But as the previous writer stated I hope they are not the"long shorts" below the knee. But reasonably short and tailored
Comments by Frank C on 5th June 2018
Peter that is an interesting observation!Certainly the trend is for shorts again plus the postmen are good ambassadors of the cause.Once youngsters see their elders wearing shorts regularly they will not feel it unusual.Can I put a plug in for Albert Prendergast whose Vintage schoolwear can be found on the internet.He does mail order from his Buxton based firm I can recommend his Adult size shorts.
Comments by James on 5th June 2018
Peter,although the wearing of short trousers was ubiquitous in the seventies and eighties the tradition gradually'died away'when schools discontinued the compulsory wearing of short trousers at school,although,at my secondary school,boys were allowed to wearing shorts if their parents so desired.
It was a requirement by my parents that my school uniform and my best suit shorts should be short and trim,much to my annoyance.
I didn't like wearing shorts up to 16,but I never considered knee length shorts an option,as it would have been preferable to wear long trousers instead of ridiculous short trousers.
Comments by Roy on 5th June 2018
I also remember wearing short trousers until midway through the Second Form (Year 8) and I suppose I must have worn long socks as well
Comments by Sam Martin on 5th June 2018
Peter Davis
Funny how fashions do full circles. Even the good old jockstrap (Litesome ... in my school days) is making a comeback
Comments by peter davis on 4th June 2018
It is interesting to read about school uniform for boys and how short trousers gradually died out. I recall my London grammar school wearing grey shorts until the 3rd. form and we also had to wear long socks with the school colours on the turnover top. Up to 12 years old I also had a short trousers suit for weekends. I now see that in some schools boys complain about long trousers in hot weather and want to wear shorts. Some schools have now again added grey short trousers to their uniform list. On Ebay there are several suppliers for grey shorts up to 16 years. So it seems we have gone the complete circle and older boys will be back into short trousers, and even maybe long socks! I only hope the shorts will be short and above the knees and not over the knees.
Comments by James on 18th May 2018
Tony,I do remember the specifications of my short trousers;I took a 26" waist and the requirements of my shorts were that they had an inseam leg of 2".
My mother had no problem finding short trousers for me as I grew older as I had a narrow waist.
I agree,I felt silly wearing shorts,but I had to conform to my mother's wishes.
Comments by Tony H on 18th May 2018
James I understand about how you felt silly having to wear shorts when most other lads wore longs. It was the same for me. Do you remember your mothers exact specifications?
Comments by robin on 16th May 2018
@Claire at my school, gym class was always done fully clothed. Boys did not even go shirtless for shirts and skins. However the rules were much more relxed for after school activities, it was a common sight to see the cross country and track team strip down to minimal attire - many girls in just sports bras/shorts and most of the boys completely bare chest.
Comments by James on 15th May 2018
It was never a problem finding short trousers that would fit me properly as I grew older.
Boys of my age had usually been promoted to wearing long trousers and I often felt silly wearing my brief shorts that had the specifications to my mother's requirements.
Comments by Frank on 15th May 2018
Tony,good to hear of yet another lad who was forced to wear short trousers into their early teens!I was reasonably tall for my age at 12 and 13 the fourth tallest in my year I would say.This was reflected when choosing sides for the 🏉 rugby teams!I played the position of prop more often than not and the shorter lad would get fly half.
Comments by Tony H on 14th May 2018
I wore grey shorts in secondary school until about 14. Being short at that time for my age I was not deemed big enough to wear longs. One of the problems with the shorts was that they were not really made for my age and so yes they were short and tight which also meant underwear was also uncomfortable. After much persistence I was allowed longs.
Comments by James on 13th May 2018
Hi Frank,thank you for your reply,I had to wear short trousers slightly longer than yourself,until I was 15 in the fourth form.
At that age peer pressure was tremendous and with about 400 boys in long trousers,nearly all younger then myself,I felt very isolated.
When I pointed this out to my mother and explained that I was the only only boy still in short trousers and other boys of my age were in long trousers she replied"you are not any other boy and you will remain in short trousers.
Certainly the style of shorts were getting considerably shorter as I grew older and another popular brand was'David Luke'.
Comments by Claire on 12th May 2018
Newcomer here, thoroughly enjoying reading the variety of PE clothing experiences. Although topless PE was obviously fairly widespread for boys in the past, does anyone have any experience of schools where girls PE kit was shorts plus sports bra, with shirt optional? My daughter was at school around the time of the London Olympics, and the sight of female athletes competing in just bra-tops and shorts led her and some of her friends to campaign, ultimately unsuccessfully, for similar freedom in PE classes.
Comments by Frank on 12th May 2018
Hi James I spent the first and second year in shorts aged 12to13 September1973 late 13 I progressed to long trousers I had some local friends same age and they were in long trousers a good eighteen months before me and coming round to my house regularly my mother realised I didn't want to feel left out.My first black ones for school were from Marks and Sparks!I was aware of Trutex and Banner as rival brands it was dependent on where your parents shopped regularly.There was a branch i8in Altrincham our nearest large town.
Comments by James on 9th May 2018
Frank,thank you for your reply,my short trousers were the Trutex brand.They were a very popular brand especially for mothers who preferred the shorter style of shorts particularly for younger boys.
What age were you promoted to long trousers?
Comments by Frank Chroston on 8th May 2018
Thank you for your reply James mine were the famous St Michael brand.
Comments by James on 7th May 2018
Frank,

I too had to wear those'awful grey shorts'as you describe them.
After moving to secondary school our uniform requirement was that boys could wear long or short grey trousers regardless of age.
So rather than a promotion to wearing long trousers to my new school,my mother took the preferred option of keeping me in short trousers.
Of course the ritual of making boys wear short trousers was dying out in seventies,so it was quite unusual to see boys in short trousers at that age.
Comments by
Andrea
on 10th April 2018

Pete, we had two lessons of indoor PE per week for which we wore our gym knickers, a white polo shirt and white plimsolls (although some didn't bother with those and just went barefoot). We also had to take a towel for the shower afterwards.

In addition we had one double period of games per week. This was always outdoors and was when we did things such as netball, hockey, rounders, athletics and tennis, depending on the time of year. In addition to our gym knickers we were allowed to wear a gym skirt or culottes (a cross between shorts and a skirt). In the summer we wore our polo shirts and plimsolls, but in winter it was a long-sleeved cotton sports shirt and if we were playing hockey on the school field (no astro-turf back then!) a pair of hockey boots. These had raised rubber bars on the soles to help us to stop slipping over.

A few of the girls who played in the school teams used to take their own hockey sticks or tennis rackets into school, but most of us just used the ones provided by the PE department. It was just as well because I used to cycle to school!
Comments by MikeL on 9th April 2018
I remember also using them to brighten plimsolls during basic training in RAF. Never saw the point, trainers were more comfortable!
Comments by Pete on 8th April 2018
Andrea, I also remember those liquid whiteners with a sponge brush dipped in them for our PE plimsolls as you call them, we just called them PE slippers.
No, we didn't do any competitive sports at our secondary school, just gym stuff and schoolyard running and athletics, so we didn't need any football or rugby boots.
Did you girls play any sports at your school and did you require any special kit for it?

Having to carry the PE shorts, vests and slippers in our schoolbag on PE days was more than enough. I wonder how other boys and girls here who had other sports coped with carrying all that extra gear.
Comments by
Andrea
on 1st April 2018

Hi Pete,
I started secondary school in 1971 and black leather shoes were stipulated as part of our uniform too. We had to keep them polished, but from recollection we used Cherry Blossom shoe polish. The shoes I was referring to had leather uppers, but the soles were a man made product and had animal paw prints in place of the more normal tread.

We had the canvass plimsolls (or pumps as we called them) for PE too. Ours were white and had to be kept spotless using a liquid whitener. I can't remember the brand name, but it had a sponge under the cap to spread it with.

We also had black canvass hockey boots with rubber bits to protect our ankle bones if we got rapped their by either the ball or a stray stick!

I assume you had either football or rugby boots?
Comments by Pete on 31st March 2018
Andrea, when I was at school in the 60s everyone wore leather shoes, including us schoolkids. If you wore anything else it would have been considered as cheap and pauper.
The brand name artificial material light shoes only appeared after the 70s, so you must have been at school after that time.
For PE and sports we wore those canvas slippers, but to be seen in them anywhere else would have attracted comments like "poor boy" or "poor girl". :)
Btw, black leather shoes were the only accepted shoes as part of uniform, at least for us boys, anything else was not allowed. They did require constant polishing though and those Nugget polish tins were part of every household.
Comments by
Andrea
on 30th March 2018

Talking of shoes, does anyone remember the brand which had animal footprints on the soles?
Comments by Gavin A on 28th March 2018
Andrea
Certainly we were encouraged to wear a jockstrap plus cup for cricket, otherwise I think it was just boy driven, i.e. The older boys are wearing a jock and therefore I must follow suit.

Frank
Yes, you are right about boys and their rituals! A jockstrap was a rite of passage for boys at my school. Doc Martins! Yes and those other ankle boot variants! Short lived I think though if I remember correctly.
Comments by
Andrea
on 27th March 2018

As far as I can recall all the boys in my class at Primary School (up to age 11) wore those grey shorts.

I went to an all girls secondary school, but when I saw my former classmates on their way to their Secondary School, most of them seemed to have switched to long trousers. This was in the early 1970s.

We had to wear gymslip style dresses for the first two years at Secondary School, but then graduated to skirts and blouses.

With regard to the other rite of passage referred to by Gavin A, my Ex told me that they had to wait until the start of their third year at Secondary School before being advised to wear a jockstrap. Was that the same at your school?

I suppose the equivalent rite of passage for us girls was getting our first bra. Fortunately there were no restrictions on this. A few had them by the end of Primary, but others didn't get them until the second year at Secondary.
Comments by
Frank Chroston
on 27th March 2018

Hi,Gavin the boots you are referring to might have been Doc Martin's.These were very popular in the early seventies.Again an aspirational item of wear for adolescent boys,Although I didn't have any many of the harder lads had in my year above! The lad that sat at the desk in front of me a member of the Under 14 Squad Rugby mentioned he had a Jock strap.he also expressed the mature feelings he had wearing one. Although I played team games at Grammar school including Cross Country I didn't feel I needed one. I was probably missing out on that one! My manly moment was when I got all​ belt to put on the long school trousers!This I had through my dad seeing one on his suit he had for business.I seemed this was really mature!It funny items we associate with adolescents.
Comments by Gavin A on 26th March 2018
Most welcome, Frank
The ritual from shorts to longs was just one I remember at school, another ritual was to get hold of my first jockstrap (Litesome athletic supporter). I felt I had become a real man overnight!
And talking about fashion. I remember in the 70s the craze for those shoes come boots! Another short lived phase if I remember correctly.
Comments by Frank Chroston on 25th March 2018
Thanks for your replies Gavin and Pete and sharing your experiences.
Comments by Pete on 24th March 2018
I'm a bit older than you guys and still wore those grey shorts till I was 14 in the mid 60s.
There were no rules about it as long as they were the right grey colour of the school uniform.
I don't remember exactly how many or what percentage of boys still wore shorts at that age but there were quite a few.
In the first two years of secondary, ages 11-12, nearly all boys wore uniform shorts. It was from about age 13 or 14 that some boys started to wear long trousrers.
Comments by Gavin on 23rd March 2018
Frank
I had to wear shorts up to the age of 13 (1971) ... most boys were like me in having to wear them to the end of junior school... only the taller boys were allowed to wear longs! I remember flares in the senior school a short-lived fashion, though. Seemed to be over before the end of the 70s.
Comments by Frank Chroston on 22nd March 2018
This History site is quite quiet this year there were some good comments last year and the previous. I read some comments from respondents who will be in their sixties now boys having to wear those awful grey shorts as part of their uniform until as late as forteen I experienced this until 1973.99% of my friends and classmate were in long trousers by that year and fashions changed so much!IE flares!Did anybody else experience this?
Comments by Frank Chroston on 21st March 2018
Cont. Was not an issue but a perfectly normal procedure.p
Comments by Frank Chroston on 21st March 2018
To Dan Jones.how is your son finding Trinity school Nottingham?You had some issues about the showering policy at his middle school following P.E and Games.Judging by other comments on this and the Burnley site you are lucky to have such a hygene policy at Trinity.Nowadays many schools are lax about making showering mandatory after P.E and games encouraging pupils to be negligent in washing their bodies after physical exercise!I know I was educated in a different era and being naked with my classmates after P.E. and games posed no same or embarrassment for me personally.
Comments by
Frank Chroston
on 30th December 2017

Response to Neil and Roy.Some disciplining did occur in the changing rooms,some of my second year form received a couple of rounds on bare bottom.I incurred same for forgetting my PE shorts it didn't happen again as an alarm bell rang in my brain.Didnt seen anything untowards during my years there.
Comments by Neil on 29th November 2017
Derek

My experience and feelings, too. What school did you attend and in what years?
Comments by Roy on 29th November 2017
Certainly when I was at school we had open showers and I don't even recall masters being present but I suppose they must have been.
Nothing inappropriate ever happened as far as I recall and I agree with Derek that there is a lot of hysteria around these days in our PC world.