Advert Museum
Advert Museum
Food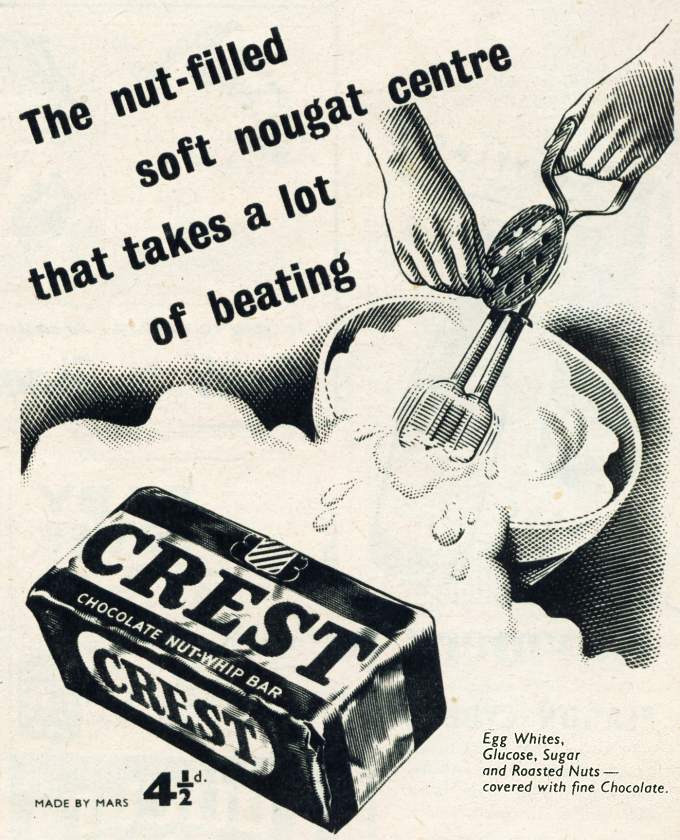 Crest
Food - Confectionery
The nut-filled soft nougat centre that takes a lot of beating.
Views: 4,647 Year: 1950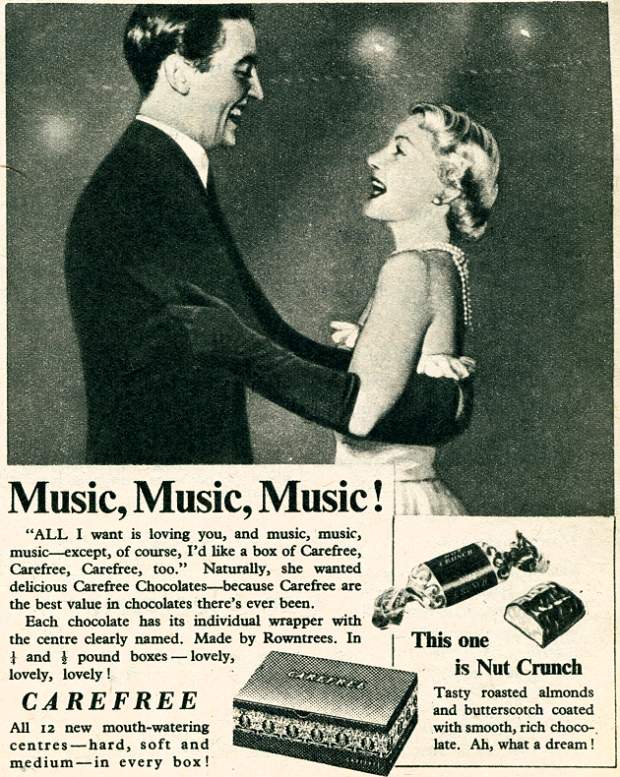 Carefree
Food - Confectionery
Music, Music, Music! "All I want is loving you, and music, music, music - except of course, I'd like a box of Carefree, Carefree, Carefree too." Naturally, she wanted delicious Carefree Chocolates - because Carefree are the best value in chocolates there's ever been...
Views: 5,066 Year: 1950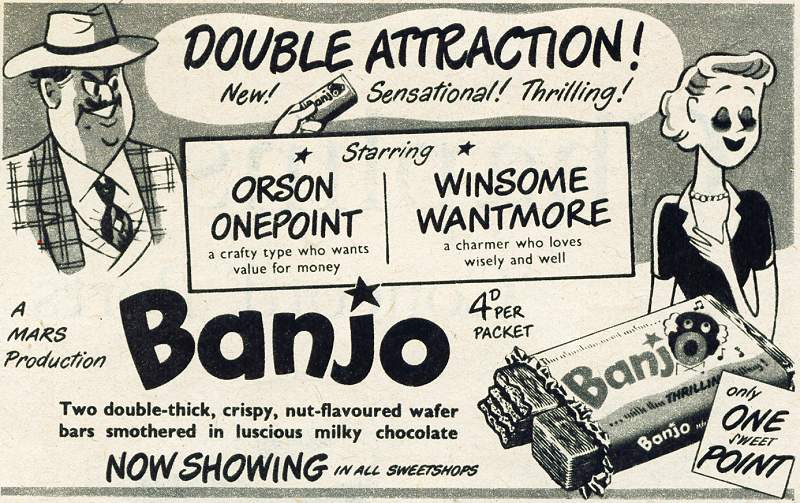 Banjo
Food - Confectionery
Double attraction! Thrilling! Starring Orson Onepoint a crafty type who wants value for money - Winsome Wantmore a charmer who loves wisely and well...
Views: 4,826 Year: 1950

Mars
Food - Confectionery
Mars Are Marvellous You'll certainly agree! Just taste these chunks of sheer delicious goodness made with chocolate to sustain, glucose to energise, milk to nourish you. 3¬?d.
Views: 5,643 Year: 1948

Mars
Food - Confectionery
Compare the quality - Thick coating of milk chocolate, rich caramel layer, delicious centre of malt, chocolate, glucose and sugar - all whipped in white egg. That's Mars quality...
Views: 5,217 Year: 1948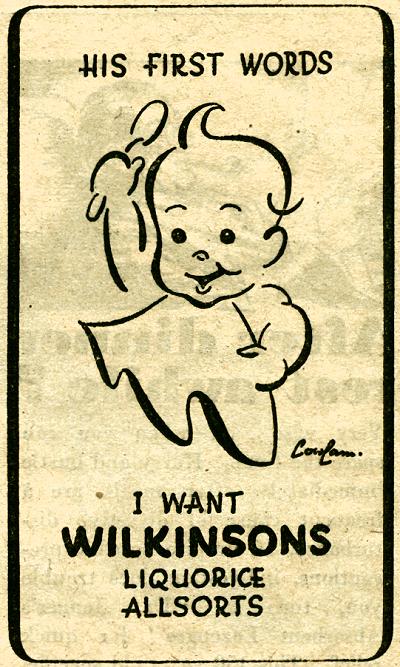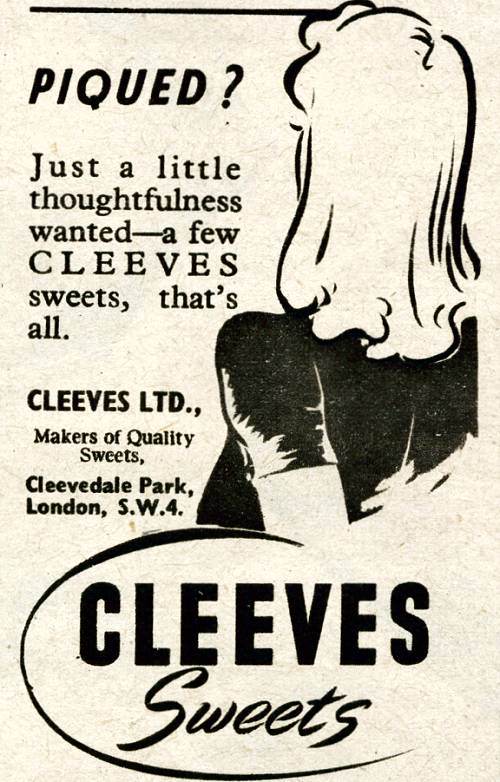 Cleeves Sweets
Food - Confectionery
Piqued? Just a little thoughtfulness wanted - a few Cleeves sweets, that's all. Cleeves Ltd., Makers of Quality Sweets, Cleevedale Park, London, S.W.4.
Views: 5,143 Year: 1946

Aero
Food - Confectionery
Aero Milk Chocolate is kind to the teeth. This delicious new chocolate is easy to bite. It has a texture like honeycomb: crisp and yielding. Because of this special texture, Aero digests more quickly, and consequently gives you energy faster than any other chocolate you can buy. It's a bigger block, too - you get more for your 2d.
Views: 5,762 Year: 1939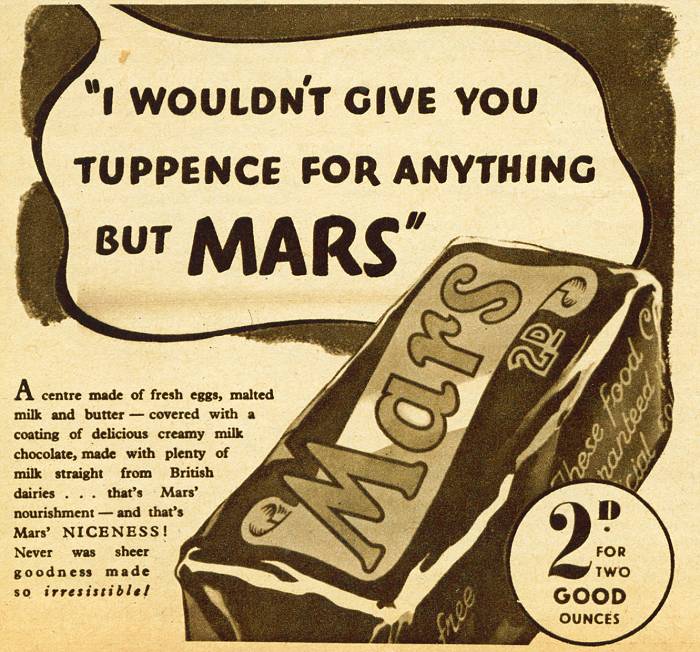 Mars
Food - Confectionery
'I would't give you tuppence for anything but Mars.' A centre made of fresh eggs, malted milk and butter - covered with a coating of delicious creamy milk chocolate, made with plenty of milk straight from British dairies... that's Mars' nourishment - and that's Mars' NICENESS! Never was sheer goodness made so irresistible!
Views: 5,323 Year: 1937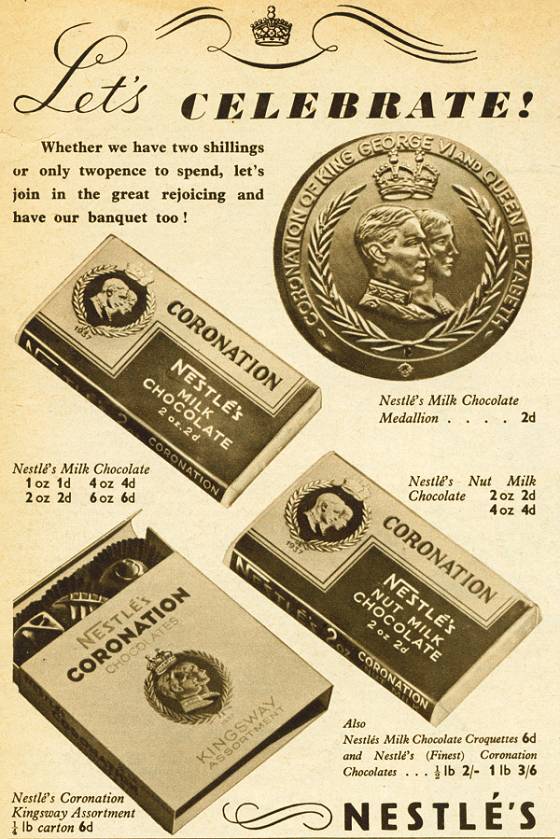 Nestle's Chocolate
Food - Confectionery
Let's Celebrate! Whether we have two shillings or only twopence to spend, let's join in the great rejoicing and have our banquet too! Nestle's Milk Chocolate.
Views: 5,666 Year: 1937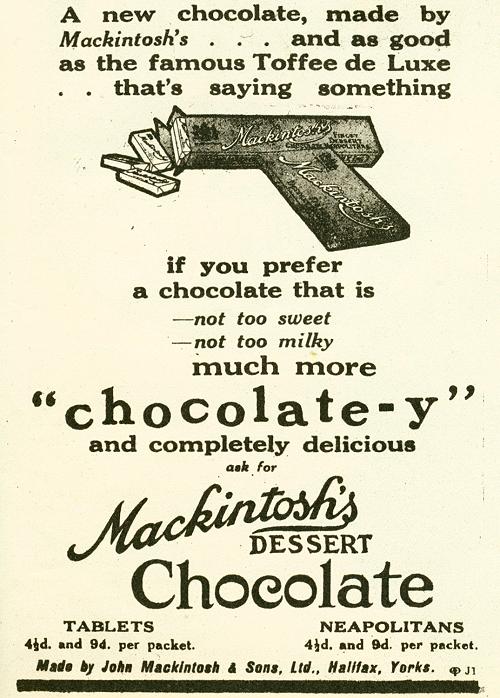 Mackintosh's Dessert Chocolate
Food - Confectionery
A new chocolate, made by Mackintosh's... and as good as the famous Toffee de Luxe... that's saying something. If you prefer a chocolate that is - not too sweet - not too milky - much more 'chocolate-y' and completely delicious ask for Mackintosh's Dessert Chocolate.
Views: 6,865 Year: 1923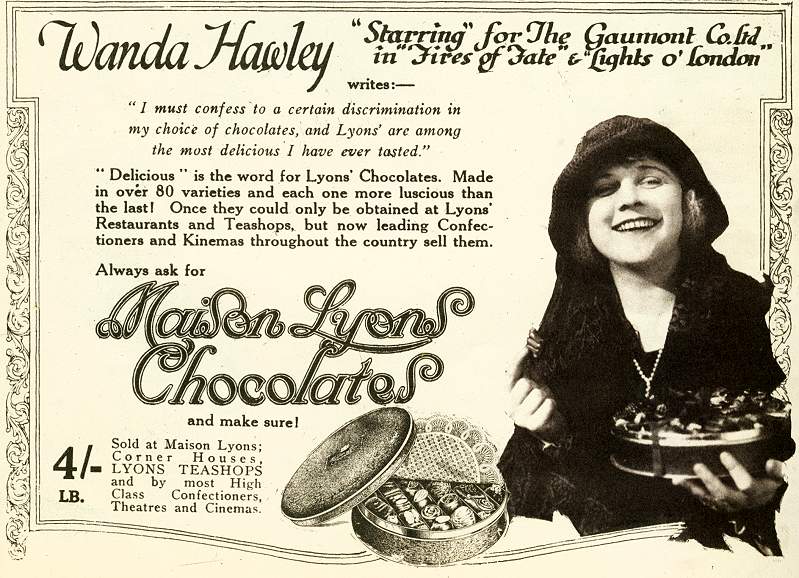 Maison Lyons Chocolates
Food - Confectionery
Wanda Hawley 'Starring' for The Gaumont Co. Ltd., in 'Fires of Fate' & 'Lights o' London' writes:- 'I must confess to a certain discrimination in my choice of chocolates, and Lyons' are among the most delicious I have ever tasted.'...
Views: 6,650 Year: 1923
---