Advert Museum
Advert Museum
Hair Care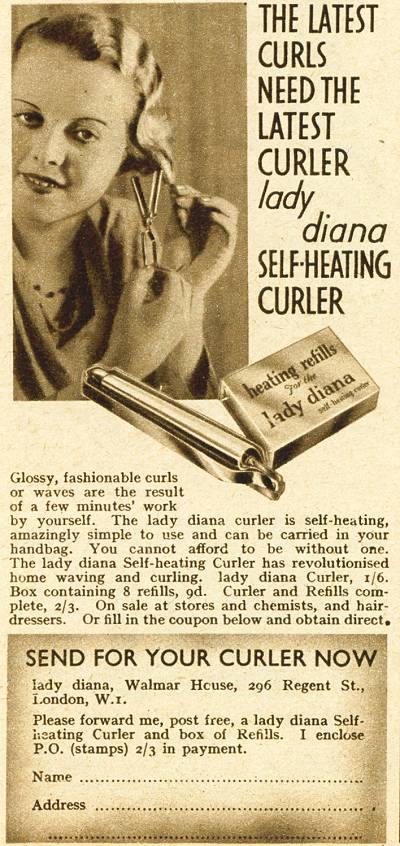 Lady Diana Curler
Hair Care - Curlers, Dryers, Nets
The latest curls need the latest curler - Lady Diana Self-Heating Curler - Glossy, fashionable curls or waves are the result of a few minutes' work by yourself. The lady diana curler is self-heating, amazingly simple to use and can be carried in your handbag. You cannot afford to be without one...
Views: 5,200 Year: 1933 1 Comment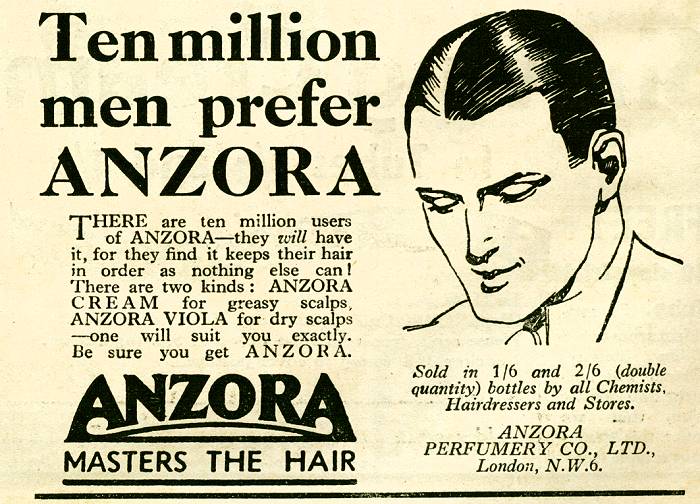 Anzora
Hair Care - Mens
Ten million men prefer Anzora. There are ten million users of Anzora - they will have it - for they find it keeps their hair in order as nothing else can!
Views: 7,040 Year: 1931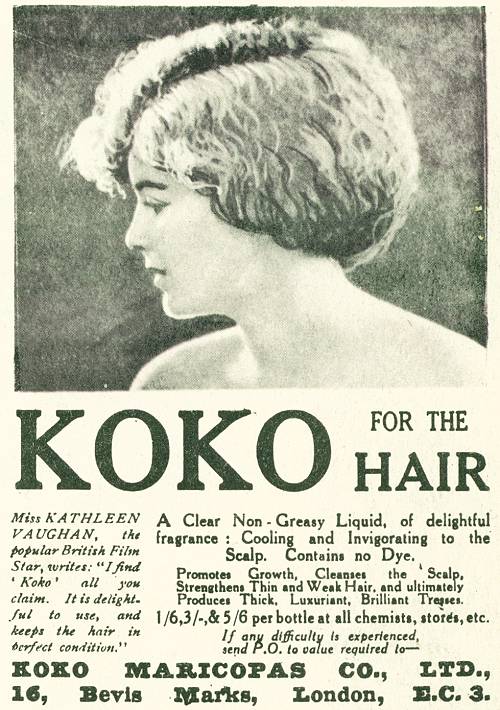 Koko for the Hair
Hair Care - Shampoo, Tonics
A Clear Non-Greasy Liquid, of delightful fragrance: Cooling and Invigorating to the Scalp. Contains no Dye. Promotes Growth, Cleanses the Scalp, Strengthens Thin and Weak Hair, and unltimately Produces Thick, Luxuriant, Brilliant Tresses.
Views: 5,767 Year: 1923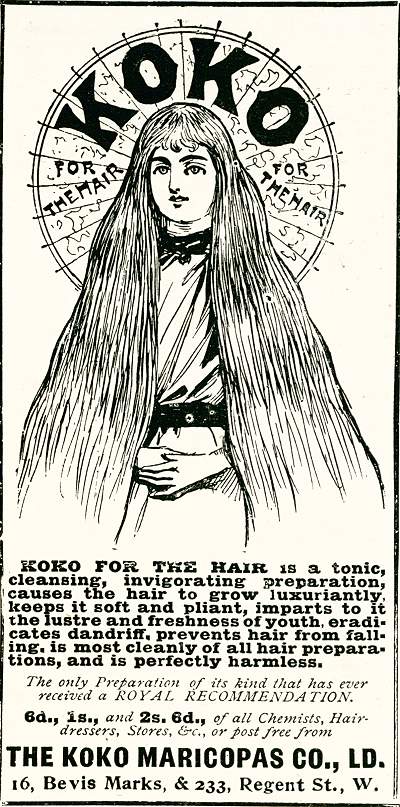 Koko for the Hair
Hair Care - Shampoo, Tonics
Koko for the hair is a tonic, cleansing, invigorating preparation, causes the hair to grow luxuriantly, keeps it soft and pliant, imparts to it the lustre and freshness of youth...
Views: 5,401 Year: 1898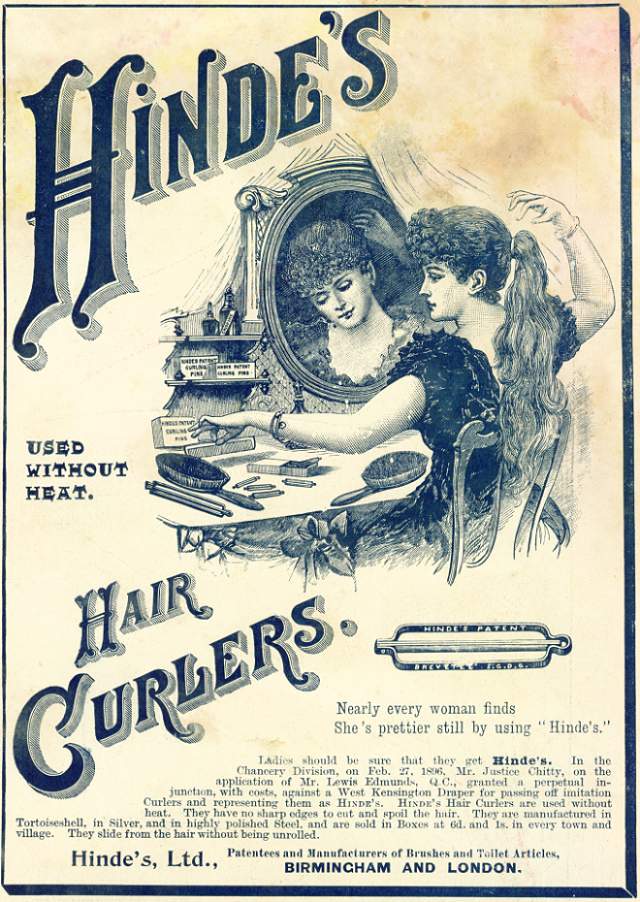 Hinde's Hair Curlers
Hair Care - Curlers, Dryers, Nets
Used without heat. Nearly every woman finds She's prettier still by using Hinde's...
Views: 6,509 Year: 1897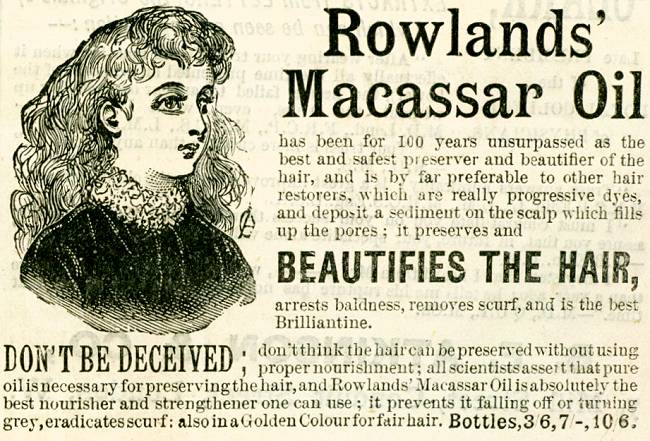 Rowlands' Macassar Oil
Hair Care - Hair Restorers
Rowlands' Macassar Oil has been for 100 years unsurpassed as the best and safest preserver and beautifier of the hair, and is by far preferable to other hair restorers, which are really progressive dyes, and deposit a sediment on the scalp which fills up the pores; it preserves and Buatifies the Hair, arrests baldness, removes scurf, and is the best Brilliantine.
Views: 7,735 Year: 1895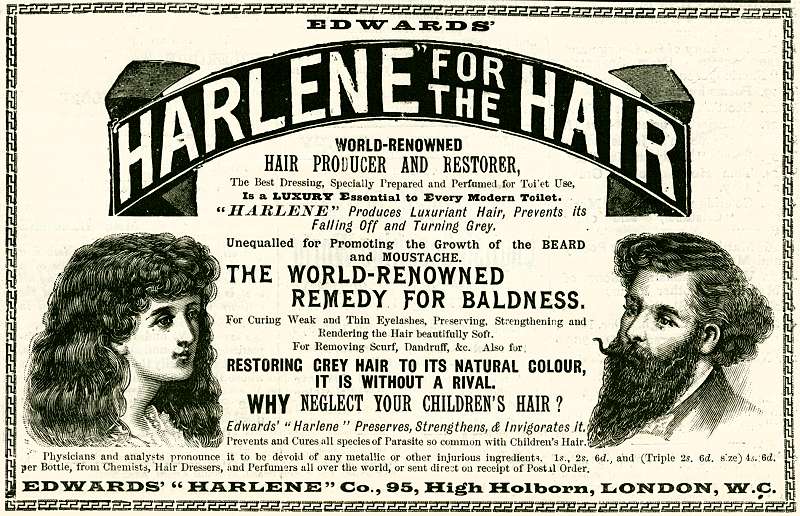 Harlene for the Hair
Hair Care - Hair Restorers
Edwards' Harlene for the Hair. World-Renowned Hair Producer and Restorer, the Best Dressing, Specially Prepared and Perfumed for Toilet Use, Is a Luxury Essential to Every Modern Toilet...
Views: 8,274 Year: 1895 1 Comment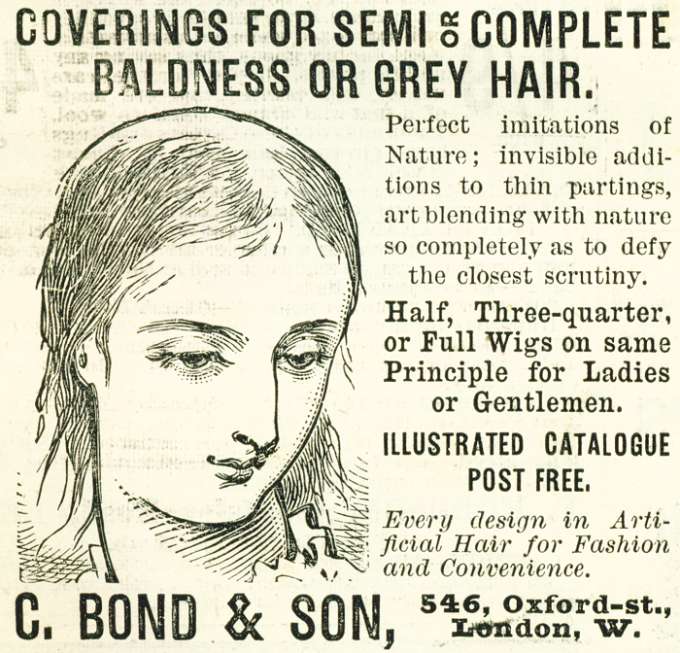 Coverings for Semi or Complete Baldness or Grey Hair
Hair Care - Wigs
Perfect imitations of Nature; invisible additions to thin partings, art blending with nature so completely as to defy the closest scrutiny. Half, Three-quarter, or Full Wigs on same Principle for Ladies or Gentlemen. C. Bond & Son.
Views: 5,197 Year: 1890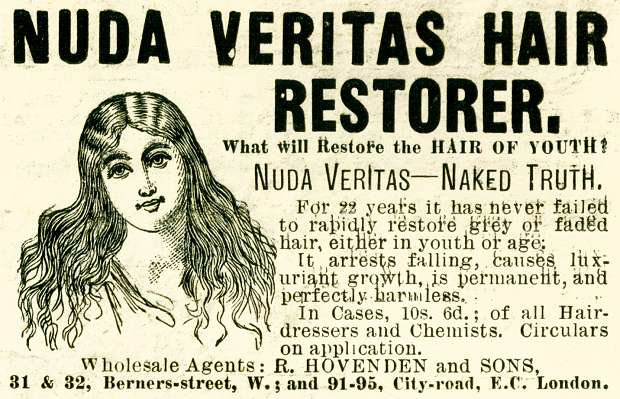 Nuda Veritas Hair Restorer
Hair Care - Hair Restorers
What will restore the Hair of Youth! Nuda Veritas - Naked Truth. For 22 years it has never failed to rapidly restore grey or faded hair, either in youth or age.
Views: 6,208 Year: 1890
---