Advert Museum
Advert Museum
Zubes
4 Comments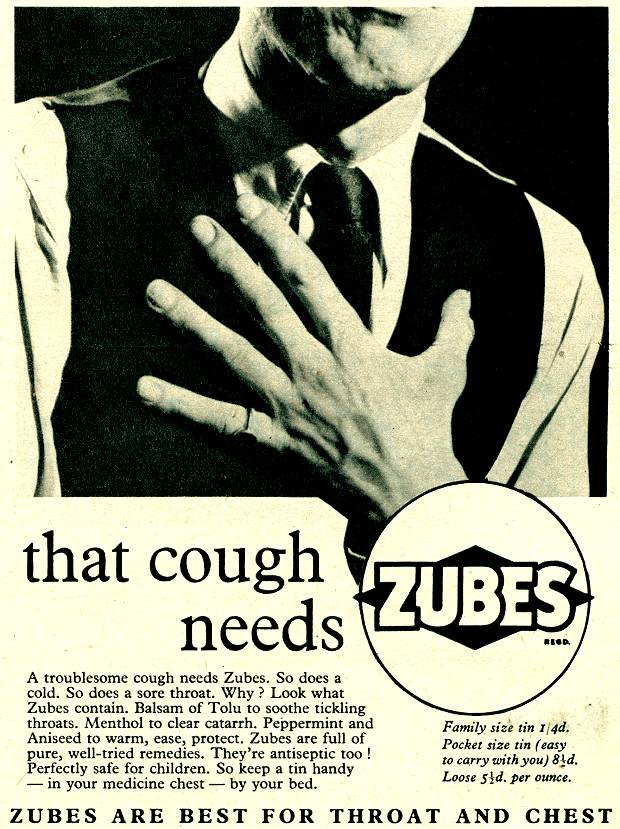 Zubes
Year: 1955
Views: 8,144
Item #: 1009
that cough needs Zubes - A troublesome cough needs Zubes. So does a cold. So does a sore throat. Why? Look what Zubes contain. Balsam of Tolu to soothe tickling throats...
Source: Picture Post. February 26, 1955
Comment by: John Franklin on 1st July 2020 at 09:35
I lived, as a lad, next door but one to a line manageress at the Zubes factory.
We were occasionally given the odd tin of Zubes.
They were quite a good decongestant, and, always having colds (still do!) I was pleased to have them. They worked better than some of the modern "cough remedies" do. John.
Comment by: Pete on 11th December 2019 at 14:49
Hoarse ?- go, suck a Zube !
we as children loved zubes.in my mind i can still taste them.are they still on the market?this memory goes back to the 1950's.just mention zubes and i hear the jingle,ZUBES,ZUBES,ZUBES ARE GOOD FOR YOUR TUBES.they certainly were.