Advert Museum
Advert Museum
Salthouses (Motors) Ltd.
2 Comments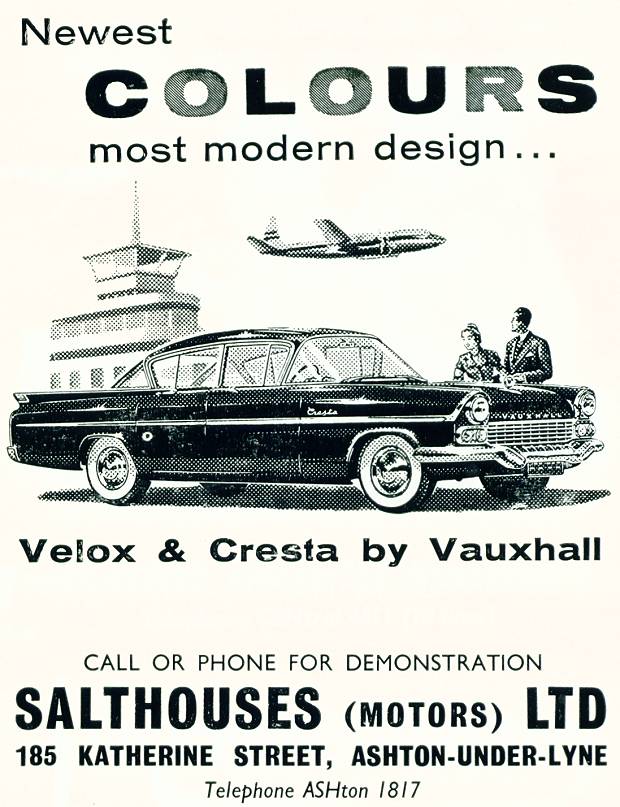 Salthouses (Motors) Ltd.
Year: 1959
Views: 15,013
Item #: 1041
Newest colours most modern design... Velox & Cresta by Vauxhall. Call or phone for demonstration. Salthouses (Motors) Ltd, 185 Katherine Street, Ashton-Under-Lyne.
Source: Lancashire Life, August 1959.
Comment by: Michael on 9th August 2015 at 02:24
My father owned one of these cars, in two-tone blue. It had a steering column gear change and bench seats, so the driver and two passengers could sit in front, and three more had plenty of room in the rear. Of course there wasn't a seat belt or air bag in sight, and there were plenty of projecting controls on the dashboard fascia to make any collision a real disaster.

But somehow these factors never worried us. The car was big, comfortable, good-looking and quick. My brother and I were thrilled to see the speedometer indicating ever faster progress as we travelled for the first time, on one of the UK's new motorways.

With lots of 'egging on' from us as we leaned over the front bench seat, my father got the car up to just over 90 miles per hour. Luckily there was no motorway speed limit in those days, and the experience certainly gave us something to talk about at school!
Comment by: Bert Eden on 3rd May 2011 at 20:34
Best looking car ever produced in Britian. Pitty about the rust