Advert Museum
Advert Museum
Doric
Household > Appliances (large)
7 Comments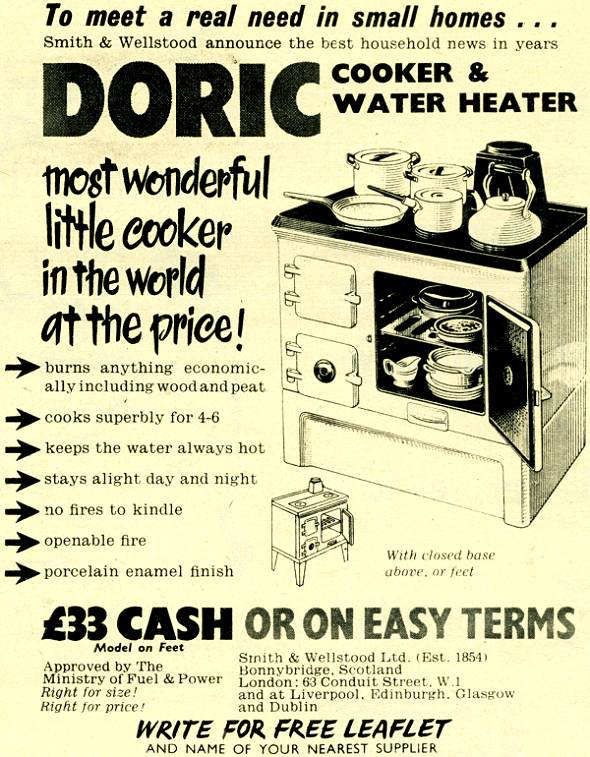 Doric
Year: 1953
Views: 8,476
Item #: 1146
To meet a real need in small homes... Doric Cooker & Water Heater - most wonderful little cooker in the world at the price! Burns anything economically including wood and peat...
Source: Picture Post. February 28, 1953
Comment by: charlie bell on 17th November 2015 at 14:09
Where can i get a part for my Doric
Comment by: Richard on 4th October 2015 at 22:39
I have 2 of these available I may consider breaking for parts or sell complete one left hand oven one right hand oven if anyone'slooking for one or parts for one drop me an email turboie@hotmail.co.uk
Hi I looking for the cast iron plate for the door which has the name on it. I live in Ireland. Hope you can help. Thanks John brett
Aren't these brilliant wee cookers.! Basic but they work just fine if the flue is the correct size.
We are able to supply many parts for the early Doric's. The best supply is for RH oven cookers. We have a Early LH model turning up here Apr 14. Its the second model with casting # 1/1 cast into the bottom base of the cooker. (seen from the floor side of the panel) Its LH oven.
where do you get parts for the doric cooker and water
heater ?
Hi - I've recently moved into a new house with the original Doric stove which I love. If anyone has any tips on cooking/using it I would love to hear them! Thanks
I have one of these in my kitchen. It was converted to burn oil many years ago and to this day has never given any trouble.

With the price of oil beyond all reason I would very much like to reverse the conversion, but the parts removed have long since been lost. So, if anyone has any ideas where I could obtain spares for this "wonderful little cooker", do please let me know!

Thanks in advance.