Advert Museum
Advert Museum
BMK - Blackwood Morton Kilmarnock
8 Comments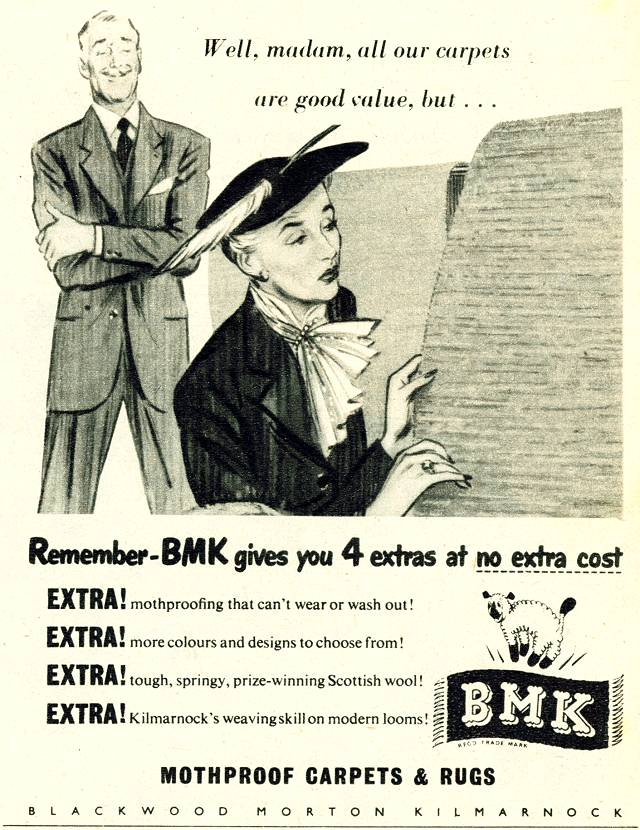 BMK - Blackwood Morton Kilmarnock
Year: 1954
Views: 12,186
Item #: 1214
Well, madam, all our carpets are good value, but... Remember - BMK gives you 4 extras at no extra cost. Extra! nothproofing that can't wear or wash out! Extra! more colours and designs to choose from! Extra! tough, springy, prize-winning Scottish wool! Extra! Kilmarnock's weaving skill on modern looms!
Source: Picture Post. February 27, 1954
Ever one who work in the BMK TOOK pride in making the best carpets in the world
Comment by: Dennis Greenwell on 29th September 2016 at 08:23
I used to listen to Radio Luxembourg in the late 50s early 60s. This was the only real opportunity to hear modern music. One of the programs was sponsored by BMK.
Hi
Does anybody working at Blackwood Morton between 1961-1965
remember the blue Ford Consul Mk2 estate car that was owned
by them. The car is in Bristol in my garage.
i worked at the plant from the age of 16 as i followed a long family tradition till it closed down 30yr later & was involved in almost all dept , the quality spoke for itself as the carpets are still being walked on many years later,still live in kilmarnock ,would like to hear from x employees etc
My father Harry Sykes was works manager of the spinning factory at BMK between 1949 and about 1955. We lived in a company house in Mount Ave and later moved to Fullerton St and Linfern Avenue. I was in the same class as Ronnie Hamilton at Kilmarnock Academy. We left Kilmarnock in 1960 but I still support Killie FC. Great memories. Harry died in 1993 aged 80.
I remember vaguely the bmk judo girl commercials and would love to see them again, if anyone knows where i can obtain copies I would be really grateful. Graham
Comment by: mary on 5th May 2008 at 02:24
I remember not so much the ads, but that little gambolling lamb and the letters BMK. When I was a child about 9 or 10 years old in the 1950s, my father, who worked for a shipping company, would occasionally bring home colouring books from BMK, and that little lamb was always featured. I don't know how or why they had the books, they must have been v. early give-aways. I always wondered what BMK stood for, never thought to ask my Dad. Thanks for the memories.
Comment by: Stewart Roxburgh on 5th February 2008 at 21:14
Thank you for posting this ad. I was a designer at BMK in the 70's & 80's. I remember looking at the old ads once. The Advertising manager was another former designer called Jimmy Andrews. BMK were the first carpet manufacturer to advertise on TV. They had two really memorable campaigns, the Judo girl and Shari Lewis and Lambchop.