Advert Museum
Advert Museum
Leytonstone Jig & Tool Co., Ltd.
5 Comments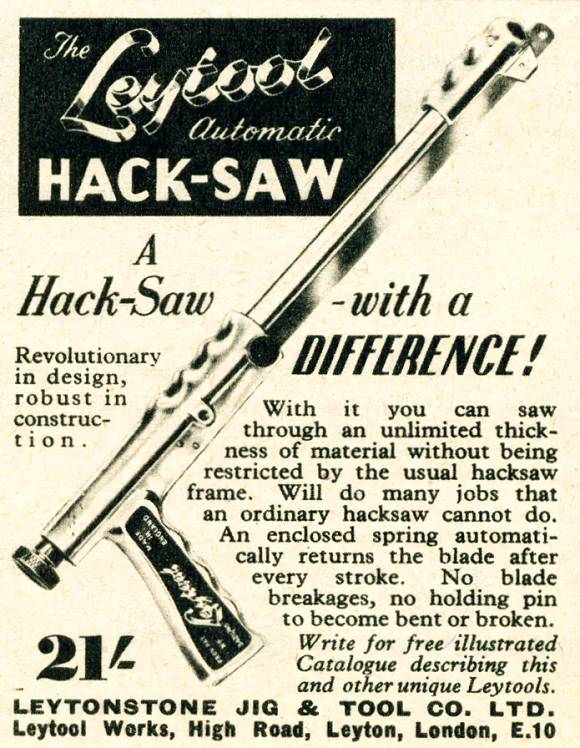 Leytonstone Jig & Tool Co., Ltd.
Year: 1953
Views: 8,041
Item #: 1246
A Hack-Saw - with a Difference! Revolutionary in design, robust in construction. With it you can saw through an unlimited thickness of material without being restricted by the usual hacksaw frame...
Source: Picture Post. July 4, 1953
I served a toolmaker apprentaship and afterwards at leytool 1941-1948 -- known Alf Goodman (boss) Bill Bodington Annold Kaufman Gladys Goldman Stan Jones Harry Wright

Any contacts -- Please ?
so nice to see that laytonstone jig and tool is not forgotten
my father was a toolmaker there during the war especialy during the blitz,would like to know more about that time there
still got my apprenticeship papers from Leytool.Started in 1955 finished in 1960
Works manager Mr.Wright,foreman Stephenson
Happy days
Fascinating to see something on this company. I recently found my Brother in Law's apprenticeship papers with this company 1954 -1959
Comment by: Laura on 8th September 2010 at 20:25
Nice to see the adverts for the Jig and Tool. My grandmother, great uncle and mother's godmother and husband worked for the company in Leytonstone during WWII!