Advert Museum
Advert Museum
Osokool
Household > Appliances (small)
5 Comments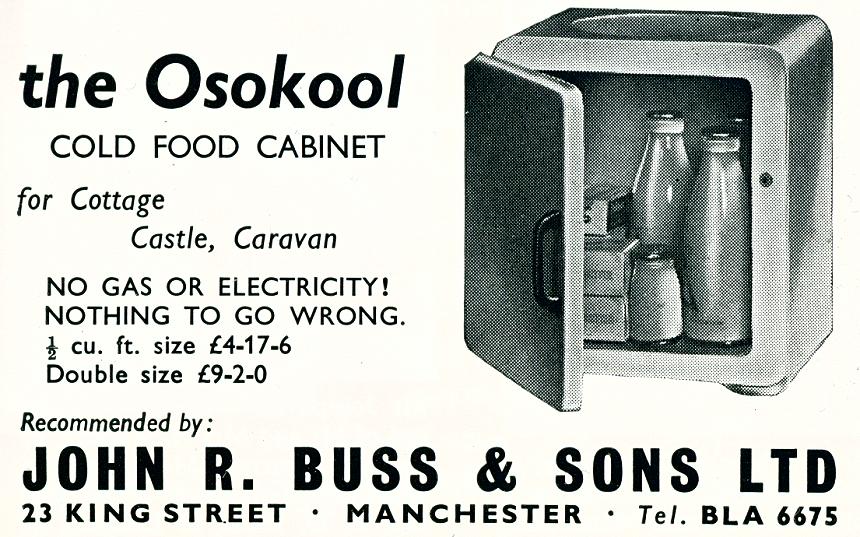 Osokool
Year: 1958
Views: 27,551
Item #: 1695
the Osokool Cold Food Cabinet for Cottage, Castle, Caravan - No gas or electricity! Nothing to go wrong...
Source: Lancashire Life, August 1958
Comment by: Vivianne on 18th January 2018 at 18:51
My husband and I bought one in 1959. It held a bottle of milk and a pat of butter, so it must have been the smaller version.
Hi I am interested in purchasing an Osolkool fridge if either of these is still for sale
I HAVE AN OSOKOOL FOR SALE. A MINOR MK 2 BLUE DOOR BAKELITE
DOOR HANDLE. MEASUREMENTS 12 INS WIDE
14 INS HIGH
9 INS DEEP

COMPLETE WITH ORIGNAL INSTRUCTIONS AND HINTS
I have an OsoKool mk 2 for sale, excellent condition. Im in Kent United Kingdom.
Hi, I have recently cleaned out my parents loft and came across a 'Osokool' fridge It is 'Osokool Minor' It is a cube with a green plastic door with a round berkalite knob, with instructions actually printed on the knob. You have to turn the knob to open or secure the door. It is lined with silver. I have the instructions, and the original price was £6.25np. There is a card with instructions on one side and a list of hints on the other. I am looking to sell this item. If you are interested, please e'mail me.
Regards Margaret Bedford.