Advert Museum
Advert Museum
Dry Fly Sherry
10 Comments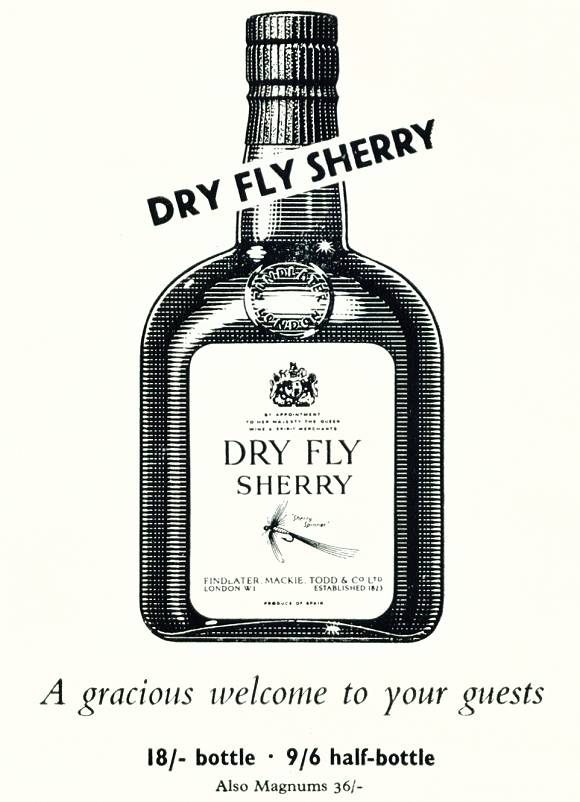 Dry Fly Sherry
Year: 1959
Views: 26,784
Item #: 200
Dry Fly Sherry. A gracious welcome to your guests. 18/- bottle. 9/6 half-bottle. Also Magnums 36/-.
Source: Lancashire Life, March 1959.
I have just inherited a bottle of Findlaters Dry Fly. Can anyone tell me anything about it. Is it worth hanging onto or selling?
Anyone remember the amusing campaign for this sherry that ran in the mid-1960s? The ads consisted of an image of somebody desiring a drink, with a short rhyming caption. One was of a man holding a hammer; the caption read "DIY? - Dry Fly!"
So many people wrote in with their own suggestions, Findlater's decided to make a competition of it. The winning entry showed a burglar sneaking out the window, joyfully grasping a bottle, with the caption "Other's buy? - Dry Fly!"
Comment by: Ann on 12th April 2017 at 16:02
Hi Terry,

I would be interested if you still have available.

Thanks Ann
Comment by: Tony Browne on 29th January 2016 at 01:58
Have 20 bottles of this Sherry if anybody is interested.
Comment by: Linda on 13th April 2012 at 18:16
It is a beautiful sherry. I was born in 1959 and would love to know where this can be purchased
Hi I have inherited a bottle of that same sherry.. sealed and uopened. i believe it to be the 1959 bottle as shown above.
If anyone is interested email me please.

All the best lee.
Has anyone located a source for Dry Fly Sherry?
It is AMBROSIA!!!
If so please contact me.
My father always drank Dry Fly and it was still available a couple of years ago although the square bottle has been replaced by an ordinary round one. Am trying to track it down
I would also love to know if it is possible to get this anywhere
Comment by: Pam Bradshaw on 10th October 2006 at 23:26
Can you still buy this sherry?