Advert Museum
Advert Museum
Phul-nana by Grossmith
Make Up, Perfume etc > Perfume
6 Comments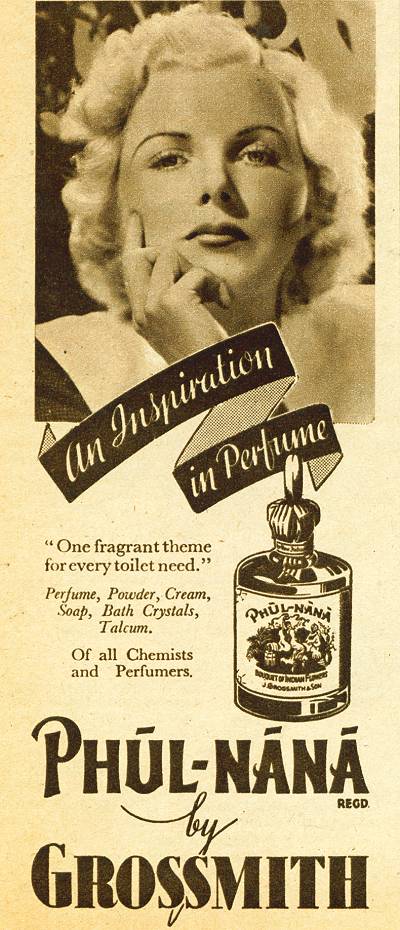 Phul-nana by Grossmith
Year: 1937
Views: 11,450
Item #: 284
An Inspiration in Perfume - 'One fragrant theme for every toilet need.' Perfume, Powder, Cream, Soap, Bath Crystals, Talcum. Off all Chemists and Perfumers. Phul-nana by Grossmith.
Source: The Picturegoer Weekly. April 10, 1937.
Comment by: Sue on 22nd December 2012 at 16:07
I was given a perfumed card by a friend of my mother`s, when I was about 7, in grey,post-war Britain. For years it was my most treasured possession - and I still have it somewhere! It was dusky pink, with an oriental, wistful girl`s face looking slantingly back at the viewer. I drew the face endlessly, especially the eyes, and to this day still do my eye make-up exactly the same! Along with "The King and I", it set me off on a lifetime of fascination, serious study and travel to Asia.....
My Mother used this face powder ,I remember going to our local shop when I was a child to buy a tiny box of this powder, this was in the late 1930s I had to ask for Rachel the box was about one inch round and I can still remember the lovely smell.
My mother loved this perfume and often used to wonder if they would ever bring it back. I would love to get some for her Birthday this December.

Can't spare the time to get to Fortnums though.
I heard on ITV Thursday, that Grossmith`s Grandson had re-invented Phul Nana and Shemil Essim again and it was for sale in Fortnum & Mason, London now. Can you tell me if I can get it anywhere else?
Comment by: Pam on 11th June 2008 at 13:40
In my grandma's old autograph book I found a rose, painted by my grandfather in 1920. For some reason I held the page up to the light and saw that there was something hidden behind the painting. Further investigation revealed a Phul-nana perfume card - sold at a fund-raiser, presumably my grandfather had given it to her as a memento. How lovely to realise I was the first person to discover it - and smell it after 88 years!