Advert Museum
Advert Museum
Pakamac
Fashion & Clothing > Mens & Ladies
1607 Comments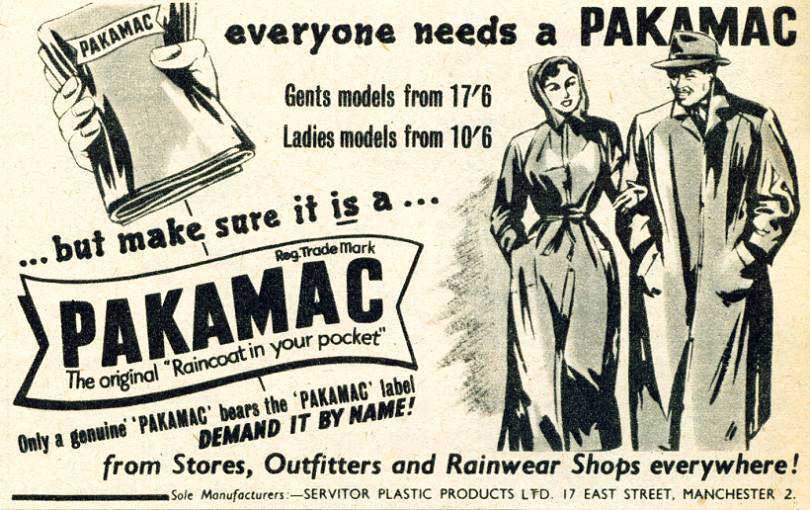 Pakamac
Year: 1953
Views: 353,095
Item #: 1089
everyone needs a Pakamac. Gents models from 17/6 - Ladies models from 10/6 ...but make sure it is a Pakamac. The original "Raincoat in your pocket"...
Source: Picture Post. May 16, 1953
Comment by: Alan B on 17th April 2009 at 19:05
when I was a boy of 10 in the mid 60s, I loved wearing my black see through plastic mac.I would go to my bedroom "to read", but it was an excuse to wear my mac in private. If I ever played out in it, I used to ask one girls down the street to give me a good, hard shake! Dont know why even now,but I loved to be shook violently in my plastic mac, and she always obliged. I also shook my mac dry after a shower, but I was always still wearing it! I wish I coild get hold of a plastic mac now in a local shop.
Pakamacs are simply lovely, and it is always a pleasure to write about them-indeed, I could write books about them and people who wear them. Although I am a fully committed rainwear enthusiast, enjoying nylons and rubber macs too, it is always the basic grey-black, semi-transparent, unisex, lightweight, roll-up plastic vinyl mackintosh that is so central to my enjoyment. and I wear them more than any other rainwear item. How about forming a Pakamac Society?
Comment by: merv on 17th January 2009 at 13:26
great shame these are no longer made, they are a pleasure to wear both outside in the rain or inside for a bit of fun
I still love wearing my pakamac,i have one that is like new which I only wear now and then,i would be lovely to walk in the rain with like minded folk wearing our plastic raincoats!
Within the last few minutes I have bought, on-line, yet another plastic Pakamac, lady's see-through, sky-blue. I am just out of my mind with love of plastic macs!!!
There was nothing like wearing see-through plastic Pakamacs at school on wet days. We boys were simply blown up with pleasure and excitement by these beautiful macs, especially when we rolled them up and smuggled them into our bedrooms!! More to follow....
Plastic Pakamacs are more than a convenlent way of waterproofing the wearer-they are even more than beautiful and exciting garments to wear-they provide a wonderful way of ENJOYING rainy weather!!
there is no better sight than a mture lady or gent wearing their original plastic macs.
i still wear one of mine as often as possible
sammy
To a rainwear enthusiast, "Pakamac" is almost the sexiest word in the English language, surpassed only by the two words, "Plastic Pakamac". Let's have more waterproof "cameo2 remarks in this space, and let's try to get these macs in production again!! Who knows!!
Nothing like them they started my interest in Rainwear in my teens in the 50's
These lovely grey-black see-through macs started my mac enthusiasm in the fifties-and I have never looked back!!
Still the best plastic macs ever made, beautifully see-through. At school, we boys loved them, some of us having two or three. Please let's have them back!!
mmm wish they still made these,we shall need a revival of pakamacs with the wet weather!
---