Early Motoring
3 Comments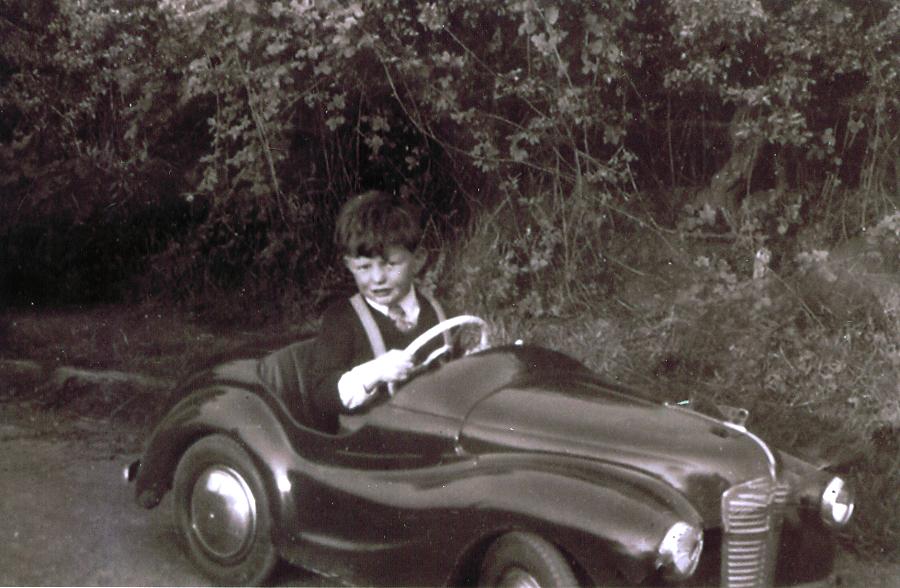 Early Motoring
Year: 1958
Views: 14,816
Item #: 1533
A young David Pilkington test drives an old Austin.
Source: Personal Collection of David Devine, Wigan
Comment by: Michael on 8th December 2020 at 15:41
The boy in the photograph was lucky to have such an elaborate pedal car. Mine was a simpler but more modern-looking version in red.

From the beginning I felt very much 'at home' in the driving seat, and with it being the mid-1950s, I was allowed to trundle around the block, sticking to the pavements of course.

My 'commuter route' took me past a busy car repair garage, which I often gazed into as I pedalled by.

On one occasion the mechanics had a quiet spell, so, at my request and entering into the spirit of things, they put my pedal car on their ramp.

They raised it high so as to get a better look at its chassis. As it ascended into the air I looked up, with a quizzical expression on my face, just as I had seen my father do with his real car on previous occasions.

The mechanics were marvellous - giving my little car all their attention, and even applying a squirt of oil to the mechanism here and there.

Of course there was nothing wrong with my car, but it was nice for it to pass its "MOT"!
I remember several of the boys in our street having pedal cars like this in the 1960's. Others had home made 'trucks' consisting of sets of old pram wheels, bits of wood and string.