Clitheroe Royal Grammar School
992 Comments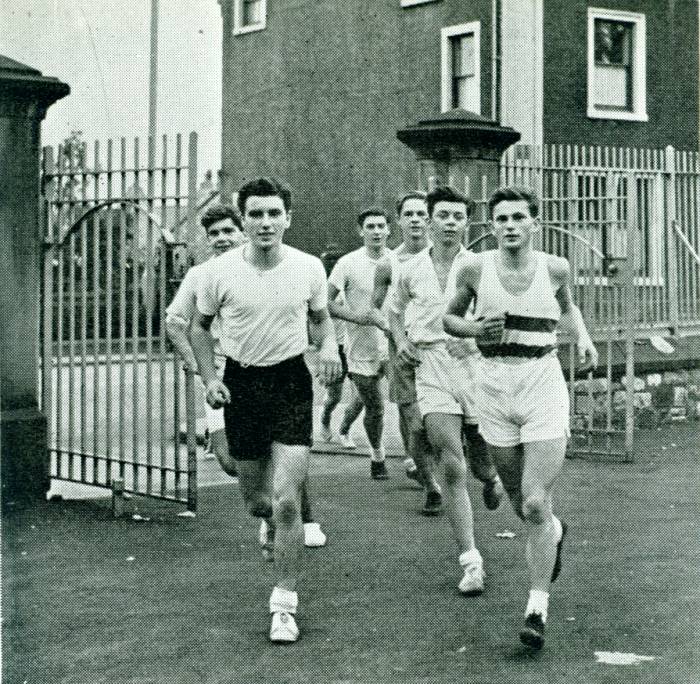 Clitheroe Royal Grammar School
Year: 1959
Views: 225,437
Item #: 1602
Led by Stuart Bennett (Captain), right, the cross-country team returns from a practice run around the nearby country-side.
Source: Lancashire Life Magazine, November 1959
Comment by: James on 15th May 2021 at 14:00
Rob,when the wearing of satin shorts became fashionable I wore them for PE and games.They were made by Adidas and had were made from a very distinctive polyester nylon material that was extremely shiny.
They were much shorter than my usual shorts and the just covered my bottom.My mother bought several pairs of these shorts in different colors and I wore them at home instead of my grey school uniform shorts.
Comment by: Rob on 13th May 2021 at 17:01
James, the girls grammar school was only across the other side of our playing fields, and we had to pass their main gate when we went on a cross country run. In the early years I don't recall our attracting any attention but as we developed and became young men, there always seemed to be a small group of girls waiting at the gates causing us to slow down and engage in a bit of friendly banter. They were quite obviously excited to see the spectacle of us all stripped down to our skimpy shorts and showing off our bare chests and I think we all looked forward to it and certainly didn't find it daunting!
Phil, we didn't play rugby but our soccer kit was football shirt and socks in school colours, boots and shin pads. We also wore our PE shorts, without underpants, and in the darkest afternoons in the winter it often felt very cold when the wind blew up our shorts.
Comment by: Phil on 12th May 2021 at 12:50
Back in my day, the RFU had a directive on kit (and I think they still do) and it was boots, socks, a jersey and scrum shorts - those very fitting ones rugby players still wear and that was it and it was what I and my team mates wore, no more and no less. In spite of how fitting they were, it was not unusual for a player to feel his shorts going down in a scrum and there was the evidence if needed that no one wore underpants.

Rugby can be a very dirty game and you can be covered in mud at the end of it so the less you wore the better. Equally, in scrums, you often had your hands well up the guy in fronts' leg and it was much easier to grip against flesh than fabric. These days many players shave or wax because it improves grip.
Comment by: Tim on 11th May 2021 at 17:19
I agree with Rob and Paul, shorts are much better without underpants when exercising, they only end up wet with sweat and although younger guys now cannot have been ordered to take them off with a slippering the consequence of disobeying, most lads I see at the gym do which endorses it as a good idea even if we didn't like it back then.
Comment by: James on 11th May 2021 at 14:51
Rob, I guess it wouldn't be quite so daunting stripping down to skimpy shorts at an all boys'grammar school,compared to the mixed secondary modern school that I attended.I'm sure we offered the girls at the school an enjoyable spectacle while we took part in our sporting events.
Comment by: Rob on 10th May 2021 at 12:38
James, having been used to being shirtless with other boys since the age of about seven, I certainly wasn't the least bit shy when I went to the boys grammar school and had to wear just shorts for PE, in the gym and outside. I also agree with Paul as we got very sweaty in the gym and I was glad we weren't wearing pants under our shorts, and anything on top.
Comment by: James on 9th May 2021 at 13:57
Bernard, I agree that boys should be accustomed to going shirtless when they are younger and this would this would lead to them not being excessively coy when they entered secondary school. I was often only allowed to wear shorts at home and remain shirtless if the weather permitted.
Comment by: Bernard on 4th May 2021 at 22:05
Danny - I think you are right that boys should start doing p.e. shirtless as young as possible. It wouldn't be likely to bother many 8 year olds or younger and would save any difficulty for those few boys who might be reluctant to exercise without tops when entering secondary school.
Mt primary school was close to my grammar school so we often saw older boys running cross country and playing on the pitches in nothing but a pair of shorts. We were introduced to shirtless p.e. in the last year of primary school to get us used to that aspect of "big" school and I think it helped the more shy boys.
Comment by: James on 2nd May 2021 at 06:41
John,at the secondary school we had a uniform that was compulsory,but the wearing of short trousers was optional,however the majority of boys wore long trousers.Some of them that wore long trousers would revert to wearing shorts in the warmer months. I wore shorts all the year round till I left school.
Ben and James, It was a fourth form that preceded our P.E lesson midweek. They would be drying off and dressing as we were coming in to change I as a twelve year was amazed at how mature they were were and quite tall compared to our form of first years.
Comment by: TimH on 1st May 2021 at 13:57
Its strange but John's comments almost exactly match my own recollections. Unfortunately the 'Prospectus' for my Secondary School was lost many years ago. (I have a feeling that caps may have been compulsory until the Fourth Form, though - but recollections vary)
Comment by: John on 30th April 2021 at 22:38
When we started at secondary school a few boys were still wearing short trousers, but most of us started in long trousers. By the start of the the second year almost everyone was wearing long trousers.

Similarly although the PE uniform list said that we could wear vests with our PE shorts, within a few weeks most of us didn't bother and just went bare-chested in the gym. For outdoor games everyone wore a rugby shirt. Our shorts were different too - white shorts for indoor PE and navy blue for outdoor games.

No underwear was allowed for PE or games from the age of 11 until 13, when we were advised to start wearing an 'athletic supporter' (jockstrap).
Like Jemma's brother and his friends, we felt quite grown up when we first got them. Presumably the girls felt the same way when they got their first bras?
For the first two years we had to wear school caps travelling to and from school, which we hated. So another rite of passage was being able to throw them away when school broke up at the end the second year.
Comment by: Jeff on 28th April 2021 at 22:46
James,
A jockstrap is for support, it has nothing to do with dignity.
Comment by: Paul on 28th April 2021 at 10:56
James, I also went to a school where we were not allowed to wear either underpants or jock straps under our shorts for PE or games, doing either and getting caught led to a painful application of the plimsoll.

These days and much older, I still go to the gym and I would say 90% of guys across the whole age range take off their underpants when changing and go commando under their shorts so it still goes on. I just find it more comfortable, it's cooler without, underpants get soaked in sweat and you need a spare pair if you wear them so it's still highly practical.
Comment by: James on 28th April 2021 at 07:32
Ben, I'm sure a lot of boys would fall into the category where we were not allowed to wear underwear or jock straps for our sporting activities.
Like yourself I was amazed at seeing sixth formers naked when I was a first year boy as the changing rooms and showers were shared when we had inter house teams competing against each other. Equally it was quite disturbing for the older boys being seen naked by younger boys.
Comment by: James on 27th April 2021 at 13:36
Jeff,
I'm impressed that you were allowed to wear a jock strap at 13 when we had to go through school wearing nothing under our shorts.I would have thought that all boys should have been allowed to wear a jock strap to maintain their dignity.
Comment by: Ben on 27th April 2021 at 13:30
James, we were not allowed to wear underpants either and jockstraps were also banned. I remember being amazed as a first year boy seeing sixth formers in the changing room, their lesson ending, ours beginning and being quite shocked at seeing such big lads naked not that they were bothered. Six years later, first years were probably looking at my class in the same way as we stripped off underpants when changing and then everything for a shower not that it bothered us by then.
Comment by: Jeff on 26th April 2021 at 23:42
James,
I agree with not allowing underpants to be worn for PE / games, but I think it was wrong not permitting you to wear a jockstrap. That was the only thing we were allowed under our sports shorts, I was pleased to start wearing one when I was 13.
Comment by: AlexR on 26th April 2021 at 19:57
Philip, you definitely beat me! Our school was near the coast so it never mattered there was no pool there was a beach so it was in the sea for us though we did have a pair of black shorts to wear. We followed the teachers the short way to the beach and with vests off headed into the sea or a hard run along the beach and back. I have to say that although it was hard, not wearing a vest made a positive difference to me.
Comment by: Philip on 26th April 2021 at 16:23
Alex R - I beat you to boarding school by two years and started when I was seven, our uniform list only included white gym shorts - two pairs and two sets of rugby kit, boots, socks, shorts and jersey and that was the total of our PE kit all the years I was there up to eighteen, no plimsols and no swimming trunks though the school had its own pool.

I presumed, wrongly that we would wear our gym shorts to swim but soon got used to the fact that we didn't!
Comment by: AlexR on 26th April 2021 at 15:59
I started at boarding school shortly after my 9th birthday. There were 4 PE teachers and each worked slightly differently within the school rules. For the first fortnight when we lined up at the start of a PE/Games lesson we were told to either to strip down or remain in vests. At the beginning of the third week we were told that as we'd performed well stripped off in the gym and outside, there was no further need for vests to be worn. A week later another group was joined us stripped to the waist.
The other two teachers were a lot more relaxed (enlightened?) and the boys kept their vests within a vests vs skins environment until mid October. At this point
the School deemed us all capable of performing exercise, sports, including laps of the grounds (a punishment preferred by all teachers and remarkably easy to get!) stripped to the waist regardless of the weather. This met the schools policy of mandatory bare chested physical exercise.
Comment by: James on 26th April 2021 at 14:41
Jeff, Even if my parents would have bought me a jock strap I would not have been allowed to wear it for school.We were supervised in the changing room and we were not allowed to wear anything underneath our shorts for PE and games. I was also persuaded to wear my shorts at home with no underwear.
Comment by: Jeff on 25th April 2021 at 15:01
Jemma and James,

As I have said previously, I also got my first jockstrap when I was 13. I too felt grown up when I started to wear one.
Comment by: James on 24th April 2021 at 09:26
Jemma, I agree it was not very' appealing' wearing shorts after I was 13 and found it difficult to comply with my parents'wishes and wear shorts all the time. At school I became a social outcast with boys and girls alike and was teased by younger and older boys alike.I always seemed to be the odd one out,not only at school,but at social events as boys at that age simply didn't wear shorts.
Comment by: Jemma on 23rd April 2021 at 13:49
James, he wore shorts up to 12 or 13. It wasn't very appealing to be seen wearing shorts after that age so to avoid being teased.
Comment by: Rob on 23rd April 2021 at 12:46
Danny, at my infants/primary school we only did gentle exercises once a week wearing our ordinary school clothes. When I was age 7 or 8 my mum learned from the mother of a boy who was at the boys grammar school to which I later went that the boys wore just shorts when they did PE in the gym and they also wore nothing on top when they were outside. My parents must have been discussing this because one warm day my mum took my younger sister and me to the local park and I was asked if I wanted to take my shirt off. Without hesitation, I took it off and also my vest, which I used to wear, and realised how good it felt. From then on I regularly ran around outside in just my shorts, especially when out playing with other boys who lived nearby. When I went to the grammar school and we arrived in the gym for our first lesson, the PE master told us all that he was going to send us to the changing room and that when we got changed for all PE lessons we were to strip off completely, including our pants and socks, and to come back into the gym wearing just a pair of gym shorts with nothing underneath
and bare feet. We duly went down to the changing room, where we would have seen the open communal showers and I changed into my gym shorts and followed the others back into the gym. It was an entirely new experience being in the gym with about thirty boys all of us in just our gym shorts, but I didn't feel embarrassed. It wasn't until the next PE lesson that we were told at the end that we must take a shower. One boy, who had been held back a year was sent down to the showers in advance and when I got down there a few of the others were already in. I stood in my shorts for a few moments before realising there was no way of getting out of it and duly took them off and joined the others. Having overcome this, I had no further problem and as we were made to work harder and sweat more in PE lessons and I looked forward to getting in the showers afterwards.
Comment by: James on 23rd April 2021 at 11:33
Emma,I attended a local secondary modern school and it was not uncommon for boys to wear short trousers. My parents were quite proud that I was still in shorts at 16. Did your brother wear them for school?
Comment by: Jemma on 23rd April 2021 at 07:09
James, that surprises me that you were still in shorts at 16! What school did you attend? My brother went to an independent private school then known as a public school.
Stuart, How were those first xc runs shirtless and barefoot? Did it bother you?

In my school all pe in or put and the xc was done shirtless and barefoot too
Comment by: James on 22nd April 2021 at 14:07
Hi Jemma, I think your brother and his classmates were lucky that they were allowed to wear a jockstrap at 13.We were not allowed to wear anything under our shorts through school till 16. I was still wearing short trousers at that age and I definitely didn't feel grown up.
---