Burnley Grammar School
2765 Comments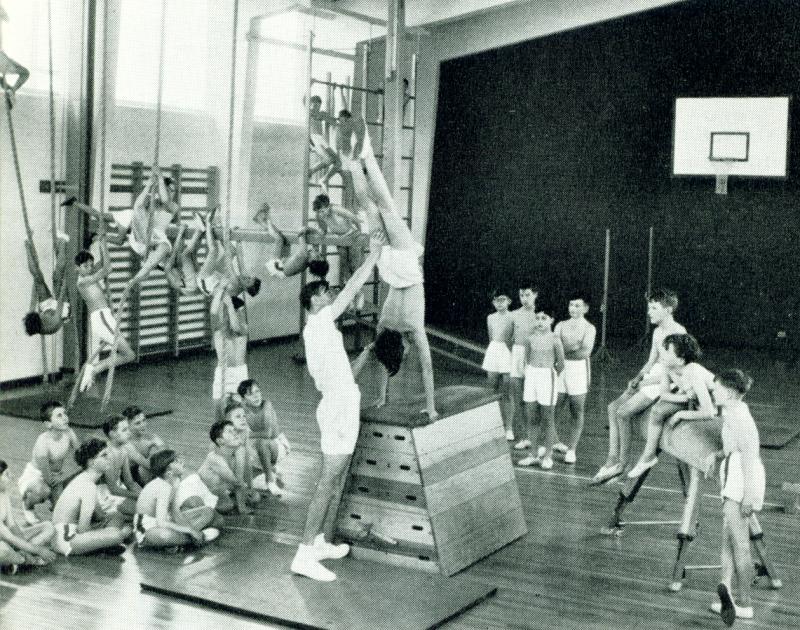 Burnley Grammar School
Year: 1959
Views: 799,279
Item #: 1607
There's pleny of room in the modern-styled gymnasium for muscle developing, where the boys are supervised by Mr. R. Parry, the physical education instruction.
Source: Lancashire Life Magazine, December 1959
Comment by: Chris G on 29th September 2020 at 15:01
Eric

I too remember string vests. My father had some when I was in my early teens - I thought they looked a bit weird then, and still do. Mum kept suggesting that I ought to try them, but by then I was working on giving up vests altogether, a process hastened of the introduction of topless PE at school, and I had no inclination to start wearing them again. I think the novelty of the things made her think that seeing Dad wearing them might persuade me to start wearing vests again, but I didn't rise to the bait.
Comment by: Rob on 29th September 2020 at 12:40
Eric, I remember string vests. My mum knitted me some, probably in 1953 when they became popular following the conquest of Everest. I was at primary school but as we only did gentle exercises in the school hall wearing our ordinary clothes I never got to see what other boys wore under their shirts. When I went to a boys grammar school a couple of years later I was bought the cellular 'Aertex' vests to wear and I remember when we had to get changed for P.E. a lot of the boys were wearing them and as far as I can recall this continued until I left in 1961.
I gave up wearing a vest a short while after starting work as I could see that my other male colleagues obviously weren't wearing one under their shirts. Our school uniform list included a white T-shirt, black PE shorts and plimsolls but at the start of the first P.E. lesson we were told to strip off completely, and to come back into the gym wearing just shorts and plimsolls, no socks or underwear and barechested. This was our our kit, in fact, the same pair of shorts, throughout my time at the school both in the gym twice weekly and outside for athletics and cross country. In addition we had a double period of games and I played soccer and I wore these shorts and an old shirt, with football boots and thick socks and shin pads. Showers were compulsory after all PE and games lessons. I was very apprehensive about taking my shorts off after the first PE lesson and walking naked into the open communal showers which had five large overhead showers under which we all had to stand together with nowhere to hide, but I soon got used to this and even looked forward to them when we were worked hard in the gym and running with sweat.
Comment by: Eric on 29th September 2020 at 12:25
Interesting comments about the string type underwear. I remember the briefs had a solid panel front and back and string mesh around the sides. The vests were mesh all over. With regards to Ron Hill I have a pair of track suit type bottoms which I wore some years ago when I walked the Yorkshire 3 peaks in varying seasons, and they were very comfortable and practicable.
Frank C re your experiences at swimming, I am assuming from the content of your post that the you swam naked., and you were also uncovered for the swimming gala when families attended . What age was this up to?
Comment by: TimH on 29th September 2020 at 11:40
Dave ... hopefully we're not getting off topic but one of my mesh vests was a fabric top with a mesh lowrr half.
For anyone who wants to look at the history of this, the UK guru was Ron Hill who had a PhD in Textile technology - have a look @ https://www.run4it.com/journal/running-culture/the-man-behind-the-brand-ron-hill-and-the-creation-of-innovative-running-clothing/ & https://www.sports-insight.co.uk/trends-features/comic-inspiration-leads-to-a-life-on-the-run-for-ron-hill-mbe

If anyone wants to see what we wore in the early 80s - put 'london marathon 1982 bbc' into your preferred search engine - it should bring up recordings of that race.
Comment by: Frank C on 29th September 2020 at 05:47
To Don, I was interested in your experience of nude swimming at your school many moons ago! So 1969 when I was nine, at my Prep School in the North of England I commenced weekly lessons at the swimming pool on site, just half the class at each session. We all enjoyed improving our strokes and lengths.Being of a shy and inward disposition I was initially nervous and apprehensive we were aware of the school regime when we were admitted at the age of seven.Clearly our parents agreed and approved of this policy or I wouldn't have been sent there.I remember the family going to the Swimming Gala in "68. My older brother who was at the senior school section of the school. Jibed me a bit and said I would have to go like that next year! As well as being many moons ago 1969 was the year Neil Armstrong landed on the moon! One step for mankind!
Comment by: Michael on 29th September 2020 at 00:23
Further to Eric's comment (below) regarding string underwear, I recall some of my late 1960s underpants having plain front and rear panels but with open mesh string panels on each side.

I disliked this type of underpants because they always seemed too big, fitting loosely around my slender waist, despite being bought in the 'correct' size.
Comment by: Dave on 28th September 2020 at 20:38
Hi Tim H,
I also had a running vest with solid panels front and back with the mesh sides, I felt very athletic and professional wearing it.
Comment by: TimH on 28th September 2020 at 16:48
Eric - indeed - Yes - although they date from the 50s or earlier - they were worn on Everest in 1953. I'm not sure when they ceased to be popular, but I was wearing a running vest with mesh panels in the late 70s, early 80s.
Happy Days!
Comment by: Eric on 28th September 2020 at 15:06
Reminiscing does anyone remember wearing the string vest and briefs which came into fashion in the late 60's possibly early 70s, with the selling point warm in winter cool in summer?
Comment by: Don on 25th September 2020 at 15:45
I happened to come across the photo of the boys doing P.E. and it looked remarkably similar to P.E. at the state grammar school in Kent which I attended many more years ago than I care to remember. Reading through some of the comments about what was worn for P.E. lessons, I thought it might interest your readers to know that nude swimming was compulsory for us at this all boys school for what we called years 1, 2 and 3 [now 7 to 9 I believe]. Apprehension about this grew as the first lesson of the summer term approached, but once we started we thought nothing of it and we were too innocent in those days to wonder what the reason was. It was simply school policy and no one, including parents, complained. For years 4 and above trunks were optional with a different P.E. master, but as we were used to it by then, few if any boys ever opted to wear anything for swimming lessons. When it came to the inter-house competition near the end of the summer term, the whole school watched proceedings, and again, the majority of competitors raced naked and stayed naked for the diving competitions. I can remember swimming two lengths myself and thinking nothing of both entering and leaving the pool in front of everyone, including the masters. It was an open-air pool, so swimming only took place in the summer term. All hard to believe nowadays.
Drew.
Thanks for posting here.
We obviously were at school around the same time.

I think that boys took to wearing their swimming trunks instead of a 'Litesome' because we already possessed a pair. Also the jock is a bit of a big step for a teenage boy.
In some school's kit lists it advises 2 pairs of trunks. One to be kept for swimming and the other for use as support. This makes it easy to avoid the day when trunks are wet and needed for PE or whatever.

Thanks again for taking the time to reply and I'm always interested in hearing from anyone with memories along these lines.
Comment by: John.E on 24th September 2020 at 06:03
Wow the dreaded memories of PE, I left in 84 and have to say some of the stuff I've read on here actually still happened back then. At my school if you did Games you always had to remove your underwear as it simply wasn't allowed, The showers had to be hit no matter what and if the teacher suspected you of just wetting your hair you were sent back in until he was satisfied. If you forgot any of your kit it had to be loaned from the female games teacher who happily provided you a maroon gym skirt and whatever else you needed to put you through a lesson, Then on most occasions you were sent to do the lesson with the girls although some occasions you ended up playing football back with the boys with your skirt flipping about, And no underwear was allowed under the skirt with being a boy, Granted it was never checked but you daren't challenge or risk crossing the games teacher back then. When I think back now I can't believe what they actually got away with.

Skins and shirts were always a common theme and I always felt conscious being in skins, Barefoot again was also common and although the kit for the gym allowed socks and plimsolls many a time wen we went in the line up we were instructed to remove them as well as our T-shirts and put them on the benches which to date I never understood other than it was a form of cruelty or humiliation. To this date and I'm now 50 I can't walk about without shoes or socks on and only time I take my socks off its for the bath now, Also I have a bit of a phobia of dirty feet and wonder if it stems from our school torture. I remember how hard the surface of the sports hall was and how dirty your feet got, On few ocasions we were even told to remove our footwear on the school outdoor track to run which again was quite bizaar and I can't think as to why, It never happened in the snow to my memory but did in the rain as well as being shirtless.

I guess kids nowadays have got it lucky :-)

John
Comment by: Jeff on 23rd September 2020 at 22:45
Our school games kit list included a 'Litesome supporter'; however all of us, boys and staff, called it a jockstrap.
Comment by: Drew on 22nd September 2020 at 23:33
Boys Grammar School late 1960s - early 1970s
INDOOR PE:
White shorts, white plimsolls, white PE vest with house colour band, or bare chested (most chose the latter).

OUTDOOR GAMES.
Navy blue rugby shirt, two rugby shirts (one navy and sky whoops and one white) navy rugby socks, rugby boots (black plimsolls in summer).

For the first two years no underwear was allowed. At the start of the third year our PE teacher advised us to buy a 'litesome supporter' from the local sports shop. Some boys did, but many of us just started to wear swimming trunks under our shorts.
Comment by: GSB on 22nd September 2020 at 17:40
Apologies to those reading this request again! Mike (17th September) - please tell us all about the boxing at your school. I have posted before that I was hugely disappointed to move to secondary school just after boxing had ceased, and have been intrigued ever since as to how it all worked and what it would have been like. Was it compulsory for every boy and all ages, and how many loved it, hated it or just accepted it? Were you taught how to box properly, and was there just sparring or were there proper contests and competitions? Did you have a different opponent every time, and how was it decided who opponents would be, etc, etc? Did the school have a proper ring? Any specific memories of things that happened?
Comment by: Lewis P on 21st September 2020 at 12:48
Lots of the comments on this site relate to the same time that I attended an all boys Secondary Modern school .i.e. 1961 to 1966. In common with what I have read pe kit was shorts (and they were) and no pants to be worn. We were topless and wore plimsolls and no socks. For out doors in summer we had the option of topless, but if we we wore a top is was generally a t shirt because very few lads had football or rugby shirts with logos. Again no underwear.
We also had swimming lessons and we were transported to the local swimming baths, and we wore swim trunks (the briefs design)
I am interested to read that some schools, as boys developed, encouraged them to wear swimming trunks as a form of support., under their shorts for pe and I can see the logic in this However, in all my years our pe. teacher never said anything about support, and up until I left at the age of 16 none of us wore anything under our shorts. I suppose if swimming trunks were worn under shorts for pe than it save being naked in the showers afterwards.
Whilst I understand that the main topic for discussion is about the pe and swimming kit we wore, I do like to explore how fashion has changed.
In "our day" the options were limited. Mainly the only swimming gear available was the trunks, and as I said club football shirts were rare. Although I think soon after the 60's swimming shorts started coming into fashion and I remember my first swimming shorts were nylon. No when I go to the Gym and swimming pool a lot of younger fellows nowadays wear boxer shorts under their swimming shorts. I would have though that was uncomfortable, but I suppose they have a reason for doing it.
Comment by: Dave on 19th September 2020 at 19:31
Hi, for athletics, gym and cross country ( the sports I did) it was shorts, vest and plimsolls, but we were allowed underwear after 14/ 15, so then some wore trunks and others like myself a jockstrap.
It's always interesting to read the comments and especially when they relate to the 60's and 70's when I was at school.
Several 'boys' have mentioned jock - straps for support and I thought I would add my penny 's worth.
Like so many we were not supposed to wear our everyday underwear beneath our sports kit. Those who played in the school rugby team were advised to wear swimming trunks underneath. We were told that we would be more comfortable. This did prove to be the case and the support gave us much greater confidence in the rough and tumble of the game. It was not long before we added trunks to our PE and athletics kit as the support was definitely appreciated.
Later on there were several boys who advanced into wearing a jock - strap and these were often keen cricketers ( which I was not.)
I have commented before that there is seldom mention of the habit of wearing swimming trunks in this way. However, several guys have said that they also believed it to be common practice.
If anyone has any views or opinions I'd be very pleased to hear from them.
Comment by: Mike on 17th September 2020 at 23:12
Boarding school age 9 to 18

Gym, boxing and basketball: stripped to the waist, shorts, plimmies.

Football, rugby and XC: 50% vests, 50% skins

Athletics: stripped to the waist, shorts, plimmies

Outdoor fitness sessions and remedial PT: stripped to the waist,, shorts, plimmies

No swimming pool, never heard jockstraps either.
Comment by: Graham on 17th September 2020 at 14:27
Primary School (single-sex day-school): late 1950s - Early 1960s:
PE/Gym - indoors and outdoors in summer: white shorts, plimsolls
Outdoor Games: Rugby shirts and shorts, socks, boots

Secondary school (single-sex boarding) early 1960s onwards:
PE/Gym: shorts, plimsolls, commando (by choice, not compulsory), but jock-straps widely worn from about age 14
Cross-country: as PE. Although we were meant to wear tops when off school premises, we rarely did so.
Outdoor Games: Shirts, shorts, socks and footwear as appropriate, again with jock-straps.
Comment by: Andy on 17th September 2020 at 13:22
I attended a mixed comp in the mid 1980s. PE kit was all white, shorts, tee shirt, socks and pumps, for games lessons we had a rugby top.

Neither kit included any underwear, I don't remember us being provide with a reason but that was the school rule and we had no choice, we just had to comply with it until we left.
Comment by: Eddy on 17th September 2020 at 10:33
Like Jeff our kit list was similar during the late 60s. Until the 4th year we wore white shorts and plimsolls for gym, athletics cross country and tennis during the summer. No pants were allowed under the shorts. For football and rugby it was black shorts, a top and socks and boots. From the 5th year we wore jockstraps under shorts both for gym and outdoor sports. We didn't think anything of it. The support from the jockstrap was welcomed as we got older!
Comment by: Stuart on 17th September 2020 at 07:49
Grammar school, early 70

PE
Just shorts, bare feet, no top

Cross country

Shorts, vest, plimsolls in winter.
Shorts, plimsolls, stripped to waist, rest of year.
Couple of boys ran barefoot.


Rugby, cricket

Normal kit.

Showers after all sports, naked.
Comment by: Martin on 17th September 2020 at 06:12
My school games kit, late 1960s and early 1970s was:
For PE, cross country, athletics, tennis, rowing -
Gym shirt (T- shirt)
white shorts
jockstrap
white short socks
plimsoles / gym shoes

For rugby & hockey -
rugby shirt
black rugby shorts
jockstrap
long socks
rugby boots

For cricket
White shirt
Grey trousers
White trousers
Jockstrap plus pocket for a box
Short white socks
White cricket boots
Cricket bat
Comment by: Jeff on 16th September 2020 at 23:01
My school games kit, early 1970s was:
For PE, cross country, athletics -
Gym shirt (T- shirt)
white shorts
jockstrap
white short socks
plimsoles / gym shoes

For rugby & hockey -
rugby shirt
black rugby shorts
jockstrap
long socks
rugby boots
Comment by: Craig on 16th September 2020 at 09:35
For me at an all boys school(1961 to 1966)for P.E. indoors and games/ Athletics outside, we wore white shorts 60's style so quite short. As Tim wrote" Underpants weren't worn - because they weren't. I can't recall 'underpants checks'." The only time a boy was caught wearing pants was because he foolishly wore white shorts which were quite thin with coloured briefs which showed trough just enough for the teacher to see. Although people posting on here have referred to jock straps we never wore them not even at 15 or 16 hears of age. They were never mention by the p.e. or games teachers so in doors and outdoors it was shorts with no support. Track suit bottoms outside in winter were unheard of.
Comment by: Chris G on 15th September 2020 at 23:23
Ade C:
Time frame 1950s-60s.
Primary school (age 5 - 11): no special PE kit. We all wore short trousers so we just removed blazers/jumpers/shoes/socks.

Secondary school 1 (age 11-15):
For first two years, vests, shorts and plimsolls
For next three years, bare chests, shorts and plimsolls
Underpants optional, but we mostly went commando.

Secondary School 2 (age 15 - 18):
T-shirts (white), rugby shorts (black), plimsolls.
Again, underpants optional, but jock-straps were popular.
Comment by: John on 15th September 2020 at 20:36
Tim H,
I think that your school had a fair indoor PE kit rule of making the wearing of a T shirt optional. It's good that lads were allowed to do PE barechested if they wanted to.
Comment by: TimH on 15th September 2020 at 11:56
Rsponding to Ady ...
Boys Technical Grammar School in the E Midlands - possibly starting 60 years ago today.
Two periods of gym per week - I seem to recall mainly 'agilities', etc., rather than team games but I can't recall too much on that.
For gym: white shorts - quite baggy in the early 60s, white tee shirt (optional - worn by most), plimsolls. Shorts got shorter as the 60s progressed and fashions changed: waistbands being turned oveetc.. By 66 onwards many of us would be wearing fairly short shorts - think of the 1966 World Cup. Shorts were still cotton - nylon didn't really come in until the mid 70s onwards. Underpants weren't worn - because they weren't. I can't recall 'underpant checks'. 'Skins' v 'shirts' happened - you just got on with it. Showers were compulsory - the 'walk-through' sort - someone got sent to turn the water on on the individual taps. Those who were first through got cold/cool water - heating up for the last ones. Trunks weren't worn. I don't recall any problems - just the usual angst of boys turning into young men.
The was one afternoon of games a week, on quite extensive games fields. The groundsman knew his job - the grass on the cricket pitch was pretty good. The games fields were a bus ride from the school - all part of growing up to get there. Autumn term was football, Spring was football/cross-country, & Summer was cricket, rounders, and athletics (not often).
Football/cross country kit was the traditional cotton 'rugby' style shirt that absorbed the rain. Shorts were black, often in a heavier twill fabric (I wore my last pair for a number of years after, until they just wore out). Boots & socks for football, plimsolls & football socks for cross-country. (Rugby wasn't played but there was an 'option' in the 5th & 6th Forms).
Cross-country (not barefoot) seemed to be disliked. In the 1st Form the course (Looking on MapmyRun) was about a mile & a half, all on pavements in the local council housing estate. In the 2nd & 3rd Years we did a course of just under 4 miles: following pavements, some metalled country footpaths, and a 'green lane'; the 4th & 5th Forms did rather longer. For those who like to know about showers - the ones at the games fields were the traditional 'over-head' sort. As far as I can recall there was no 'supervision' as such, except that a Games Master, wet through after refereeing a match on a wet day might use the showers.
We didn't swim.
People have made comments about PE teachers being 'bullies', 'sufferers from PTSD', 'perverts', etc.
Possibly but I never experienced it. The younger ones had, I suppose, 'done their time' and National Service ended after I started secondary school. I suspect many of them had seen unfit young men suffering in National Service and regarded it as their 'duty' to see that we were fit.
Other teachers had been in the school pre-1939 - one, each Remembrance Day, had to read out the names of those killed in two World Wars -boys he had known.
Enough from me
Comment by: Fiona on 15th September 2020 at 11:41
Ade C
I would suggest you read the full thread, and the four related threads here, to get an overview of what everyone else here had for PE/sports kit back in their schooldays. Don't forget that this is principally a discussion of historical photos, rather than a survey of contemporary practice.
---