Clitheroe Royal Grammar School
1066 Comments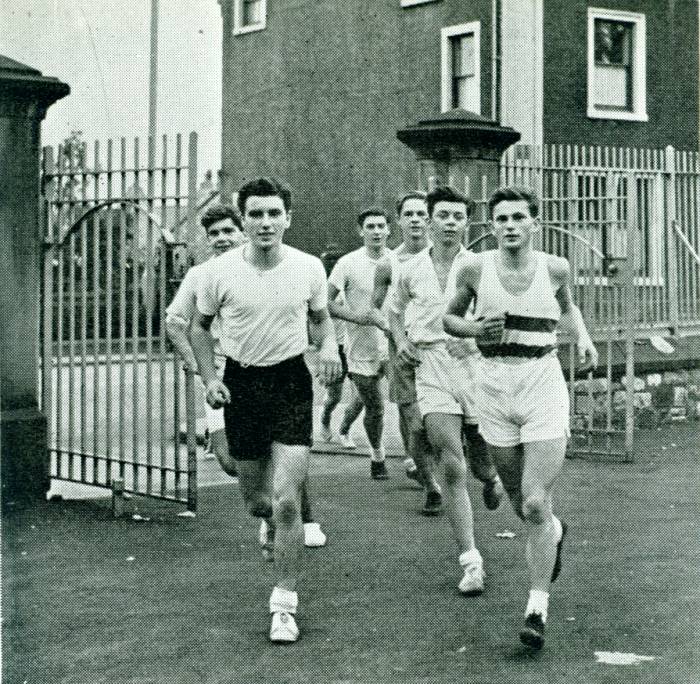 Clitheroe Royal Grammar School
Year: 1959
Views: 245,758
Item #: 1602
Led by Stuart Bennett (Captain), right, the cross-country team returns from a practice run around the nearby country-side.
Source: Lancashire Life Magazine, November 1959
Comment by: Graham on 17th July 2021 at 22:23
TimH - actually, i still have two items of InterSparta swimwear, the briefs with the metal clip in the waistband to avoid the worst excesses of the "towel-dance". Strictly for 20th century Mediterranean beaches though, not for the local swimming pool as they make Speedos look positively over-dressed.
Comment by: TimH on 14th July 2021 at 16:23
Graham - Crikey! Someone else who had 'Skants' and bought from 'Intersparta!

Looking into Fixx's 'Book of Running' last night the chapter 'Off the Beaten Track' is a joy - it starts with a discussion of orienteering and then moves onto that wonderful 'sport' of fell-running, which so many people seem to do now. (Too old for both now, I'm afraid to say).
Comment by: Garth on 14th July 2021 at 12:43
I remember the Y Front Skants. The trouble with the underwear of today unless you wear boxers which come in various colours, for those that wear briefs or slips, the choice seems to be limited to dull monochrome shades.
In my days at secondary school(all boys ) we wore whites briefs but nothing under shorts for pe. No top when indoors. Those days pe was really gymnastics(vaulting horse, rope climbing etc) nowadays from what my son has told me, in secondary school, pe is really what we knew as games. Any serious gymnastics is purely for those taking GCSE PE.
Comment by: Graham on 12th July 2021 at 14:49
I can confirm Garth's observation about nylon briefs. I had some Y-Front "Skants" in the early sixties, and there were even briefer items available from Inter-Sparta, a mail-order supplier in Bristol by the mid sixties.
Comment by: Garth on 11th July 2021 at 12:29
Tim H
Thank you for your response and information
Comment by: Dave on 10th July 2021 at 19:39
Hi Tim H,
I remember reading the " Complete book of running" and the chapter on running kit especially !!
Comment by: TimH on 10th July 2021 at 11:35
Garth
Nylon briefs did exist I had some in the late 60s and into the 70s.
I did look in Jim Fixx's 'Complete Book of Running' (remember that? Published in 1977). He recommends nylon shorts in summer, although cotton in cooler conditions. He prefers nylon. Talking of 'support' he suggests 'Jockey shorts' or, if you want more support, go for a jockstrap - in 'nylon; it dries faster than cotton'.
Comment by: James on 8th July 2021 at 09:56
I think the problem is not short but shirt, for punishment I think is difficult to be shirtless especially if you have to run under heavy rain or nail barechested
Comment by: Garth on 7th July 2021 at 09:54
with regards to P E shorts, at our school we wore cotton ones but they were rather short and of course being the 60's no underwear was worn, or top for pe.
This seemed to be the norm, and even now on my regular visits to the gym I do not wear anything under my shorts (although they are more dignified and longer in length.)
Dave, I never knew that nylon briefs existed. I would not have thought that was good material for underwear.
For our swimming lessons at a municipal pool we wore trunks of the briefs design, and again I continue to wear that type when swimming at the pool at the Gym.
However, when on holiday or swimming when my wife and son are present I have to wear shorts urgh!!! Interestingly when we are able to go abroad for a holiday when at a pool or on the beach, it is obvious who the "Brits" are because they are all wearing ridiculously long board shorts( and it is apparent that some of the young men wear boxers under their swim shorts) whereas every other nation the males are comfortable with "Speedo" type trunks.
Comment by: TimH on 18th June 2021 at 10:01
Dave

Getting a pair of 'Freedom' shorts after the baggy heavy cotton things which we'd worn before was a game-changer! I tended to wear light nylon briefs under them. Ron Hill (who died recently) was a long-distance runner (who ran most days until advanced age) who was a textile scientist who developed so much of what we take for granted. I still think his basic design is the best. Later I went into Nike. Introducing 'technical' shorts for things like fell-walking was a great thing - compared with what we used to wear - thinks woollen breeches in the Lake District.
Regarding retro Adidas - a lot are sold minus the fabric liner (which presumably had gone 'saggy'). Adidas also produced shorts (in Royal Blue) for the West German Army in the 1980s period - these come up to - generally minus the side stripes.
Comment by: Dave on 17th June 2021 at 19:18
Hi Tim H,
I`ve just been looking at your post and a few others and the chat about those nylon shorts brings back fond memories.
I also used to wear Bukta, Umbro, Adidas etc and loved them, but by the time I got my first Ron Hill (sprinter/ freedom) shorts I was wearing a jockstrap and just as well !!.
If like me you enjoy the shorts of that era could I suggest you look up a site called " Glanz shorts" they sell all sorts of football and athletic shorts, and at a good price too.

Regards Dave.
Comment by: TimH on 17th June 2021 at 09:54
James & Nick - some Adidas shorts were lined - others weren't. Umbro, tended not to be, likewise firms like Bukta & Litesome (in the period we're generally talking about). From memory, early Ron Hill 'Freedom' shorts were unlined.

Retro Umbro, Nike & Adidas shorts appear frequently on Ebay - often at inflated prices. For new shorts in a variety of fabrics look at a firm called 'Dapa Designs' - some of their stuff is a bit 'exotic' but there's some good stuff there. An American manufacturer is Soffe - look on Amazon - ('Old School' nylon shorts - a.k.a. 'Ranger Pantys').
Comment by: James on 17th June 2021 at 09:07
Chris G,Nick,
They were very expensive and I remember they cost £5.25 which was quite a lot of money at the time.
They didn't come with a cotton slip inside and I didn't wear anything under them. The satin finish made them look aesthetically pleasing and when they fitted so tightly they looked as though they had been sprayed on.
Comment by: Nick on 17th June 2021 at 08:47
Only as I got older. I started wearing them at school and the rule was no underwear. I wore them at home during the warmer weather and just carried on as normal wearing just the shorts.

As I got older I did wear briefs some of the time or swimming trunks under if I was at the beach. I always liked the feel of the soft, shiny material on my skin though.

To this day I don't wear jeans or any rough material.
Comment by: Chris G on 16th June 2021 at 22:27
James, Nick

Those satin finish shorts were definitely above my pay-grade. As they seem to have been tight-fitting, did you wear anything under them?
Comment by: James on 16th June 2021 at 13:01
Nick,the Adidas shorts that I wore didn't have a cotton lining inside and were not lined.
Comment by: Nick on 16th June 2021 at 11:11
I preferred Umbro shorts to Adidas as the Umbro shorts were not lined where Adidas shorts had a cotton slip inside.

I never liked wearing jeans or anything with a rough feel.
Comment by: James on 16th June 2021 at 06:52
Nick,I agree to get the full effect of wearing those shiny satin shorts they should fit tightly.Certainly when most of my friends at that time ,most wore jeans on their school holidays,so I was slightly perturbed to be told that on the next shopping excursion that I was to be kitted out in some new shorts.
After going to many shops we eventually found an array of satin shorts by Adidas that was to my mothers liking and after trying on several pairs my mother decided on the colors that she preferred .
My simple request to purchase some jeans was turned down under the assumption that I wouldn't want to wear my new shorts if I wore jeans.
Most of my friends found it quite amusing to see me wearing satin shorts at 13
Comment by: Nick on 15th June 2021 at 14:07
I agree James, the Umbro shorts in any colour were designed to be worn tight and I never really felt self conscious. It was the 80s and we didn't worry about that.

If only they made them now and in adult sizes, ideal for these warmer days.
Comment by: Tom B on 6th June 2021 at 20:21
Mr Dando, I think this gender discrimination is outrageous too. The Chinese communists had the right idea with identical uniforms for all.
Comment by: Mr Dando on 5th June 2021 at 20:03
Phil we must use the school break to stop gender discrimination in schools. Even today boys are forced to swim in skimpy trunks and go topless whereas girls can wear one piece costumes. Here is one such academy!

https://woodslee.coopacademies.co.uk/parents/uniform/

P.E. and Games Kit – Foundation 2 – Year 6

· Boys and Girls: Black shorts, pale blue t-shirt with Co-op logo and black plimsolls. Navy blue jogging trousers can be worn during the winter months;

It is the responsibility of children, parents and carers to ensure that the correct Co-op Academy Woodslee PE uniform is worn at all times;
It is the responsibility of children, parents and carers that PE kits are kept in a named navy blue drawstring shoebag with Co-op logo;
It is the responsibility of children, parents and carers that named PE kits are kept in school during term time;
It is the responsibility of children, parents and carers that when swimming boys wear swimming trunks and not shorts. Girls should have their hair tied back preferably with a swimming hat;

Another school has mandatory shorts & optional tracksuits for boys while girls have mandatory tracksuits with shorts only an option.

https://harton-tc.co.uk/year-7-11/information/school/school-uniform-information/harton-academy-pe-uniform/

Boys
Essential items Optional items
School rugby reversible top Base layer top (black, navy blue or white)
Plain blue shorts Plain black or navy tracksuit bottoms
School blue/yellow hooped socks Swimming goggles
Football boots and shin pads Rugby mouth guard (strongly advised)
Training shoes (not plimsolls or Converse type) Swimming cap
Swimming trunks (not shorts)

Girls
Essential items Optional items
Navy school hooded sweatshirt Swimming goggles
White polo shirt with school name Plain blue football boys style shorts
Plain black or navy tracksuit bottoms Base layer top (black, navy blue or white)
Swimming costume (one piece blue or black) and swimming cap
Training shoes (not plimsolls or Converse type)

It is time we introduced a gender discrimination law in schools which mandated the same kits for both boys and girls. We should also ban rugby so boys would have no need for mouthguards.
Comment by: James on 4th June 2021 at 12:20
Nick/Phil, I too loved wearing those soft, plush shorts and I enjoyed wearing them for home and when they became fashionable for sports at school. They were always purchased in an assortment of colors,but the ones that I wore for school to depict my house team was in yellow.
When we wore them a' little tight and to grow into them',rather than a cost cutting exercise it improved the look and style of the shorts.
Comment by: Nick on 4th June 2021 at 08:16
Phil, I know I was lucky. I loved wearing the soft shorts both at school and at home.

I also had to grow into the shorts and wear them a little tight before new ones were purchased.
Comment by: AndyK on 30th May 2021 at 23:39
PhilJ we did a lot on the playing fields all year round as skin's vs vests or just skin's. Whipping your vest off on a cold day was as common as stripping to the waist in the gym.
Comment by: James on 28th May 2021 at 06:33
Phil,I am sure we all felt the cold when going outside onto the playing field and of course we were required to wear minimal clothing which sometimes just meant wearing shorts. I was accustomed to wearing short trousers in the cold weather and when adults complained about the weather they expressed no concern for myself wearing shorts.
Comment by: Phil on 27th May 2021 at 13:27
James, as we had to wear long trousers at school, putting gym stripping naked and putting on cotton shorts for PE in winter always felt cold, the changing room windows were wide open every day of the year. As you say though, for those of us kept in shorts at home of more adjusted to the cold more easily while lads who were used to longs all the time shivered and hugged themselves trying to stay warm.

At the time I never understood either why we were made to have cold showers after PE in winter but of course they used to burn and sting all over too and make you more red than you were already and of course now I know that a hot one would have been all the worse on that score, for once our PE master was being kind in making us all have a cold shower!
Comment by: James on 26th May 2021 at 15:15
Phil, I do remember how our legs used to'burn 'when I came indoors and my thighs would be red raw with cold and our house didn't have central heating either, so it took a long time to warm up.
My mother also said that cold'legs are healthy legs for boys'but that didn't apply to girls as they were allowed to wear warm tights to keep warm. I couldn't understand how being so bitterly cold with cold legs could be a sign of being healthy. Funny how I thought that wearing shorts in cold weather was a distinct disadvantage,my mother thought it was beneficial.As you say being outside in plimsolls and shorts wasn't so bad as we were being active and some of the boys who wore long trousers would suffer more severely.
Comment by: Phil on 26th May 2021 at 13:05
James, it certainly was cold in the winter in shorts but yet again, my mother maintained the cold was good for boys so my legs could be scarlet with cold and she said it was a sign of being healthy. Remember how your legs used to burn once you came back indoors in the winter even if the house wasn't that warm - ours never was and we certainly didn't have central heating.

Somehow that was worse than being outdoors for PE dressed only in white gym shorts and plimsols - no underpants of course - it never seemed quite as cold on your legs but I guess we were more active and on return indoors we were always made to have a cold shower which never felt so cold after being outside.
Comment by: James on 26th May 2021 at 07:07
Phil,yes,I was used to hearing the usual platitudes about'boys needed air at their legs' and'boys looked much smarter in shorts',however no comments were ever made about how cold I would be during the cold winter months.Unlike yourself I didn't have the option to wear longs for school,although boys were allowed to if their parents preferred them to do so. I think their understanding would be that if I wore longs I would not wish to go back into shorts.
Comment by: Phil on 25th May 2021 at 19:24
James, on the occasions anything was said about wearing shorts my mother used to maintain that boys needed air at their legs! When I had to start wearing longs at school, my father wrote to the school complaining that long trousers were not appropriate for boys of thirteen, fortunately he didn't get anywhere with that and so I had to have longs but on arrival home, I had to get changed.

The other line used sometimes was that boys looked much smarter in shorts and there would be plenty of time for longs later in life. Equally there was for this and many other things the 'my roof, my rules' line which you probably heard to, most of my friends heard it too and if you didn't hear it clearly enough, the cane cracking against your bottom would remind you!
---