Burnley Grammar School
3090 Comments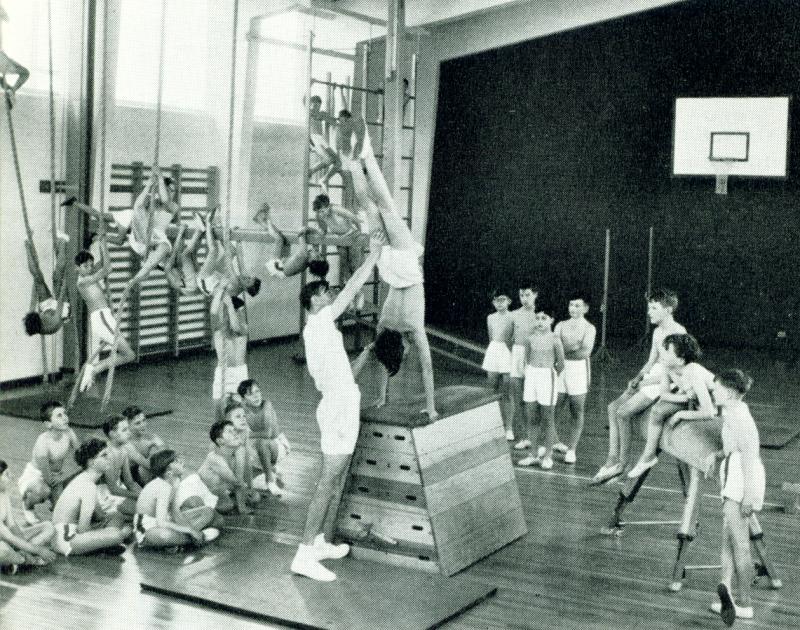 Burnley Grammar School
Year: 1959
Views: 864,289
Item #: 1607
There's pleny of room in the modern-styled gymnasium for muscle developing, where the boys are supervised by Mr. R. Parry, the physical education instruction.
Source: Lancashire Life Magazine, December 1959
Comment by: Four on 12th February 2021 at 10:36
Hello everyone, my English is not that good as I come from Taiwan.

Just wanted to say in my middle school which I just graduated from in 2018, all boys had to do gym calisthenics during P.E shirtless. Our school hired a retired British P.E teacher to be our head P.E master and he mandated all boys to be barechested. Needless to say all my male classmates hated it and felt uncomfortable. The females loved it though haha.

I went back to the school to help out last year and boys are still shirtless. I have some pics to show and I'm open to any questions.

https://imgur.com/a/YmEURsT
Comment by: James on 11th February 2021 at 08:29
Andrea,Jason,we weren't allowed to wear any form of underwear under our shorts at our secondary school and went right through school without wearing any.I felt awkward with this custom and would have been happy to put up with my mother's"giggles"if she had allowed me to wear a jock strap under my shorts.
Comment by: Ric on 10th February 2021 at 17:02
Did anyone else see the piece on BBC Breakfast this morning about the men who are out running at the moment in trainers and shorts in this rather cold winter. It's termed bare skin running and seemingly a growing craze along with wild swimming.

Of course for many of us here, it's nothing new though some have better memories of it than others. For me as a boarding school boy we had a 'bare skin' run every morning followed by a compulsory dip in the outdoor pool even when there was ice floating on it. The run was shorts and plimsols, both came off to jump in the pool and indeed trunks were never worn.
Comment by: jason - 31 Jan on 10th February 2021 at 13:54
Andrea

Mum knew what a jock-strap looked like from Dad's earlier Rugby playing days. She said it was the sight of her little "pride and joy" in one that threw her into giggles.
Comment by: Martin on 10th February 2021 at 13:45
Hi Andrea

Name-tags or some boys used indelible ink pens to write on surname or house number! Wasn't unknown though for some boys to use someone else's.

Yes, I had a jockstrap 'with pouch' for cricket. The 'cricket-box' was a a communal one for the batsmen. Otherwise boys wore a standard jockstrap, i.e. 'without pouch', for all other sport!
Martin,
Presumably you had to have name tags sown on to your jockstraps at boarding school so the laundry staff knew who was who's?

My son didn't wear one for PE at school, but he did have to have a jockstrap and 'box' when he started playing junior cricket at 11. It did make me smile when I first saw them - so small compared with the adult ones his dad wore. But I suppose it was only like seeing one of my 28aa training bras on the washing line next to one of my mum's full size ones when I was growing up!
Comment by: Martin on 9th February 2021 at 14:10
Andrea
I would say definitely a 'right of passage' a jockstrap! As Sam said some boys wore swimming trunks but in the boarding houses at least l reckon practically every boy was wearing a jockstrap for whatever sporting activity by the time they reached the end of schooling.

For boarders jockstraps like other clothing went to the laundry. My mother thought a jockstrap a bit of a giggle on seeing it for its first time wash at home, but afterwards never really mentioned the subject again. Don't really now counts for a right of passage for boys these days. But for us it was a statement of manliness!!
Jason and Martin,
It sounds like getting a jockstrap was a bit of a 'right of passage' similar to girls getting their first bra.
It caused a bit of a stir when one girl started to wear one at the start of our last year at primary school, but by the end of our second year a secondary school only one or two weren't wearing one.

Jason, did your mum know what a jockstrap looked like before she saw you wearing yours? The first time I saw one was when my husband's appeared in the washing basket shortly after we were married!
Comment by: Jason P on 8th February 2021 at 14:29
Alan from what I remember the teacher never came into the changing room. As for the ropes I never gave it a thought. The first few times we were in pairs doing handstands it was a bit odd holding another boys legs up in the air meant a lot was on show also when we had to sit feet to feet and rock back & forward in a rowing motion. But then after a couple of lessons no one worried. After all we all stripped off in the changing room prior to a shower.
No never gave a second thought to what the teacher may or may not have seen.
Comment by: Jason - Jan 31st on 8th February 2021 at 13:52
Andrea, Jeff, Martin
It definitely wasn't a pre-planned modelling session!
Dad bought me my first jockstrap when he was shopping in town one Saturday morning. I think he got it in Boots, but I haven't seen them there for many years now. I took it upstairs to try on, and was standing and twirling in front of my bedroom mirror admiring the view (!) when Mum came back in from walking the dog, came upstairs and happened to glance into my bedroom as she passed the door. She knew Dad was going to get me one, but thought that the only place she would ever get to see it was in the laundry basket.
Jason, Martin, Sam
It was similar at my school regards support. It usually started if we were selected for the rugby team. Then we were told to turn up with clean kit and to wear a pair of swimming trunks as they would keep us 'comfortable'.
It usually followed that we started wearing them for PE, cross country and so on. Jock straps were not specially mentioned but later on some boys started wearing them.
If anyone wants to email me about any of this please do. Fun days as was said.
Comment by: Alan on 8th February 2021 at 06:33
Jason P: We were the same as you - no mention ever made, and I suspect our dirty-minded teacher preferred an unrestricted view under the ropes and in the changing room anyway!
Comment by: Sam on 7th February 2021 at 19:48
Martin
Beat you l got my first jockstrap at 12! There was plenty of parading around the changing room l might tell you. Never compulsory to wear one but nearly every boy did save a few who wore their swimming trunks - fun days
Comment by: Jason P on 7th February 2021 at 12:48
Went to sec modern school 61 to 66. All boys school. PE was done with nothing under our shorts. There was never any mention by teachers about support and jock straps were not heard about . Did not know what they were
Comment by: Sam on 7th February 2021 at 06:14
Martin
Beat you l got my first jockstrap at 12! There was plenty of parading around the changing room l might tell you. Never compulsory to wear one but nearly every boy did save a few who wore their swimming trunks - fun days
Comment by: Martin on 6th February 2021 at 23:56
I wore my first jockstrap at 13 ... I wasn't going to be the lat boy without one! Certainly didn't model in front of my mum though!!
Comment by: Jason - Jan 31st on 6th February 2021 at 22:46
Jeff - as I've said,already some form of support for the "sensitive bits" was a must for PE at all times, right from our first year in senior school at age 11 or so. Contrary to the experience of many of those posting here, going commando under one's shorts was not an option, nor was wearing loose-fitting boxers, although these weren't exactly fashionable back then. Jock-straps made their appearance when we were about 13 of 14, the equivalent of Year 9 or 10 in today's terminology.
Comment by: Jeff on 6th February 2021 at 19:24
Jason,
How old were you when you got your jockstrap, and did you wear nothing under your shorts before you were required to wear support?

I would certainly not have modeled my jockstrap in front of my mother!
In case you were wondering, I got my jockstrap when I was 13.
Comment by: Alan on 6th February 2021 at 10:06
Reggie - I would have said the lads in the photo are probably first or second year in secondary education. I think kids tended to look younger then than they do now
Comment by: Reggie on 5th February 2021 at 15:52
The boys in the old photo above all seem to be primary school age.
We didn't have a gym or gym coach in our primary school in the 60s. Our class teacher just took us out for PE in the schoolyard to do some exercises and running after changing into a white shorts and vest in the classroom.
I was not aware of any primary schools having proper gyms in those days. We did have a gym and gym coach in secondary school, but not in primary.
How many here actually had a gym in primary school?

It could have been different in junior boarding or preparatory schools of which I don't know much about.
Jason, I can imagine your mum's reaction - it sounds like you were quite proud about acquiring your new underwear!
By complete contrast I remember being embarrassed the first time mum hung one of my bras on the washing line when dad was at home.
Comment by: Jason - Jan 31st on 5th February 2021 at 10:15
Andrea, jock-straps themselves weren't compulsory, but supportive underwear most definitely was. In practical terms, that was interpreted to be form-fitting briefs, rather than loose boxers, as a minimum and ideally speedo-type swimming trunks or jock-straps. One of my best mates was the first in my class to actually get a jock-strap, which caused a bit of a sensation in the changing room the first time we saw it, but within a few weeks, most of us had managed to acquire one, and we generally wore them all day on PE days. Mum had never seen one before, and thought it hilarious when I modelled mine at home the day Dad bought it.
Comment by: Andy on 5th February 2021 at 07:38
We had a system of punishment runs. This was a grammar school, boys only, late 1960's.

Tuesday and Thursday evenings directly after school, years 1 to 3 on Tuesday, rest on Thursday. Immediately after school, our normal xc course, so 4 miles. Kit was pe shorts, always stripped to the waist, usually plimsolls; one teacher made you run barefoot. Cold shower to finish.

Numbers varied, for a few boys up to a dozen or so.
Comment by: Chris G on 4th February 2021 at 23:12
Kai - Have you told your PE teacher that you would be more comfortable without a shirt while exercising? Or have you even just taken your shirt off without any prior discussion?
Comment by: Kai on 4th February 2021 at 21:53
I'm am a high school school student right now, I wish students were given the option to not wear a shirt if they don't want to. We already see each other in our underwear in the change room... I would feel more comfortable without a sweaty, tight shirt.
Jason, did your PE teacher mandate jockstraps from a certain school year, or speak to boys about it once they reached a certain stage of development?
My Ex said that they didn't wear anything under their shorts until the start of their third year at Secondary (so aged about 13), when their PE teacher advised them all to purchase a jockstrap. He said that some boys could really have done with wearing one before then.

Of course we girls started to need support for our 'floppy bits' in a different area. In most cases this was dealt with by our mothers, but our PE teacher did suggest to a few girls that the purchase of a bra was overdue!
Comment by: Martin on 4th February 2021 at 05:42
As Jason said .... "The only dress requirement, as far as our PE staff were concerned, related to the safety and security of one's "floppy bits", and so supportive underwear, especially jock-straps for the more well-endowed, was mandated." Jockstraps weren't mandatory but every boy was wearing one at my school 13 years inward. Was a statement of manlihood as much as one of need. I still wear a jockstrap and nothing compares to it for support in my opinion.
Comment by: TimH on 3rd February 2021 at 10:13
For the 'lovers' (& 'haters') of 'topless' cross-country - there was an article in yesterdays (2nd Feb) edition of the 'Daily Telegraph' on the 'joys' of 'bareskin running' (Have a look at; https://www.healthyfamilynews.com/2021/02/01/forget-wild-swimming-were-bareskin-running-now/)
Comment by: Jason - Jan 31st on 2nd February 2021 at 19:19
Fiona, I was in my first year at school, so I would have been nearly 6. Mum wasn't too bothered when I told her I didn't need a PJ top any more.
Comment by: Fiona on 2nd February 2021 at 00:13
Jason - Jan 31st
What age were you when your Mum encouraged you to sleep topless? Did you carry on through the winter, or did you have to wear PJS tops to bed again?
---