Hesketh Fletcher Gym Team
916 Comments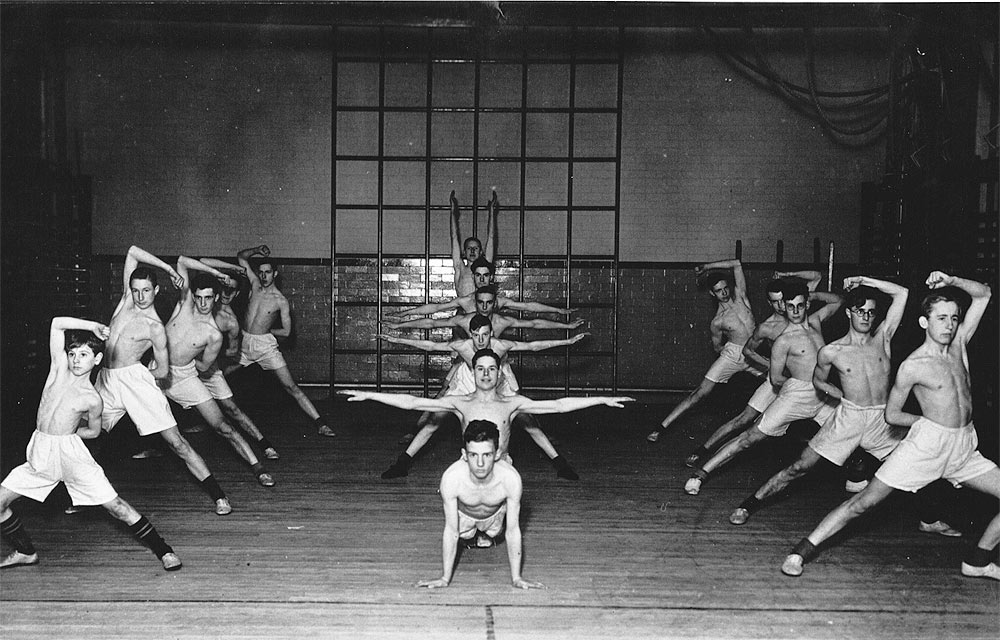 Hesketh Fletcher Gym Team
Year: 1935
Views: 218,957
Item #: 1741
Hesketh Fletcher Gym Team of Atherton, Greater Manchester.
Source: G. Smith.
Comment by: Pete on 23rd December 2014 at 07:41
Like Steve we were stripped to the waist and barefoot at all times for PE.
Again white shorts in the gym and black shorts for cross-country(again stripped to the waist and barefoot.)
Comment by: Steve on 19th December 2014 at 13:33
We had to strip to just shorts in the gym, so bare feet and stripped down to the waist. Same kit throughout the school, no one was ever allowed to wear a vest or t-shirt or anything on our feet.

For pe we wore white shorts, with navy rugby shorts for cross country (still shirtless). Anyone wearing the wrong colour shorts would have been in deep trouble !

To tell the difference between teams we wore plastic sashes/bands which came in various strong colours.

As far as I recall there were never any problems telling teams apart.
Comment by: Mark on 16th December 2014 at 07:43
We would wear different coloured shorts-white or black.
Being stripped to the waist there was sometimes confusion about tackling but not as frequent as you would think.
Comment by: Pete on 14th December 2014 at 19:16
John,

I remember at the start of the first lesson and after changing into our new kit, we were told to stand in a line out on the yard and our PE teacher picked a lad to stand facing the class and told him to take his vest off and drop it on the yard. About a minute (if that)later we were all stood stripped down. Vests were only used to make up a second team only for inter class competitions like basketball/cross country/fitness.

This lasted from the age of 9 to 18, after A levels and had the same teacher throughout this time.
Reading John's questions to Mark made me think back to a brief experiment at my school when different coloured shorts were used to denote teams in the gym. At first one team had a coloured sash worn over the shoulder but, as John pointed out, these tended to slip down too easily! So the PE department came up with a new system. Each boy owned a pair of white shorts for lessons in the gym and black shorts for outdoor games. So boys whose surnames were in the second half of the alphabet were instructed to bring their black shorts to gym lessons instead of white and both teams were stripped to the waist.
The system just didn't work because you kept having to stop and think about what colour shorts someone was wearing, there were a lot of misplaced passes and the games were chaotic. So the school scrapped the idea after a few weeks and instead brought in a set of bibs that fitted over both shoulders and were secured at your sides by elastic. One team wore the bibs while the other team reverted to the usual kit of white shorts and bare top. That worked much better because it was easy to spot straight away who was on your team and we kept that system throughout the rest of my time at school
Mark.
What happened when it came to playing Team Games in the Gym , like Killerball (A Sort of Gym Rugby) or Basketball, or Football?
Did the different teams wear different Colour Shorts?
Some Schools used coloured Bands that you wore over the Shoulder but these could slip off quite easily!
Did you find that having all Boys stripped to the Waist
made identifying an Opponent or "Enemy" difficult in a quick-reaction situation like a Scrum or a Tackle?
Comment by: Mark on 13th November 2014 at 07:32
Nick, This was in around 1963 at a Grammar School and the PE teacher encouraged us to go stripped to the waist.
Comment by: Nick on 11th November 2014 at 16:11
Mark. With regard to your post: Roughly what year was this? And what sort of school? And did the PE teacher make any comment or encourage this? Thanks.
Comment by: Mark on 7th November 2014 at 07:43
Like Sam there was a lad who started to do PE shirtless and again more and more boys joined him so that eventually we were all stripped to the waist.
Comment by: Sam on 5th September 2014 at 16:17
When I was at school we had a lad in our class whose father was into "healthy living."
He told me that as soon as he got home he had to remove his top and go stripped to the waist for the rest of the day. He had four brothers and they had to do the same.
He was the first in our class to do PE etc stripped to the waist and after that more and more of us stripped to the waist both in the gym and outside.
Comment by: Steve on 5th September 2014 at 16:04
At my mixed secondary school the boys' indoor PE uniform was white shorts only.
For outdoors and cross-country we wore black or navy blue shorts and were again bare-chested. Some lads also went barefoot as well.
Comment by: Paul on 19th July 2014 at 07:32
At my school in the 1960s it was the invariable practice to do PE stripped to the waist.
We would also be bare-chested for cross-country runs whatever the weather.
Andrea,

Yes, the topless PE and naked swimming continued to the end of primary school. I know some girls had become to develop by the age of 11, but there was no difference in what was worn. I know it was really uncommon, particulary our swimming lessons, but I'm not sure if other schools did the same.

Laura
Laura,

Did the topless pe and nude swimming lessons happen all the way to the end of your time at primary school?

When I at primary in the late 1960's boys and girls all had to change for pe in the same classroom, but that was only to vest and knickers as we put on our pe kit. When a few of the girls started to wear bras rather than vests (I never got to that stage at primary school!), they were allowed to change in the toilets.

Andrea
I went to Shears Green that Martin mentioned back in March. It was such a shock when my first PE lesson came round. I'd had a PE kit at my previous school and was worried that I didn't have it with me. I went up to my teacher and told her, only to be told in return to take my clothes off, including my vest! That was a serious shock, but was nothing compared to my first swimming lesson in our school pool. As Martin said, these were done nude!
Comment by: Nicholas on 26th May 2014 at 19:55
The only time we did shirts v skins was if we had football practice. In the gym our uniform included just shorts and no top, everyone went bare-chested without exception. For teams we had coloured bands that you had to wear on both arms, but they weren't all that clearly visible during a game. Shirts v skins was much more effective as it was easier to spot which boys were on your team.
My ex told me that at his all boys secondary school their indoor pe kit was just a pair of white shorts. They wore rugby shirts for outdoor pe though.

At my all girls school we wore T shirts and gym knickers indoors (and outdoors in summer) but a gym skirt and long sleeved shirt outdoors in winter.

The worst thing was if you forgot your kit, the pe teacher made you wear a shirt from the pe store cupboard that probably hadn't been washed for months!
Comment by: Paul on 17th May 2014 at 13:06
"Shirts-v-skins" didn't arise at my school as we were stripped to the waist for PE at all times.
Comment by: Adam on 7th May 2014 at 23:12
Mike, were you the only one who was always a skin or was it the same for other boys too? At my school the teams were meant to be picked at random each time but quite often the teacher would announce 'same teams next time' at the end of the lesson. So if you were a skin you'd often stay bare-chested for the next lesson or more and you could easily go for a few weeks of PE without wearing a top at all.
Sometimes there was no team sport in the lesson but half the boys still had to do it as skins. I never understood why that was but obviously I didn't question it at the time!
Comment by: Dave on 30th April 2014 at 07:26
We too used to play "vests-v-skins".
As I never even possessed a vest I was always a "skin".
Therefore I had no problems about being stripped to the waist.
Comment by: Mike on 21st April 2014 at 14:00
Adam, it was the same for me, though it was usually skins vs vests. One thing I always found strange was that the teacher always picked me to remove my vest be it indoors or out. I didn't mind and was always glad to be a skin especially playing basketball when you could see vests sticking to your opponents top.
Comment by: Adam on 10th April 2014 at 20:00
Like the boys at Matt's school, I also played football bare-chested in PE. The usual format was shirts versus skins, so half of us would always have to play in just shorts, socks and boots or plimsolls (depending whether we were indoors our outdoors). I remember it felt a bit strange to play with no shirt at first but I soon got used to it. One thing that was different when you played skins was celebrations were more restrained after scoring goals. Whereas if your team had shirts on there was a good deal of hugging and back-slapping, I think most boys playing skins felt less inclined to embrace each other's bare sweaty bodies!
Comment by: Matt on 9th April 2014 at 12:17
I agree with Mark and I even recall some boys at my school even playing football while stripped to the waist.
Comment by: Mark on 6th April 2014 at 13:48
When I was at school in the 1960's it was normal for boys to do indoor PE stripped to the waist.
Many lads also did outdoor PE and cross-country bare-chested as well some even in winter.
In Summer more and more of us would strip to the waist and
eventually we would all be stripped to the waist.
Some of us would be barefoot in the gym but not outdoors.
The picture is just the type of PE kit we had at my school back in 1960, I was part of a gymnastics team from age 12 to 14 and we put on exhibitions at lots of gymkhanas and sports days, always bare chested and just gym shorts.

Nothing was thought of being topless doing cross country and having to run through some side streets to get to the open country and have to run along the canal towpath, on really hot days it was common for a few boys to accidentally fall in and swim a few yards and then run back to school in just sopping wet shorts and plimsolls, not sure it was healthy to do that but we were boys and didn't really care, I,m in my middle 60's now and still swim and jog a little, so I reckon it wasn't that bad and yes now and again I go topless running in the countryside near me.

Anyone else still run like that? email me let me know.
I'm not really sure what all the fuss is about over boys doing PE topless (and all this stuff about doing X-country running topless and barefoot I am rather sceptical about!) I was at Shears Green Primary School in Kent (southern UK) from 1979. Our school was a normal local 'state' primary school with just over 250 boys and girls from 8 to 11½ years old. (The school now has nearer 400 kids!) PE and country dancing lessons were always mixed, we had to take ALL our clothes off for the lesson and put on our PE kit, which for the boys was nothing but a pair of thin cotton shorts while the girls wore just the same sort of shorts or PE knickers, we weren't allowed any underwear and we ALL did the lessons completely topless (even the girls!) and barefoot when we were indoors, although we wore gym shoes when we were out on the playground. Year six girls who had started to develop 'boobs' could request permission to wear a t-shirt if they wanted to.
However the school was MOST famous (infamous?) for it's mixed nude swimming lessons in the schools indoor pool, this went on from the mid 1960's to the late 1980's, I seem to remember there were also free Saturday morning swimming lessons for any boys and girls who wanted to take part where all of us were allowed to swim naked. Looking at it from 2014, this all seems SO unlikely, however it WAS real, look up Shears Green Primary on facebook or friends reunited, there are MANY memories from former pupils about nude swimming and topless PE!
Comment by: Dave on 8th February 2014 at 08:35
Like Rufus and Crow I used to run and do PE stripped to the waist whenever I could.
I never took my vest to PE and therefore had to be topless even if it meant I was the only lad going bare-chested.
I soon found that more and more boys would join me and eventually the whole class was stripped to the waist.
Comment by: Rufus on 6th February 2014 at 19:55
Like Crow, I enjoy running shirtless when I have the opportunity - although I must admit my preference is to feel some sun on my bare back rather than wind and rain! I just like the feeling of moving freely without a sweaty shirt clinging to my body and I first started to appreciate that when I was made to go shirtless at school. There were two 'houses' at the school, and sometimes for cross-country we would run in 'house teams' of vests and skins. The first time that happened my house were selected as the skins and we all had to take off our vests. I was a bit self conscious at first but to my surprise I soon found I felt much more comfortable running in just my shorts and trainers. Before long, I realised I actually preferred to be a skin - so much so that, a couple of times when we weren't in house teams, I left my vest at home on purpose. Of course that meant I was the only boy in the class running shirtless, but that suited me fine and I've carried on ever since.
Comment by: Crow on 4th February 2014 at 01:05
In Ipswich in the early 80's we weren't allowed to go shirtless, but I did it anyway if I could, even in winter on an icy cross country run. I'm not sure how I got to like doing it, but I did, and I still run shirtless for five or 5 miles often in any weather, and always shirtless. I like how it feels, even if there's hail and a 40 mph wind. Excitement makes it more interesting, more fun. A wet heavy shirt dragging against me with every movement would be a miserable business, and I wouldn't be any warmer either.
Comment by: Mike on 30th January 2014 at 17:17
Like Matt I experienced having to do PE outdoors and stripped to the waist as a punishment.
It wasn't pleasant and was even worse having to go barefoot as well.
---