Clitheroe Royal Grammar School
920 Comments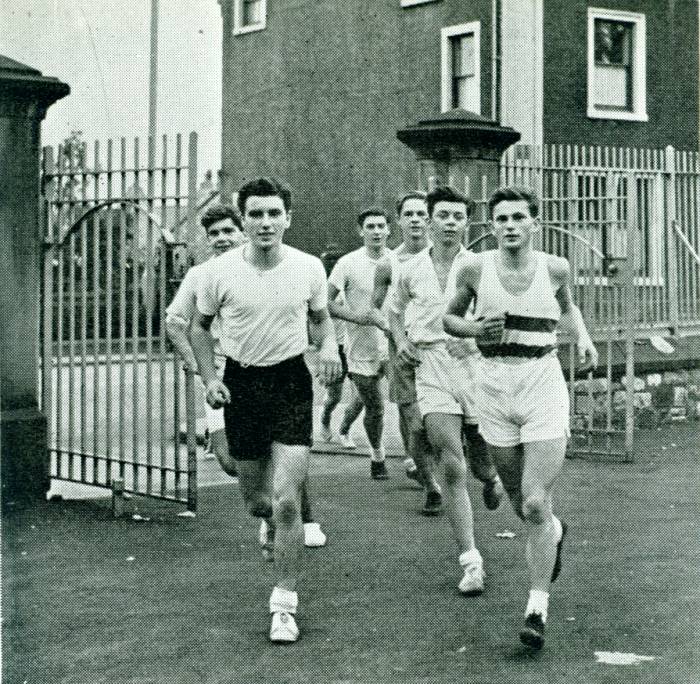 Clitheroe Royal Grammar School
Year: 1959
Views: 213,504
Item #: 1602
Led by Stuart Bennett (Captain), right, the cross-country team returns from a practice run around the nearby country-side.
Source: Lancashire Life Magazine, November 1959
In a very similar vein I will repost what I posted earlier under another page. I was at Shears Green Primary School in Kent (southern UK) from 1979. Our school was a normal local primary school with just over 400 children from 7 to 11½ years old. PE and country dancing lessons were always mixed but we were only allowed to wear one item of clothing, thin cotton shorts for the boys and knickers for the girls, we ALL had to do the lessons barefoot and topless (even the girls!) although girls who had started to 'develop' could request permission to wear a t-shirt. However the school was MOST famous (infamous?) for it's nude swimming lessons in the schools indoor pool, this went on from the late 1960's to the mid 1980's and was girls nude swimming on mondays, boys on fridays and MIXED on wednesdays, I seem to remember there was mixed nude swimming on saturday mornings as well. Look up Shears Green Primary on facebook, there are many memories from former pupils about it!
Comment by: Mark on 23rd December 2013 at 17:45
To Spence again we would only see the girls on Sports Days etc.
I do recall on one Sports Day when after Running the mile race stripped to the waist a few girls came up to me and spoke to me.
Comment by: Mark on 23rd December 2013 at 17:40
Spence,
Yes we were always stripped to the waist whatever the conditions.
When we went outside the school grounds I don't recall anyone making any comments.
Comment by: Spence on 21st December 2013 at 18:07
Mark
Were you aleays stripped to the waist outdoors, regardless of weather/time of year? Did you do cross country through streets where you could be seen by the public? If so, what was their reaction?

You say you never saw the girls. Did you never use the playing fields at the same time?
Comment by: Martin on 18th December 2013 at 07:30
Reply to Mark: My previous comments about boys and girls at my school doing swimming lessons together completely nude and doing PE 'topless' related to Primary school, ie we were all under 12, and while swimming nude was optional, topless PE was mandatory for everyone! I then went to a boys only Grammar School, but even in the Co-ed Secondary Modern school I very much doubt PE lessons would have been mixed, largly because of the much greater number of pupils at secondary schools! I do know that we would NEVER have been allowed to do cross country 'topless', out on the local streets a vest was considered the minimum for 'decency' and running barefoot simply wouldn't have happened, I am slightly skeptical that anyone actually did 'proper' cross country in bare feet, there would have been far too many opportunities for foot injuries from tree branches, broken glass, sharp stones and other debris. I think the limit of outdoor barefoot running would have been round school fields, and given the number of inconsiderate people who exercise dogs on school fields, that also would be a potentially rather unpleasant activity (YUK!) As for the enthusiastic discussion about types of jockstraps, we never used them, I don't recall ever having seen one in all the time I was in secondary school, and certainly never wore one (not that I ever had very much for it to support, sadly!) the only 'protection' we ever wore was a cricket 'box' they were mandatory and were held in place by wearing swimming trunks under our flannels, the ONLY time we were allowed to wear any form of underwear for PE or sport.
Comment by: Mark on 17th December 2013 at 07:39
I went to mixed schools throughout my school career and doing mixed PE was unheard of.
What the girls wore I don't know but boys were always stripped to the waist for indoor PE and many also went barefoot.
For outdoors and cross-country again we went stripped to the waist and again some lads went barefoot.
Comment by: Martin on 15th December 2013 at 12:15
I went to Shears Green Junior School in Kent, from the 1960's until the late 1980's boys and girls did PE and country dancing together, before the lesson we had to take ALL our clothes off and were only allowed to put on one item of clothing, cotton shorts for boys and PE knickers for the girls, everyone (even the girls) did PE topless and without shoes or underwear. Girls in year 6 were allowed to wear t-shirts or vests if they wanted to, but ONLY if they had started to develop noticible boobs! After PE and dance lessons we had to take our PE kit off and go in the showers naked, we also had nude swimming lessons in the school pool, this was for everyone, right up to 11 years old, girls only on Monday, Boys only on Friday and mixed nude swimming lessons (for which we needed our parents written permission) on Wednesday and Saturday morning, which were always very popular! Shears Green has pages on facebook and Friends Reunited and there are many, many memories of those days, many people think now that it was a bit 'weird' but we really enjoyed it at the time
Comment by: Iain on 14th December 2013 at 13:11
Like Dave I was shocked at having to do PE and cross-country stripped to the waist especially as I wasn't very well-built or muscular.
Comment by: Dave on 7th December 2013 at 13:24
When I started at Secondary School in the late 1950s I was shocked to find out they we had to do PE stripped to the waist.
After a few sessions indoors we were told we would be doing cross-country going out of the school grounds - again stripped to the waist.However I soon got used to it.
Comment by: peter on 1st December 2013 at 15:56
The pe kit at my secondary school in the 1970s was just white shorts. I was more bothered I suppose with being barefoot than without a top. In the hall that we sometimes used our soles became black with dust within a couple of minutes and climbing wallbars in the gym meant getting boys' barefeet in your face, or climbing onto your hands which I didn't like. PE outside was also sometimes done in shorts only which could be cold and the wet grass made it quite unpleasant until you got used to it. I always did cross country in plimsolls thankfully, though.
Comment by: Matt on 25th November 2013 at 18:41
Like Mark I had to do cross-country stripped to the waist and barefoot running almost entirely on pavements.
Comment by: Mark on 4th November 2013 at 07:28
When I did cross-country we all were stripped to the waist and barefoot running mainly on pavements and grass.
Comment by: Andy on 1st October 2013 at 06:47
Mostly paths some grass some dirt and pavements . I new the rules if we had P.E that day you had to do it . Not having the right kit was not a reason for getting out of it. So if you forget you trainers you did it in barefeet.
Comment by: peter on 30th September 2013 at 17:39
That seems tough. Did you run across rough ground or just on grass?
Comment by: Andy on 29th September 2013 at 17:44
I went to school in the 70's I remember forgetting my trainers and we had cross country and he made us run in barefeet
Comment by: Phil on 11th September 2013 at 18:39
Those lads were lucky.
We were bare-chested whatever the conditions.
Comment by: David on 12th August 2013 at 12:31
The winters in the 1960's always seemed to be cold and again at my school we always had to do PE stripped to the waist whatever the the weather.
This also included doing cross-country bare-chested.
Comment by: Nigel on 5th August 2013 at 19:13
I well remember coming back to school after the Christmas holiday in January 1963 with maybe upto a foot of snow on the ground.
The boilers had also frozen and we were sent home for the rest of the week.
But when we came back on the following Monday we had PE and we still had to strip to the waist albeit indoors in the cold gym.
A few days later we had to go outside and again we were all stripped to the waist.
Comment by: Rob on 29th July 2013 at 18:07
If you were in the pack those playing at No.8 flankers or locks would often hold onto the shirts of those plaing in front of them in the scrum
Comment by: Rob on 27th July 2013 at 12:51
Hello Rob (from another Rob!)

I am very interested by your comment (7th June) that you sometimes played rugby bare-chested. We were not allowed shirts for any indoor activity, but outdoors kit always included a t-shirt, football or rugby shirt, though we were allowed to take them off if we wanted during tennis, cross country and athletics. A junior school friend of mine who went to a different secondary school told me they played shirts v skins rugby but I never really believed him until I saw a brief clip of such a game on a TV local news programme - this would have been late 60's.

Going shirtless never bothered me but I would have been terrified of playing rugby like that. When the ground was rock hard during dry weather, and probably with a few odd stones and twigs on the surface, I guess it must have hurt like hell tackling and being tackled and your bare chest and stomach being scraped along it, causing grazes and sometimes cuts. It was bad enough on our bare knees! Was it really like that or am I imagining it to be worse than it was? And what exactly did you mean about it being difficult in a scrum? I am fascinated - tell us more!
Comment by: Mark on 3rd July 2013 at 13:14
Lie Daniel I had to do PE stripped to the waist in all weathers but I actually enjoyed it.
Comment by: Daniel on 1st July 2013 at 07:37
Those lads were lucky. We had to be stripped to the waist whatever the conditions.
Comment by: Neil on 20th June 2013 at 07:19
At my school in the sixties it was the usual practice for boys to do PE and games while stripped to the waist.
Few objected and if you did you would probably end up doing a detention outdoors while being again bare-chested.
Comment by: Ben Whalley on 18th June 2013 at 09:15
Aye, when I was a wee lad we used to sprint naked out in the cold. Most of us died, but I was the only one left in my class. Aah, they were the days. 1902 - best years of my life! Then, If we survived, we ate each other. It was like lord of the flies. I especially liked roasted heart on a stick.
Comment by: Rob on 7th June 2013 at 07:31
We often played football while bare-chested and also rugby.
It was a bit difficult for boys in the pack having to do the scrums while stripped to the waist.
Comment by: Peter on 5th June 2013 at 07:25
Quite a few lads(me included) not only went stripped to the waist for PE but when about bare-chested in school at break times etc.
Comment by: Barry on 4th June 2013 at 19:38
When I went to secondary school we boys were all told that we had to do PE stripped to the waist and I also quite enjoyed it.
Comment by: Chris on 9th May 2013 at 17:57
My start to secondary school was a bit like Sam's, mainly because I didn't pay enough attention to the uniform list. Although it stated that boys had to wear a PE vest bought from the school shop, I made the (incorrect) assumption that an ordinary white t-shirt would do, as had been the case at primary school. When I wore it for the first PE lesson, the teacher was less than pleased. Why wasn't I wearing my vest, he wanted to know? I didn't have one, I told him. That seemed to make him more angry and, unsurprisingly, I was ordered to take my t-shirt off and do the lesson barechested. I was the only boy in the class without a vest and that felt really humiliating.
To make matters worse, when I went to the school shop the next day there were no vests in my size, so although I ordered one it still hadn't arrived when my next PE lesson came around. I hoped if I explained the situation to the teacher he might agree to let me wear my t-shirt this once. Wrong. My pleas fell on deaf ears and once again I found myself forced to do PE barechested. Tthis time it was cross country too and I've rarely felt so miserable as I did during that run. Oh, and I got detention as well. Thankfully my vest arrived the next day and I made sure I brought it to every lesson from then on!
Comment by: Sam on 7th May 2013 at 14:13
When I went to secondary school at the age of eleven my parents received info from the nedw school including uniform etc.
On looking at the PE uniform I noticed that therfe was no mention of a vest/singlet.
When I mentioned it at school the next day I was told that we would have to do PE topless.
I wasn't very happy and when I started at the new school I dreaded PE.
On the first day we trooped into the changing room and the other boys soon were stripped to the waist so I had to join them and strip to the waist as well.
What made it worse was that we had cross-country and had to run through the nearby streets bare-chested.
The other lads seemed to enjoy it and I soon got used to it myself.
Comment by: Mark on 7th May 2013 at 07:24
My father also made me go shirtless nearly all the time.
As soon as I got home from school I had to strip to the waist and I remained stripped to the waist for the rest of the day.
I was stripped to the waist throughout the weekend and I vividly remember sitting down to Sunday lunch bare-chested.
---