Clitheroe Royal Grammar School
962 Comments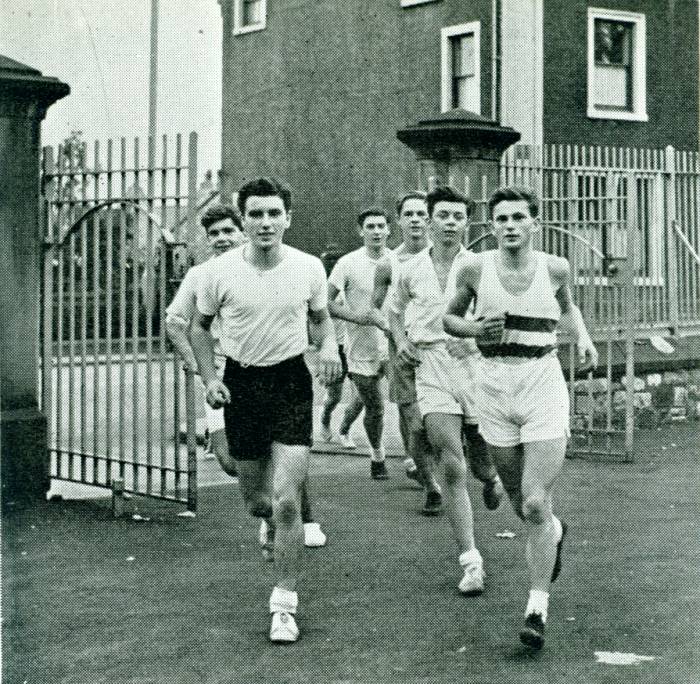 Clitheroe Royal Grammar School
Year: 1959
Views: 220,781
Item #: 1602
Led by Stuart Bennett (Captain), right, the cross-country team returns from a practice run around the nearby country-side.
Source: Lancashire Life Magazine, November 1959
Comment by: Rob on 29th July 2013 at 18:07
If you were in the pack those playing at No.8 flankers or locks would often hold onto the shirts of those plaing in front of them in the scrum
Comment by: Rob on 27th July 2013 at 12:51
Hello Rob (from another Rob!)

I am very interested by your comment (7th June) that you sometimes played rugby bare-chested. We were not allowed shirts for any indoor activity, but outdoors kit always included a t-shirt, football or rugby shirt, though we were allowed to take them off if we wanted during tennis, cross country and athletics. A junior school friend of mine who went to a different secondary school told me they played shirts v skins rugby but I never really believed him until I saw a brief clip of such a game on a TV local news programme - this would have been late 60's.

Going shirtless never bothered me but I would have been terrified of playing rugby like that. When the ground was rock hard during dry weather, and probably with a few odd stones and twigs on the surface, I guess it must have hurt like hell tackling and being tackled and your bare chest and stomach being scraped along it, causing grazes and sometimes cuts. It was bad enough on our bare knees! Was it really like that or am I imagining it to be worse than it was? And what exactly did you mean about it being difficult in a scrum? I am fascinated - tell us more!
Comment by: Mark on 3rd July 2013 at 13:14
Lie Daniel I had to do PE stripped to the waist in all weathers but I actually enjoyed it.
Comment by: Daniel on 1st July 2013 at 07:37
Those lads were lucky. We had to be stripped to the waist whatever the conditions.
Comment by: Neil on 20th June 2013 at 07:19
At my school in the sixties it was the usual practice for boys to do PE and games while stripped to the waist.
Few objected and if you did you would probably end up doing a detention outdoors while being again bare-chested.
Comment by: Ben Whalley on 18th June 2013 at 09:15
Aye, when I was a wee lad we used to sprint naked out in the cold. Most of us died, but I was the only one left in my class. Aah, they were the days. 1902 - best years of my life! Then, If we survived, we ate each other. It was like lord of the flies. I especially liked roasted heart on a stick.
Comment by: Rob on 7th June 2013 at 07:31
We often played football while bare-chested and also rugby.
It was a bit difficult for boys in the pack having to do the scrums while stripped to the waist.
Comment by: Peter on 5th June 2013 at 07:25
Quite a few lads(me included) not only went stripped to the waist for PE but when about bare-chested in school at break times etc.
Comment by: Barry on 4th June 2013 at 19:38
When I went to secondary school we boys were all told that we had to do PE stripped to the waist and I also quite enjoyed it.
Comment by: Chris on 9th May 2013 at 17:57
My start to secondary school was a bit like Sam's, mainly because I didn't pay enough attention to the uniform list. Although it stated that boys had to wear a PE vest bought from the school shop, I made the (incorrect) assumption that an ordinary white t-shirt would do, as had been the case at primary school. When I wore it for the first PE lesson, the teacher was less than pleased. Why wasn't I wearing my vest, he wanted to know? I didn't have one, I told him. That seemed to make him more angry and, unsurprisingly, I was ordered to take my t-shirt off and do the lesson barechested. I was the only boy in the class without a vest and that felt really humiliating.
To make matters worse, when I went to the school shop the next day there were no vests in my size, so although I ordered one it still hadn't arrived when my next PE lesson came around. I hoped if I explained the situation to the teacher he might agree to let me wear my t-shirt this once. Wrong. My pleas fell on deaf ears and once again I found myself forced to do PE barechested. Tthis time it was cross country too and I've rarely felt so miserable as I did during that run. Oh, and I got detention as well. Thankfully my vest arrived the next day and I made sure I brought it to every lesson from then on!
Comment by: Sam on 7th May 2013 at 14:13
When I went to secondary school at the age of eleven my parents received info from the nedw school including uniform etc.
On looking at the PE uniform I noticed that therfe was no mention of a vest/singlet.
When I mentioned it at school the next day I was told that we would have to do PE topless.
I wasn't very happy and when I started at the new school I dreaded PE.
On the first day we trooped into the changing room and the other boys soon were stripped to the waist so I had to join them and strip to the waist as well.
What made it worse was that we had cross-country and had to run through the nearby streets bare-chested.
The other lads seemed to enjoy it and I soon got used to it myself.
Comment by: Mark on 7th May 2013 at 07:24
My father also made me go shirtless nearly all the time.
As soon as I got home from school I had to strip to the waist and I remained stripped to the waist for the rest of the day.
I was stripped to the waist throughout the weekend and I vividly remember sitting down to Sunday lunch bare-chested.
Comment by: Tim on 31st March 2013 at 14:51
Like Robbie I was kept shirtless most of the time and actually got quite used to it
Comment by: Robbie on 28th March 2013 at 16:26
Sam's comment reminded me of a friend I had at school called Tom, whose parents made him go shirtless a lot of the time. They were very into healthy living - no junk food etc - and believed it was healthier for him not to wear a shirt if possible. In summer Tom was almost always in shorts and nothing else, as was his brother who was a couple of years older than us and both of them would be well tanned. Tom was usually shirtless for playing sport, including PE classes at junior school where he was the only boy (or girl!) with no top on. The rest of us used to tease Tom about his minimalist PE kit, but he took it all in good spirit and made it clear he was comfortable with being shirtless.
When we went to senior school Tom was no longer the odd one out in PE classes because it was made clear that all boys were required to do it in shorts and bare chest. That didn't bother Tom at all as he hadn't brought a PE top anyway and I don't think he could quite understand why most of his friends, including me, felt less comfortable about having to take our tops off.
However, having Tom around definitely helped me get used to it because he was so at ease with being shirtless. I was nervous when we had to do cross country, in case any of my family or neighbours saw me running with no top on, but Tom just ran confidently and naturally and after a while I found I could do the same. I surprised Tom when we played tennis together on a hot day the following summer - of course he was shirtless as usual but when he saw me take my top off as well he gave me a sarcastic round of applause!
I lost touch with Tom after school but I'd be interested to know if he kept up his shirtless habit - and, if he had any sons, whether they were expected to follow his example.
Comment by: Sam on 24th March 2013 at 07:35
When I did cross-country I had to go stripped to the waist whatever the conditions.
Although I didn't like it at first I soon go used to it and eventually I went bare-chested whenever I could.
I remember there was one lad whose father kept him shirtless for most of the time and he refused to wear a shirt even when offered one.
Comment by: Mark on 16th March 2013 at 14:08
I think one major reason for doing PE shirtless was that when you got sweaty after vigourous exercise it was more comfortable not having a vest clinging to your sweaty back and sweaty chest.
Certainly I enjoyed doing PE stripped to the waist whatever the weather conditions and it also helped me when I worked as a builders' labourer in my vacations both from school and college.
I always was stripped to the waist on site.
Comment by: Mick on 5th March 2013 at 07:57
Like Paul I well remember doing bare-chested runs after lunch but during the lunch breaks.
We would be cheered on not only by fellow pupils but also by a group of workers on a nearby building site.They were of course all stripped to the waist themselves.
Comment by: Dick on 21st February 2013 at 13:56
At my school gym was done in underwear. Girls wore navy blue knickers and a white T shirt (bras where allowed for the over 13s). No footwear indoors but outside plimsolls allowed.

Boys wore only tight white briefs both indoors and outdsoors

Outdoors plimsolls were allowed.

X-country in the wet mud was great fun!
Comment by: Harry on 20th February 2013 at 21:10
In reply to Rob's question about shirts v skins sports that took place outdoors, we sometimes played football that way at my school. Our football/rugby tops were reversible but they were also quite thick and heavy so in warmer weather it was often preferable to play shirts v skins instead. Most boys welcomed the opportunity to run around more freely instead of having to wear a heavy sweat-soaked shirt that clung to your skin.
The school teams wore a different shirt, made of lighter material, for matches against rival schools, but these weren't reversible. That meant that in warm ups, if we played five a side, half the team would be instructed to take their shirts off. Personally I disliked being a skin in the warm up, not because I was embarrassed about going barechested but it felt uncomfortable having to put a shirt on when my chest and back were sweaty.
Comment by: Paul on 16th February 2013 at 20:21
Cross country at my school was a serious thing. If you weren't good at it, then you had a hard time. Luckily I was (and still am) very good, but that automatically made me a XC Captain and extra training sessions, where failure not an option. Me and a few others were living skeletons -ideal for long distance running and able to take the punishing training schedule handed to us.
Most lunchtimes were comprised of an almost hour-long run with the PE teacher pacing us on his bike, not letting us lose pace. The thinner we got, the easier it was, due to never having lunch, but running instead.
Was great in the summer, with us 5 team runners going out the gate for our lunchtime run - shirtless, usually ending with a lap or two of the field, whilst the others were on their break - getting cheers off the girls and encouraging us till we finished.
It paid off, winning the regional champs and secured places for a 10-day xc camp, which was hard but fun.
Comment by: Chris P on 16th February 2013 at 18:07
Rob, We played skins and vests games outdoors too - basketball on the yard (using the girls netball rings when they were indoors) football both 5 a side and full matches and cross country for which we were all made to run with vests off. May sound harsh but really it was normally good fun until it started to snow
Comment by: Rob on 16th February 2013 at 09:37
Gary, I'm intrigued by what sports you played shirts v skins outdoors...? Like many here, my PE kit was white shorts only for work in the gym, but outside we did cross country, cricket and athletics in shorts and a t-shirt and had football and reversible rugby shirts for those sports.
Comment by: Paul on 13th February 2013 at 13:23
In my school in the 1960's it certainly was the rule that all PE was done stripped to the waist and we were all bare-chested whatever the weather even in 1963.
Comment by: Jake on 12th February 2013 at 04:26
Sounds to me as if Angus just had an unusually kind-hearted PE teacher! I certainly can't imagine any of the no-nonsense characters who taught us being bothered in the slightest about a boy catching pneumonia or a chill through running bare-chested. I was still at school in the late 80s and shirts and skins was standard for most PE lessons. While it wasn't an official rule that boys ran bare-chested, I can certainly remember occasions when we were made to take our vests off outdoors. And there was nothing to be gained from complaining about that, one boy in my class did protest and as a result he was made to do every PE lesson with his vest off for the rest of the year.
Comment by: Gary on 8th February 2013 at 03:36
Ed, the 1980s? I left Catholic Secondary at 16, in 1992. We played shirts vs skins year round in the gym and outdoors in all but the worst weather.(When we'd be in gym, 50% of us shirtless.)This practice continued for a number of years after I left, as did communal showering in an area designed for much smaller classes.
Comment by: Ed on 25th January 2013 at 07:48
Although things were possibly changing by the 1980's there were still many schools where bare-chested PE both indoors and outside was insisted on.
Comment by: Angus on 24th January 2013 at 14:18
Things had clearly changed by the time I went to school in the 80s because I had a PE teacher who actually refused to let me do cross country barechested. I realised when we were getting changed that I'd left my vest at home but just put on the rest of my kit (shorts, socks, trainers) and assumed it wouldn't matter. A lot of boys chose to run with their vests off in summer and, although it was November, I thought it'd probably make me look hard in front of the other lads if I ran barechested on a cold day (the kind of thing you tend to think as a 14 year-old boy, which I was at the time).
But the teacher wasn't having it, even though I insisted 'I don't mind Sir', he said it was too cold outside and he wouldn't be responsible for me catching pneumonia! I'm not sure how much extra protection from the cold he thought the cotton vests worn by the rest of the class would give them! However, I wasn't allowed to do cross country that day - instead he told me to go and join the class doing PE in the gym. Ironically they were just about to start a shirts and skins basketball session, so I fitted right in! But I would have been quite happy to run barechested and, from reading some of the messages here, it's clear that I would certainly have been made to do so 20 years earlier.
Comment by: DAVE on 23rd January 2013 at 18:50
As with Philip, at my Grammar School in the 1960's I did cross-country stripped to the waist and barefoot.
Again we started at the beginning of the Autumn Term and were used to it by the time it got colder.
Nobody complained and we quite enjoyed showing off our bare chests in the local area especially as many of the lads were quite well-built and muscular.
Several of the older lads had developed hairy chests as well.
Comment by: Philip on 22nd January 2013 at 21:32
I was at grammar school in the 60s and, like many others, ran cross country, mainly in the winter, but always barefoot and bare-chested. This seemed quite normal and, as we started before the weather got cold we got used to it as the temperature dropped. I don't remember any-one being upset by it - we were all treated the same and being shirtless or barefoot was never used as a punishment. Some people these days seem to get upset about a little discomfort - it seems a shame barefoot and shirtless cross country is no longer the norm.
Hi, I am Lars,19, from Germany.
I really like this picture, because of these good locking boys. I wish, the where running stripped to the waist, to see there nice chests.

Bye
Lars
---