Burnley Grammar School
3090 Comments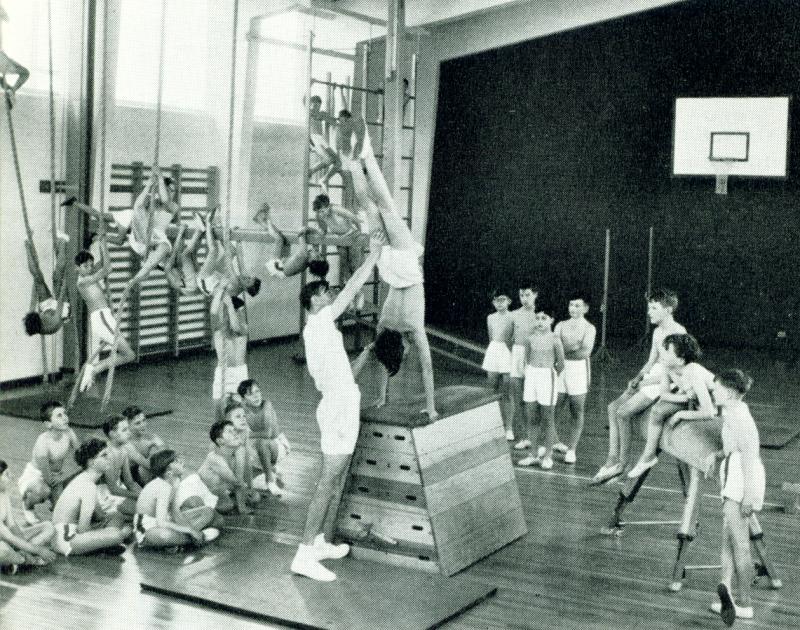 Burnley Grammar School
Year: 1959
Views: 864,306
Item #: 1607
There's pleny of room in the modern-styled gymnasium for muscle developing, where the boys are supervised by Mr. R. Parry, the physical education instruction.
Source: Lancashire Life Magazine, December 1959
Comment by: Dave on 2nd January 2021 at 14:31
Hi Robert!

What did you have to wear for inside and outsied PE (including XC).What did you have to wear on sport days?
Comment by: Alan on 2nd January 2021 at 11:10
Robert: I don't understand headmasters. If I had been head and a new man had come in who wanted to change the dress code, I would have wanted to know why, if he were a young man, he wanted to regress to the attitudes of a previous generation, and, if he were an older man, why he couldn't embrace modernity.
Comment by: Robert on 1st January 2021 at 17:50
They are certainly wearing much more than we did during School sports days in the early 90's.

Our minimalist PE and XC kit was only introduced in the late 70s when my head of PE took up the position.
This was obvious from Team photos displayed in school.
Comment by: Alan on 30th December 2020 at 12:03
Here is a piece of film which proves some schools in the 1930s were more advanced in safeguarding shy lads modesty in 1938 than many schools were in the 1990s:

https://player.bfi.org.uk/free/film/watch-oldbury-county-high-school-athletic-sports-june-1938-1938-online
Andrew C: The disgusting treatment handed out to boys in even recent times would be regarded as abuse these days - certainly mental if not physical. it has to be a good thing that these days teachers are not allowed to exert too much authority. I genuinely believe all PE teachers ought to be made to under go psychiatric tests before they are allowed anywhere near schoolchildren, male or female. There was in many of them a degree of sadism that was out of all proportion
Comment by: Andrew C on 29th December 2020 at 01:51
Alan, We didn't have a choice, if you were told to strip to the waist that's exactly what you did and quickly too. As an 11 year old I was caught wearing a vest under my games top when it was literally freezing and he went mad, hauled me out to the front and strip off my games shirt first and then the offending vest. The two teachers ensured I'd end up never wearing a games top again. You tend to remember things like this.
Comment by: Robert on 28th December 2020 at 17:07
Ian, likewise we were shirtless for XC. One of our PE teachers took great delight sending us out in the worst of Northern Irish weather.
This was still the regime when I left in 1992.
Comment by: Ian on 28th December 2020 at 13:53
Scottish grammar school for boys, mid '50s to late 60's.
On seeing the hard frost this morning, I remembered the look of delight on my PE teacher's face as he sent us on cross country in shorts and gymshoes only. Bizarrely, I came to like it with the crisp sensation on my chest.
Comment by: Alan on 28th December 2020 at 12:08
Andrew C: Forgive me, but why the obsession with being "toughened up"?. I have already said that it might have been understandable, perhaps even beneficial, to do this in the days when 2 or 3 years after leaving school lads had to do national service, but these days it is your choice to enter one of these "tough" professions and they have their own instructors who will have their own brand of sadistic measures.

Do you need to be physically "toughened up" to work in a call centre, a burger franchise or a supermarket?. I should have said that it was pointless and not everyone aspires to be an Olympic athlete. A lot of us went through the old toughened up nonsense and all it does is to put you off for life.
Comment by: Andrew C on 28th December 2020 at 01:30
Danny C, Having done many laps of the school field bare chested in all weathers I know exactly what it's like, Our PE teachers were not just satisfied with us stripped to the waist in the gym but we were expected to go bare chested outdoors in all weathers too. We'd either as a class be told to strip to the waist or they'd handpick skins and vests teams so at least half the class stripped down for the sole purpose of being ""toughened up"
Comment by: Alan on 27th December 2020 at 09:48
Michael, I have nothing good to say about my old dump, but it is interesting that people like yourself, who clearly look down on lesser schools, automatically assume that if a police car is parked outside it is obvious the pupils have been up to no good.

I can't see how, as neither of us know the circumstances, you can come to this conclusion . Perhaps the police car was there to investigate an accident or perhaps to arrange a talk on road safety. Perhaps the school secretary had been caught shoplifting during the lunch hour - or perhaps one of the teachers had been up to no good?. Don't just automatically assume because the lads were not going on to Eton or Trinity College, that they had joined a modern day Fagin's group. Most of us who went to poor schools didn't end up behind bars
TimH - nice story, but....what about the kind of PE teacher like one I had who calls off a football game halfway through because he thinks nobody is trying hard enough? When are all very muddy, with torrential rain thrashing down, in late November when it's about 5c plus windchill, and then demands all the boys and myself remove our shirts unexpectedly, throw them on the ground and start running laps of the school playing field barechested instead, in nothing but boots and black shorts, dismissing complaints about the cold and wet by saying the sooner we run the quicker we'll warm up. All while the PE teacher stands there in multiple layers smugly gazing on, doing nothing for the next 15 minutes. Barechested punishment without doubt. Is there any defence?

Jacob - I'm not sharing my school photo via a public clickable link, I'll only consider with my own private email link.
Comment by: TimH on 26th December 2020 at 16:44
A true story for Christmas ...

On Wednesday afternoon, in the pouring rain, I was just going into my local Post Office, as two guys in shorts & waterproof tops ran past; 'Just the day for a cross-country' I said.

Three years ago, just after Christmas a friend of mine, a retired languages teacher died, as he would have wished, in the middle of a communion service. Language teaching was his first love, but his second love was athletics, which he'd started to counter, I believe, asthma, and he went on to teach it. A favourite phrase of his, especially if it was raining, was 'Just the day for a cross-country!'.

The Minster was packed for his funeral - 700+ inside and possibly 300 outside. As the coffin came in it was preceded by an 'Olympic Torch', for in 2012 he had been 'honoured' for his work in local athletics by carrying the Torch through the streets of the town on its way to London.

The tributes were not long but made us alternately laugh & cry. A 'well-scrubbed ' youth, who'd probably not been in a church since he was christened, gave a tribute which included the sentence 'He was mad as a box of frogs: a great guy; one of the best'. Seven hundred untrained voices sang 'Jerusalem' with a vigour that the Proms or the WI cannot equal.

In the Post Office I looked at 'C', who runs marathons for a sideline - 'Nice day for a cross-country', I said. She grimmaced ...

'N' was a great guy ... I hope no-one thinks he was a pervert just because 'today's a great day for a cross-country'.
Comment by: Toby P on 26th December 2020 at 15:41
Hi Alan my school was just an ordinary mixed school. Your comments about us being young men are correct and a good number showed chest hair in the gym during lessons but there wasn't any option other than to get on with whatever the activity was.
Comment by: Michael on 26th December 2020 at 14:57
I was interested to read the comment below, about a 'bog standard comprehensive' school.

My old grammar school was made into a comprehensive in the mid 1970s, which was, (thankfully), after I had left.

The old traditions were discarded, uniform was abolished, competitiveness became an ugly word and standards of attainment/dress/conduct collapsed.

Replacing the old "GCEs", the comprehensive's new "CSE" exams were 'non-fail'. This meant that all one needed to do to gain a 'pass' was to put one's name on the exam paper. Not much to aim for there, then!

On a subsequent visit I was dismayed to find a Police car parked outside the front entrance. My old headteacher (by then retired) would have been stricken with shame.

Although it was demanding, I was proud to attend my old grammar school, and grateful for the high standards it inculcated, which gave me many advantages in later life.
Comment by: Alan on 26th December 2020 at 09:20
Toby P: Very spartan for the 1990s - was this an ordinary comprehensive school, or a grammar or private school?. It seems incredible that they could force lads of 18 to adopt their minimal kit.

I ask because in 1993 I was working with 18 year olds and by that age & by that time they were men, not boys. Some of them you could barely get them to turn up on time, still less dictate how they dressed

It would be useful if people would say what type of school they went to - mine was a bog standard council comprehensive.
Comment by: Toby P on 25th December 2020 at 23:47
My experience of PE/Games lessons was pretty much like Bo but I left school at 18 in 1993. We were always stripped to the waist in the gym regardless, teams were distinguished by çolour of shorts, white for off number classes and black for evens. There's a few comments about sweating indoors and it was expected by the teacher. If you didn't you'd get laps of the field or worse an outdoor fitness session with one of the PE teachers always topless regardless of the conditions. When I was 15 I was given laps by my Physics teacher and when the scheduled day arrived it was snowing constantly but it made no difference so I and a younger 13 year old lad plodded round together cursing the respective teachers. Not very nice.
Comment by: Jacob on 25th December 2020 at 20:16
Danny, could you link the photo you showed Alan?
Comment by: James on 24th December 2020 at 13:37
Rob,we were not allowed to wear any form of underwear and had regular checks to see that we were not wearing any,which I found intrusive.
I was allowed to wear underwear under my school shorts and of course at home,but never for sporting activities.
Comment by: Rob on 24th December 2020 at 11:48
Jeff.
You were lucky getting your jockstrap at that age. I was certainly grateful when we were allowed to wear one at 15. I felt that I needed one earlier but we got there in the end.
Comment by: Jeff on 23rd December 2020 at 21:17
Rob,
It sounds to me that your pe teacher ought to have introduced you to jockstraps rather sooner. I would not have wanted to wait until I was 15 to get one; I got my first jockstrap when I was 13, in third form.
Comment by: Alan on 23rd December 2020 at 12:11
John: First off I'd like to say how modern your school must have been - in the 80s and 90s you still had boys forced to be barechested not only in the gym but out in the street.

You chose to take your top off, and as I have made clear before, I have no problems with that, if it is a free choice. I just objected to P.E. teachers who forced you into that position - you went overnight from junior school and it's relaxed attitudes to the barking and yelling more worthy on an army assault course.

I suspect reading your post, you responded better to a friendly, informal approach than the semi-militaristic one of your school, and I can understand that perfectly - I think many lads would.

You got to enjoy the subject because you wanted to, and you were encouraged to by outside influences - I wish that could have been the case for far many more of us.
Comment by: John on 23rd December 2020 at 08:58
I would like to tell you about my childhood, I was born in 1948, went to primary school which I enjoyed, PE was just 5 a sides football in the school yard, no football kit just your school shorts and shirt, I was frequently in the top 3 in my class in most subjects, but come age 11 and going to secondary school was a culture shock, wasn't prepared for it at all and hated it. I bunked off on a regular basis especially when it was PE as that was horrific, gym wasn't bare chested and there were no showers anyway, maybe a quick body wash in the toilet block and I really hated cross country and a few times ran home as it was close to the route and hid in the garden shed, needless to say I was punished a lot at home and my parents were hauled into school to try and get me to see sense and stop rebelling, not much worked until I was about 13, my dad worked at a French tyre company with a name that began with M, we used the works social club a lot in those days as my dad liked to socialise, one night in the big main room used for dances and such there was mens keep fit on, the main room had sliding doors to partition it off when private functions were on, dad suggested I join up, I laughed and emphatically said no, after the keep fit was over my dad had a word with the instructor who he knew well and explained the problems he had with me, he came over and asked why I hated PE, I shrugged my shoulders and said it was boring and not worth bothering with, he said well come next week and give it a go, if you don't like it then that's okay nobody would force you to come again.

Well I sort of forgot about it until there came a knock on the door and it was the instructor, who said "ready John?" I looked bemused and said I wasn't changed and he said well get changed then, dad said that as well, I scooted upstairs and put on my school PE kit and plimsolls and joined him downstairs, it was only a short walk to the club and we chatted about school as we walked, in there it was all set up, what shocked me was that the men are and there were about 10 or so of them were young and the instructor explained there were works apprentices and he was their fitness instructor and they were doing extra PE because they liked it. We started doing warm up exercises before the group broke into small groups to do their fitness regime, the instructor was one on one with me, showing me what to do and encouraging me, I noticed that some of the men ended up taking off their tee shirts after awhile because they were sweating a lotted so was I with doing star jumps and press ups and sit ups and stuff, so I ripped off mine and did the rest of the hour or so bare chested like the rest... I actually enjoyed it and vowed at the end to be back next week. it took awhile but somehow I changed my attitude and became more confident after that and attended school all the time and actually enjoyed PE and because I naturally sweat a lot when exercising I was allowed to be bare chested, in PE and cross country, although I wasn't a great academic, but I did okay and actually won a prize for being the most improved student the next year, some years later after I left school I passed by the route of the cross country runs and saw loads of boys running bare chested and I like to think I started a trend..Well maybe !!
Comment by: Lenny on 22nd December 2020 at 18:50
Danny C, tell us more about your drama class and why do students need to be shirtless for it? Same for school productions. What do your classmates think of it?
Comment by: Alan on 22nd December 2020 at 10:35
Ben: You wrote: " More than other teachers, he had succeeded in giving us an idea of what it meant to be young men which we almost were when leaving school. "

This reminds me of the story of the lady who once confronted Louis Armstrong and asked him to define rhythm to her. He replied "lady, if you have to ask then you ain't got it".

I assume you left school at 16 or 17. Surely you and your mates KNEW what being a young man was, without having had to take your clothes off to do it?.

This is one of my problems with the old system that dragged on far too long - the generation before us left school, at 15 and were established in work, long before today's school-leavers have started, yet here you have this teacher, who - whatever his motives - and let's hope your more benign analysis is the right one - making you take your clothes off for things that could have easily be done with a top on. At 16 you were a young man, (not "almost") and you had certain rights. I am sure there was at least a section of your class who did not appreciate being made to run through the streets with no top on, but because so many of you appreciated it, they just had to accept it and get on with it. Perhaps the increasingly delayed time of allowing people to leave school (if you don't have a job or an apprenticeship these days, theoretically you can be forced to stay till age 18), is what makes young men and women less sure of their status?

I sometimes feel that certain teachers would have made excellent prison wardens, thanks to their rigid codes of discipline - it is unfortunate that they were given so much leeway with children, who were often quite frightend of them.

Try as I might I can't understand why you feel you would not have become the man you are without his - what shall we call it? - tough love. Did any lad take advantage of being able to wear a shirt in your final year?

I wonder how your teacher and others like him coped when they found they were no longer able to inflict their methods - I don't know how old your teacher was, but it is I suppose possible he is still in the profession. That is another sad aspect - a lot of those teachers were not old men, and should have adapted to modern methods by choice not by compulsion.
I'm very pleased for those who had their body confidence enhanced and their overall self esteem raised by their compulsory barechested PE lessons and showering. I'm glad some here look back and think running shirtless in the colder months in a group helped bond them together. I did all these things, the barechested cross country runs often caked in splattered mud, that even took us out into public areas before coming back into school. I did all the barechested PE lessons indoors twice a week. Year after year, three PE classes per week, even outdoors shirtless all spring and summer and early autumn. I did all the swimming lessons I was ever told to do, which was a lot as we had our own school pool and used a public one. I did annual sports days when we had to remain shirtless for hours on end, with crowds of parents and other friends and hangers on present - Alan has even been able to see my summer 1982 class sports day school picture, taken with all my classmates and myself barechested together posing for the camera. I did drama classes shirtless quite frequently too, and even had to appear in a couple of school productions in a state of semi undress in front of the school audience and a parental one. So having spent what felt like half my teenage school life being told to get my kit off on most days of the week, spring, summer, autumn and winter, surely I should have well and truly faced down my fears and come out of it with all my body confidence issues banished, yes? Er, no actually. It made no real difference in the end, despite the fact I was decent looking, had a lean physique and clearly had nothing to be overly concerned about and actually liked some of the stuff we did in PE and wanted to stay fit and healthy.
Most professional athletes don't compete barechested do they, unless swimming or diving. So why did schoolboys have to do so, mandated so rigidly like at my school, even down to things like games of ping-pong on table tennis tables in the gym with nothing but shorts, not even any footwear at all.
I'm afraid there are suspicious teaching staff. I was deeply suspicious of our deputy headmaster who would often enter our changing rooms for no legitimate reason to converse with a PE teacher about nothing very much, while all the time keeping his eyes focused on boys coming and going from showers with nothing on, including me. I noticed his ways. I never forgot his behaviour. It seemed odd to 14 year old me in 1983 and does even more so now. I found out he died this summer. He ended up with a Knighthood after the Government appointed him to a prestigious education role about fifteen years ago.
Comment by: Alan on 22nd December 2020 at 03:03
William. You seem to be an advocate for naturism. Perhaps you should retire to one of the countries you admire so much, and run around au natrel . to your hearts content.

Britain IS a damp country, and to deny that is ludicrous.
Comment by: William on 21st December 2020 at 22:57
Alan, There is no point disagreeing with me so stridently when my experience of school was very different from yours. I am not advocating anything, merely describing how I benefited from the gym regime at my school. Others have done the same.
My comments are on the record. It is obvious that you have put words in my mouth. Nothing more need be said.
You are wrong about the effect of climate. Attitudes towards nudity in Scandinavia, Germany and Russia are more relaxed than in Britain.
The recent Eton case was shocking. I never experienced anything like that. Our gym master did supervise our showers but he was beyond reproach. Please don't tell me that he was a voyeur. I knew the man for seven years whereas you did not.
Comment by: Alan on 21st December 2020 at 19:02
William, you wrote: "Alan advocates a level of male modesty that many would think excessive......

Our gym regime was disciplined and the minimal kit helped me with bodily confidence. I realised that there was no good reason for worrying about wearing just shorts or going through the showers, and thus school helped to liberate me from that anxiety about bodies and nudity which is rather British and very different from the more balanced cultural tradition of northern Europe."

Here we go again. If "discipline" (of which you and others are so fond - some would say over- fond) could only be obtained by being shirtless, why do we not have the armed services or police marching round bare-chested?. They seem to manage Trooping the Colour, and policing demos perfectly well clothed..

Though you in your somewhat selfish and myopic view seems to think everyone is comfortable pounding the public streets and even high streets wearing only shorts - .well, that is not true Just because something appeals to you doesn't mean that it appeals to everybody, or give you the right to assume it does, and if it doesn't it is me or anyone else who didn't enjoy it that is out of step..

You were comfortable, fine. Those that are OK with it, fine, but as you generously point out towards the end of your message, British people can be somewhat more modest. We live by and large in a damp chilly country, not St Tropez, Melbourne or California.

It is damned nonsense to suggest wanting to wear a shirt, and not having PE teachers looking down your shorts to see if you are wearing underwear (as another writer has posted today) is "excessive". Just let teachers try those tricks today and see where they would end up - crown court, I expect - to their credit the decent ones would discourage nudity. I repeat there has to be something wrong psychologically for grown men to take that much interest in children's bodies, to the extent of peering down their shorts. That is voyeurism, pure and simple

Finally have you not been reading your newspapers lately? - just last week a former Eton tutor got 8 years in prison for fondling young boys, and even in my earlier years they were frequent stories of dirty minded scout leaders hauled before the courts. Just being a teacher or scoutmaster, however "disciplined" your approach is not a down payment on a halo, or an assurance of probity.
Comment by: Tom B on 21st December 2020 at 17:48
Alan, I have not, in any comments, suggested that boys must be shirtless. The shirtless issue is something you've latched onto.

I've suggested basic kit with either T shirt, vest or shirtless along with shorts - uniformity across the group of course. Dispensing with branded tracksuits, baselayers etc as seems to be required now.

I believe physical training should be disciplined based on what I have seen and experienced. I believe with training and nutritional education every boy can develop to be fit and healthy with two or three sessions per week in school.

I wish I'd understood that. I'm playing catch up a couple of days later.
---