Burnley Grammar School
3147 Comments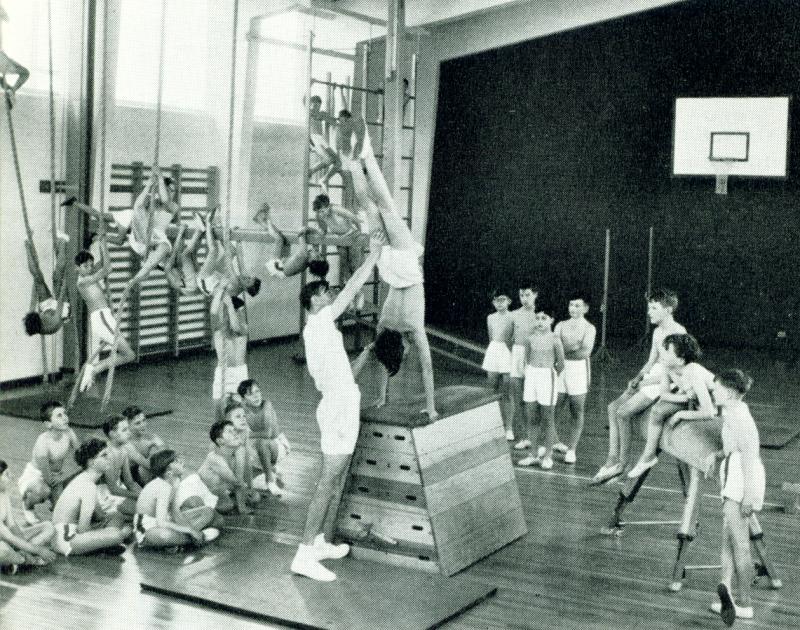 Burnley Grammar School
Year: 1959
Views: 884,553
Item #: 1607
There's pleny of room in the modern-styled gymnasium for muscle developing, where the boys are supervised by Mr. R. Parry, the physical education instruction.
Source: Lancashire Life Magazine, December 1959
Comment by: Mark on 13th June 2012 at 14:02
We weren't allowed to wear underwear and iany bo tried and was found out he received six strokes of the cane and had to do press ups outside for up to an hour while strtipped to the waist and barefoot.
Comment by: DANIEL on 13th June 2012 at 07:32
Sid:- Yes I was allowed to wear briefs under my shorts.
Comment by: Sid on 12th June 2012 at 18:56
Daniel & Mark follwoing on from most peoples comments were you allowed to wear anything under your shorts?
Comment by: DANIEL on 11th June 2012 at 21:09
Like Mark although our uniform for PE was vest and shorts many lads didn't bother with a vest and went about stripped to the waist.Nothing was said and this meant that more and more of us started to do PE bare chest.
Comment by: Mark on 11th June 2012 at 07:31
Although according to the rules our PE kit was singlet and shorts many boys were always stripped to the waist.Nothing was ever said about them being bare chest for PE and more boys joined them being bare chested.
Comment by: Eastender on 9th June 2012 at 21:18
For the more recent readers I will repeat some of my previous messages of Nov &December 2011. We were told the reason for no underpants was for hygiene reasons. In more detail, We were advised that we would be working hard during pe & exerting ourselves & we had to have no pants & showers were to follow the lesson to prevent us sitting in subsequent lessons with sweaty underwear(how gross). However, as far as I can recall pe was usally the last lesson of the day so the reason were unfounded.
We wore very short shorts (compared today when track bottome seem to be the norm )& invariably white & left nothing to the imagination. But hey no one seemed bothered We were all boys & young men together. How times have changed. What do you think?
Comment by: James on 9th June 2012 at 09:55
I have always wondered why the no underpants rule was so strictly enforced and it would seem univeral, it certainly was at my school and being caught wearing underpants always resulted in a sore bottom. Other rules were enforced rather less. Ideas anyone?

Similar to others, white shorts, bare chest and plimsols in the 1960s and early 1970s.
Comment by: Dessie on 8th June 2012 at 16:59
We wore shirts, shorts and plimsoles for regular PE. Punishment PE was help on tuesday evenings for lads considered deserving. It was circuits in the gym. An hour of hell. We had to be barefoot and barechest and the no underwear rule was strictly enforced, unlike regular games.
It was always followed by a long cold shower. Coach would observe to make sure we stayed under. Always felt sorry for the PE teachers son. He came by car with his Dad who made him do punishment PE every week.
Comment by: Tyrone on 25th May 2012 at 18:57
I know that most of us who have left comments experienced pe in the 50's late sixties. I know things have changed with regards to pe kit inasmuch as nowadays it is tops & shorts & underwear allowed. I know that we were put through a strict regime, as many of us has said with cross country runs etc. but what of today is it easier. aAre the physical demands the same? Any present day students able to comment?
Comment by: Keith on 25th May 2012 at 08:43
I think that being stripped to the waist did instil discipline in boys particularly when being bare-chested on cross country runs in neighbouring roads
Comment by: Tim on 23rd May 2012 at 07:33
In the fifties and sixties I for one certainly did cross-country both stripped to the waist and bare-foot.Many of the other lads did the same.By the time we left school a few of the lads(myself included)had developed hairy chests and were quite muscular.
Comment by: Oldschoolboy on 22nd May 2012 at 09:14
Judging by the comments posted here, it srikes me that a lot of you suffered under the cohort of ex military people who were recuited into teaching after the war. We had a few in our school who were definitely somewhat unhinged and fortunately for me were not part of the PT department. When I left school (all boys) aged 18 in 1972 things were becoming a little more relaxed and the last swishes of the cane were dying away (I can still feel it however!)
PT was still done much as we see in the photo, we had singlets and shorts with coloured stripes on the side, as juniors no underwear was the norm but I don`t remember it being a rule as such, after age 13 or so we all wore the old cotton Litesome jockstrap, again there was no rule, we just did. Communal showers were the norm as well and I don`t recall any problems.
When I look back, it was certainly pretty spartan, but on the whole it was a good time.
Comment by: Thumper on 21st May 2012 at 02:05
Back inthe 60's we were required to wear shorts and tennis shoes.NO underclothing was permitted, but a shirtcould beworn. You COULD NOT wear your street clothes to PE, and if you did,you were not allowed to pass on the course, but to strip off NAKED and do PE that way..Not many forgot their shorts and shoes because of being afraid to disrobe. I cannot remember of any time that the familyor school administration had any problem with that. And yes, this was an all male class, with no chance of women coming into this area.
Comment by: Tyrone on 9th May 2012 at 15:52
Dave & Roy,
I have looked at most of the previous peoples comments & the only conclusion I can come to having read them, is that we are nearly all from the era when we were not so inhibited about our bodies. As you say rules were rules & that was that. I know my parents were told that we did pe with no underwear & no top. No one queried it. Furthermore, most senior schools were single sex so there was not the logistics of running separate classes for pe & no risk of anyone of the opposite sex seeing any one changing. As for showers one big open area with several shower heads & no worries about seeing each other undressed let alone without a shirt. It was all part of growing up. Nowadays boys are too inhibited.
Comment by: Peter on 9th May 2012 at 12:31
I went to an all-boys school in the 19970s. Like the boys in the photo, our PE was always done stripped to the waist. It was no use "forgetting" kit to get out of the lesson because the teacher had a supply donated by boys who were leaving or who had grown out of theirs. The teacher in the picture is wearing a tee-shirt and socks whereas our teacher wore track pants and a tee-shirt and sometimes a tracksuit top. I always felt that what was good enough for us should have been good enough for him.
Comment by: Dave on 8th May 2012 at 22:58
"I wnet with the family to a swimming pool of course teen boys just wear short. so what is the difference in doin pe this way?"

There is no difference.
Do they wear shirts for mixed swimming classes? No. That's why I can't see why boys are allowed to wear T-shirts nowadays in most schools for PE.
Comment by: Roy on 8th May 2012 at 18:37
Tyrone:-if teachers tell boys to strip to the waist for PE then they should be stripped to the waist with no questions asked.As you say you often see lads stripped to the waist in streets etc so what's the problem.
Comment by: Tyrone on 8th May 2012 at 16:28
I am assuming teenage lads would resent it if they were asked to go bare top for pe these days. However, at the weekend when I wnet with the family to a swimming pool of course teen boys just wear short. so what is the difference in doin pe this way?
Comment by: Tom on 6th May 2012 at 17:10
In my time boys were stripped to the waist for PE as soon as they started at junior school when they were seven.This went on until they left secondary school at either sixteen or eighteen.
Comment by: RF on 4th May 2012 at 07:26
GD:While still in primary school we used to see the boys from the nearby secondary school running bare-chested.We knew that when we went there we too would be stripped to the waist for games etc and we regarded it as perfectly normal.
Comment by: G D on 3rd May 2012 at 14:22
Having read the various comments , i can tell you in the sixties our P E was shorts, plimsolls & nothing else. Our shorts were white & the teacher said so we could not wear anything underneath without it showing, bearing in mind we all wore briefs those days.

One boy tried to keep his pants on Fool! The teacher was not daft. On the whole we enjoyed pe & I think enjoyed the freedom of wearing less clothes bearing in mind that for the rest of the day it was strictly uniform blazers & shirts & ties & we were only allowed to remove blazers if extremely hot weather. Anyone else eperince this?
Comment by: Mark Jones on 3rd May 2012 at 07:51
To Sid:-This was in the fifties/sixties and we worfe nothing under our shorts.We wore house shorts which were white.
Comment by: Sid on 2nd May 2012 at 21:13
To the 2 peopl;e named Mark, you say stripped to the waste for pe what era. I presume the pe kit was shorts & nothing worn underneath. In our school the colour of shorts was determined by the "House" you were in. White , Blue,Black. Were yours the same?
Comment by: MARK JONES on 27th April 2012 at 18:58
Yes Mark Smith I was bare-foot as well as stripped to the waist.
Comment by: Mark Smith on 27th April 2012 at 15:47
Mark Jones:-Were you barefoot as well as stripped to the waist?
Comment by: Pete S on 27th April 2012 at 13:34
Dave, T-shirt's aren't better. It's the designer clothes and PC brigade at work who'll tell you otherwise because they're making money. A vest, or better still, a bare chest are still the most effective tops. Boys, if given the chance would relish the opportunity to strip to the waist for exercise. It would also solve these "issues" (excuses!) once and for all.
Comment by: Mark Jones on 26th April 2012 at 13:18
Again I did PE stripped to the waist in the sixties.Thought nothing of it.Boys stripped to the waist.End of story.
Comment by: Cornish on 21st April 2012 at 17:40
At Junior school during the period 1957to 1961 pe mainly was indoors except for hot summer days & for boys was in vests(singlets) & grey school shorts which every boy wore irrespective of the time of year. However, the girls wore a vest & had to remove their skirts & do pe in their underwear. As far as I can recall, there was no complinats about the inequality between boys & girls de rigeur. That just how it was.

Secondary school was a different regime boys only school & pe was indoors & out depending on the weather, & was short tight white shorts (no underwear which would have shown through) & bare top, but we wore plimsolls with no socks. Finished off with communal showers. NO worries or thought about boys seeing each other naked. But it seems this is an issue for lads these days.
Comment by: Dave on 20th April 2012 at 06:34
I don't think boys really care about having to be shirtless for P.E. so I can't see why most schools changed that. Even vests are vanishing from nowadays schools and they wear T-shirts for gym. Why T-shirts are better?
Comment by: Borstal Boy on 18th April 2012 at 22:32
Yes I was sent to Borstal when I was sixteen and yes I wa stripped to the waist when at Wormwood Scrubs for assessment and at Portland when serving my sentence and working as a gardener
---